Arvia Mic Speaker Built-in Android ARV I-2600
Video Conferencing
• Ideal for small, medium and large room
• Built-in Android 5.1 ARM 4 core CPU up to 1.8GHz, able to connect with Wifi
•  5.5 inch FHD multi touch screen,
• 4.5 metre 360 degree mic coverage with 384 ms echo cancellation
• USB-Plug-And-Play Set up
• Compatible with general video conference software, such as Skype, ZOOM, Skype, Wechat, etc.
Description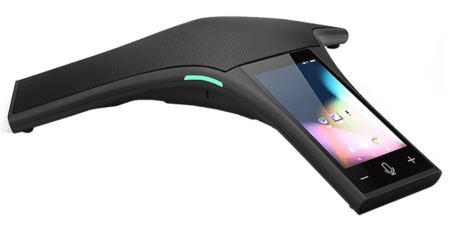 Intelligent conference terminal is a multi-functional conference intelligent device based on Android operating system platform and touch screen operation. It has high quality echo cancellation and noise reduction audio processing system. Its rich input and output user interface can be applied to audio and video conference and varieties of application scenarios, which is suitable for daily audio and video conferencing, distance education, live video, and telemedicine, etc.
High quality audio experience
ARV I-2600 has fast processing speed, strong anti jamming capability and strong ability of echo and noise reduction cause of the built in DSP and ARM dual core processor and ARVIA intelligent audio technology . Its voice pickup range can be up to 5 meters with clear voice and no noise during video conference
Modular camera and projection
It supports camera with USB 2.0 interface and projection with HDMI 2.0 interface, enabling real time shooting and projection more personalized, convenient and efficient during video conference.
Cost down team collaboration
ARV I-2600 supports multiple conference setup, such as IP teleconference and online Internet conference, making team collaboration more convenient and real, greatly reducing meeting cost.