Empowering Collaboration: Arvia Joins Forces with SSTP Johor
Client : SSTP Johor | Project Date : 18-Apr-2023
A groundbreaking era of innovation and knowledge-sharing is on the horizon as Arvia teams up with the prestigious Sektor Sumber Teknologi Pendidikan (SSTP) Johor. This transformative partnership, scheduled for April 18, 2023, signifies a pivotal juncture where growth, technological progress, and expertise converge harmoniously.
SSTP Johor, a trailblazer in research and technology, is renowned for its commitment to excellence and dissemination of knowledge. Its state-of-the-art facilities seamlessly align with Arvia's core values, which revolve around sustainable solutions and visionary thinking.
Central to this dynamic collaboration is the upcoming signing of a Memorandum of Understanding (MOU), a moment of significance that solidifies the partnership and facilitates a vibrant exchange of resources and ideas. A notable dimension of this partnership entails Arvia's representatives conducting training for a diverse cohort of 30 Arvia Certified Educators alongside SSTP Johor representatives, a testament to the shared commitment towards technological advancement and educational empowerment.
The MOU signing event, set to take place on April 18, 2023, will be a prestigious gathering, uniting key stakeholders from both Arvia and SSTP Johor. This collective gathering underscores the harmony between Arvia's innovation-driven ethos and SSTP Johor's legacy of research and development.
In summary, Arvia's collaboration with SSTP Johor, scheduled for April 18, 2023, sets the stage for a transformative journey of innovation and knowledge exchange. Rooted in shared values, this partnership not only fosters growth and technological progress but also exemplifies a commitment to sustainable solutions.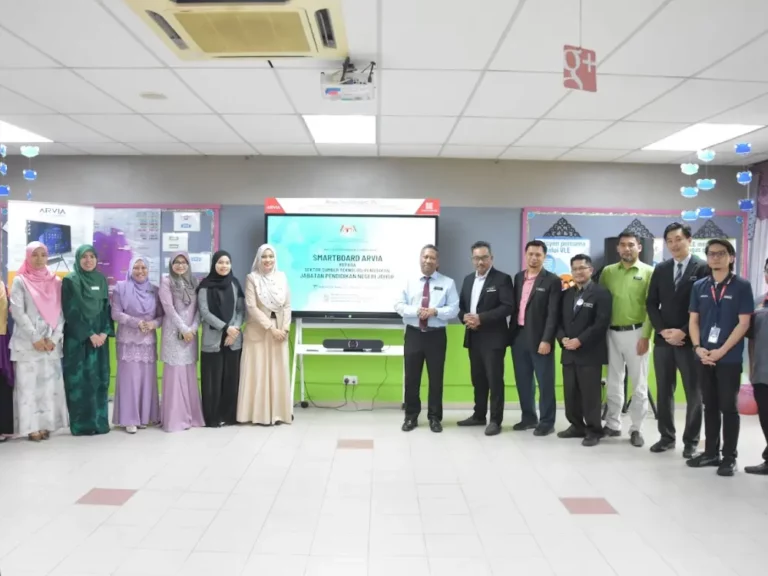 Image Gallery
About Our Solution
Arvia Smartboard transforms static lessons into dynamic experiences. Its touch-sensitive surface allows teachers and students to interact directly with digital content, fostering engagement and participation. Complex concepts come to life through interactive simulations, videos, and real-time annotations, catering to various learning styles.
Visual aids are crucial for effective learning, and Arvia Smartboard excels in this aspect. It offers vibrant, high-definition displays that captivate students' attention, making abstract ideas easier to comprehend. The ability to display and manipulate multimedia content enriches lessons and leaves a lasting impact.
The collaborative features of Arvia Smartboard encourage teamwork and peer-to-peer learning. Students can collaborate on projects, share ideas, and collectively solve problems in real time. This fosters critical thinking, communication skills, and the ability to work effectively in group settings.
Arvia Smartboard adapts to various subjects and teaching methods. Educators can customize lessons with a wide range of digital resources, adapting content to match students' needs and pacing. This flexibility ensures that learning remains engaging and tailored to individual learning journeys.
Arvia Smartboard simplifies recordkeeping and assessment processes. Teachers can save and share digital notes, annotations, and lesson materials, creating a comprehensive resource for students' reference. Additionally, real-time quizzes and assessments can be integrated, providing immediate feedback to gauge student understanding.