Interactive Smartboard Solution for Kolej Kemahiran Tinggi MARA, KKTM Rembau 2021
Client : Kolej Kemahiran Tinggi MARA, KKTM Rembau | Project Date : 11-Apr-2023
We express our sincere gratitude to Kolej Kemahiran Tinggi MARA (KKTM) – Rembau for choosing us as their partner for the supply and commissioning of interactive smartboards, PTZ camera, and mic/speaker system. KKTM is a leading TVET institution under MARA in Malaysia, with more than five decades of experience in producing competent human capital based on industry and successful technopreneurs. We are honored to have provided our services to such a respected and admired institution.
KKTM was facing the challenge of upgrading their classroom technology to meet the needs of their students and teachers. Our team provided them with state-of-the-art smartboards with touch capability and integrated software. The touch technology used enabled up to 20 touch points, making collaboration and sharing easier. We also provided them with affordable high-quality video conferencing equipment, which made communication and collaboration more efficient for students and teachers alike.
Our all-in-one, large LCD interactive panel equipped with either Android, Tizen or Windows Operating system (or dual OS) helped KKTM conduct efficient and collaborative meetings, presentations, and discussions. Our integrated smartboard software offered handwriting recognition, the ability to open a wide range of files, save meeting results, and progress, which could be saved in .pdf or .png format and shared via email or tap-and-write annotation and simple color switching.
We provided KKTM with a modern and stylistic TV stand design with flexible viewing angles and sturdy locking devices, which made it easy to install and dismantle. We also offered a wide range of accessories suitable for different TV stands, wall-mounted or ceiling-mounted solutions. We are proud to say that our expertise and experience allowed us to provide the best services in the industry.
We would like to thank Kolej Kemahiran Tinggi MARA (KKTM) – Rembau once again for their trust in our team. We look forward to serving them and other clients in the future. Our shop, Arviashop, is always open to new projects, and we are committed to providing the best services in the industry. Request a quotation today or visit our shop, and we will have all your needs covered.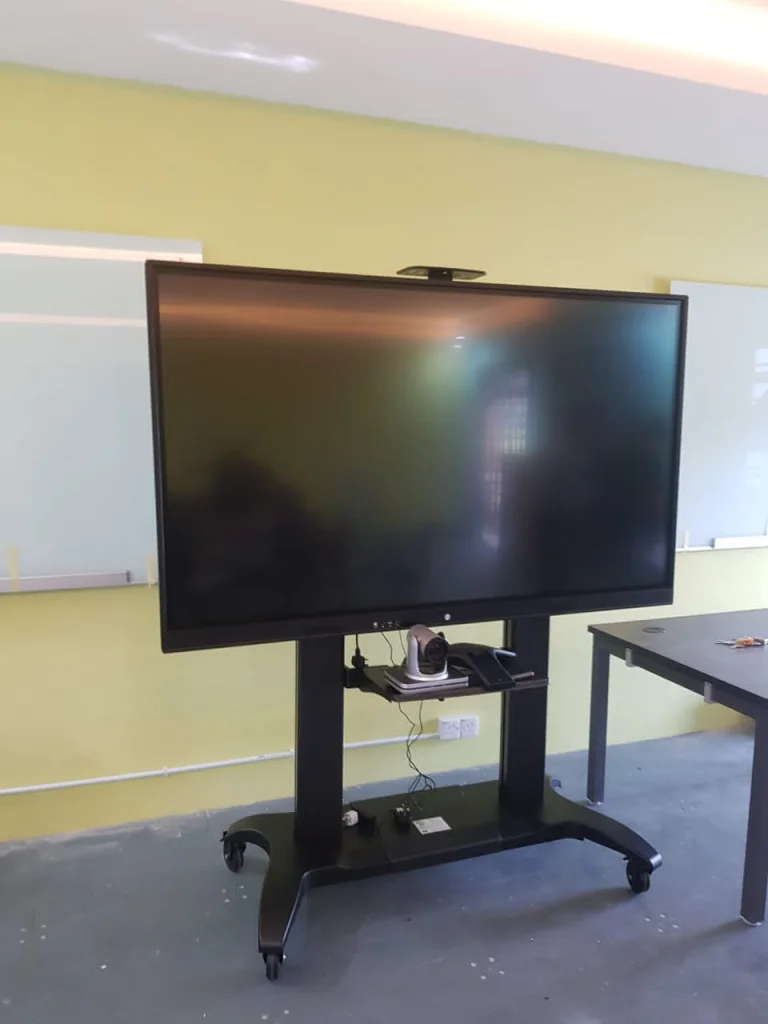 Image Gallery
About Our Solution
The Arvia Interactive Smartboard is a revolutionary interactive display solution that transforms the way people present and collaborate in various settings. Available in several sizes, including 65, 75, 86, and 98 inches, it's an ideal solution for any environment.
The Smartboard is equipped with advanced touch zero bonding technology, 4K resolution display, anti-glare coating, and an integrated sound system that ensures a seamless and intuitive experience. One of the key features of the Smartboard is its built-in wireless presentation system, which allows up to 9 devices to connect simultaneously, making it easier for users to share content and collaborate seamlessly.
In addition to its built-in features, the Arvia Interactive Smartboard is also compatible with a range of third-party applications, including Microsoft Office, Google Suite, and more. It's a sustainable solution built using high-quality materials that are designed to last, providing long-term value.
Whether you're a teacher, business professional, or anyone who needs to present and collaborate effectively, the Arvia Interactive Smartboard is a game-changing solution that's sure to meet your needs. Our team of experts works closely with you to understand your objectives and goals, enabling us to design and implement Arvia Interactive Smartboard solutions that effectively support your needs.