Video Conferencing System for Jabatan Penilaian Dan Perkhidmatan Harta (JPPH) 2021- Complete Solution
Client : Jabatan Penilaian Dan Perkhidmatan Harta (JPPH) | Project Date : 10-Apr-2023
We would like to express our sincere gratitude to Jabatan Penilaian Dan Perkhidmatan Harta (JPPH) for purchasing our Video Conferencing Solution. It was a pleasure to work with such a reputable and dynamic organization in the real estate industry. We are honored to have been given the opportunity to supply and commission our Video Conferencing Set, which included the PTZ Camera ARV-VC212-12x and Mic/Speaker KT-M2 double series.
JPPH is an important department under the Ministry of Finance Malaysia, responsible for a wide range of functions and activities related to the real estate industry. The department has expanded over the years, and currently has a staff strength of 2,101, with 260 professional valuers. We are proud to have contributed to JPPH's communication technology by providing them with the Video Conferencing Solution, which is essential for modern-day businesses.
The problem that JPPH faced was their outdated communication system that made it challenging for their teams to communicate and collaborate with their peers and clients efficiently. This inefficiency was affecting their ability to provide the best possible service to their clients. Our solution was designed to address this problem by providing them with high-quality video conferencing equipment that allows their staff to communicate seamlessly with their peers and clients.
We provided JPPH with our state-of-the-art Video Conferencing Set, which included the PTZ Camera ARV-VC212-12x and Mic/Speaker KT-M2 double series. This solution allows JPPH to conduct video conferencing with ease and clarity, making it possible for them to hold meetings with their clients and colleagues regardless of location. By implementing this solution, we have helped JPPH to enhance their communication channels and improve their overall service to their clients.
We want to thank JPPH again for entrusting us with this project, and we look forward to serving them and other clients in the future. Our commitment to delivering the best possible communication solutions to our clients remains unwavering, and we are always ready to go the extra mile to ensure that our clients receive the best service possible.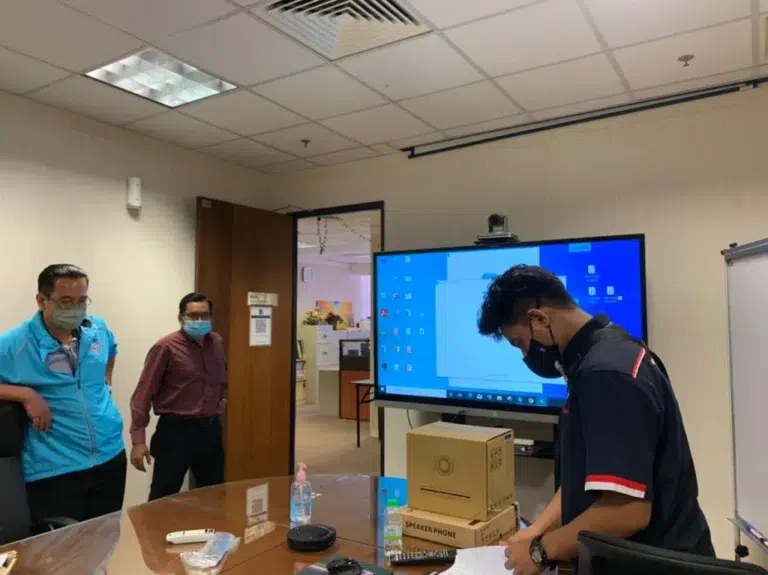 Image Gallery
About Our Solution
Our video conferencing solutions come with a range of features and capabilities that enable you to connect with colleagues, partners, and customers from anywhere in the world.
Our video conferencing solutions include high-quality cameras, such as our PTZ (pan-tilt-zoom) cameras, which provide superior image quality and remote control capabilities. We also offer all-in-one solutions that integrate a camera, microphone, and speaker into a single device, simplifying your setup and providing a more streamlined user experience.
Our 2-in-1 mic speaker solutions provide exceptional audio quality, making it easy for you to hear and be heard during video conferences. With advanced noise-cancelling technology, our mic speakers ensure that background noise is minimized, enabling you to focus on the conversation at hand.
Our team of experts works closely with you to understand your objectives and goals, enabling us to design and implement video conferencing solutions that effectively support your needs. We can provide end-to-end solutions, including hardware, software, and integration services, to ensure that your video conferencing solution is a success.