Digital Signage Floor Standing Kiosk for Pejabat Maqis Negeri Perlis 2023-Complete Solutions
Client : Pejabat Maqis Negeri Perlis | Project Date : 08-Aug-2023
MAQIS Perlis plays a crucial role in ensuring the quality and safety of agricultural products, both within the local community and on the international stage. Their recent acquisition of the FLR103-55 floor-standing kiosk from Israk Solutions demonstrates their unwavering commitment to technological advancement and operational efficiency. This state-of-the-art kiosk serves as an interactive information hub, simplifying communication and enhancing visitor engagement, showcasing MAQIS Perlis' dedication to embracing cutting-edge solutions.
The newly acquired floor-standing kiosk, model FLR103-55, stands as a symbol of MAQIS Perlis' dedication to efficiency and innovation. Strategically placed within their facility, this advanced kiosk is set to revolutionize the inspection and communication processes. Equipped with interactive features, it promises to enhance visitor experiences by providing real-time information about inspection procedures, regulations, and quarantine protocols.
Furthermore, MAQIS Perlis is dedicated to fostering a skilled and knowledgeable workforce. Their investment in the training EZ poster, expertly conducted by the skilled team at Israk Solutions, underscores their proactive approach to staff development. This collaboration exemplifies their commitment to staying at the forefront of advancements in the field and underscores their dedication to maintaining excellence in their crucial responsibilities.
Their dedication to quality assurance and safety measures ensures that agricultural products originating from Perlis meet the stringent criteria for domestic consumption and global exports. Through the incorporation of modern technology and innovative training solutions, MAQIS Perlis is poised to further elevate its profile as a reliable and forward-thinking authority in the realm of agricultural inspection and quarantine services.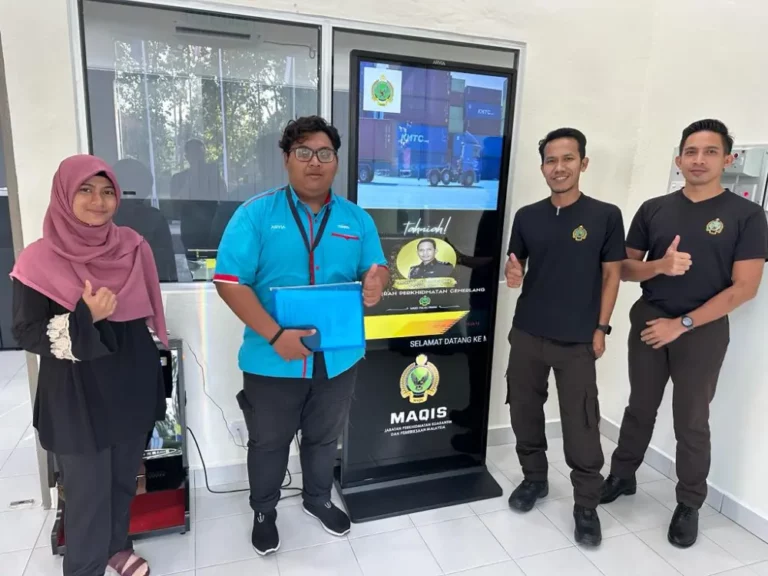 Image Gallery
About Our Solution
The FLR103-55 floor-standing kiosk and EZ Poster offer significant technological advantages. The FLR103-55 kiosk serves as an interactive information hub, providing real-time updates and streamlining communication. Its user-friendly interface enhances visitor experiences, reducing wait times and optimizing information access. This innovative kiosk is a testament to embracing modernity in information dissemination.
On the other hand, the EZ Poster stands as an advanced training tool. Expertly designed and conducted, it offers interactive modules that engage learners effectively. The poster's dynamic content facilitates knowledge retention, ensuring comprehensive understanding of industry practices. This training solution empowers staff with the latest insights, fostering expertise in their respective roles.
Incorporating the FLR103-55 kiosk and EZ Poster not only enhances operational efficiency but also underscores a commitment to seamless user experiences. The FLR103-55 kiosk's interactive features and real-time information access cater to visitors' needs, making information readily available and interactions engaging. Likewise, the EZ Poster's user-friendly interface and comprehensive training content ensure that learning is intuitive and impactful for staff members. By embracing these cutting-edge solutions, organizations like yours demonstrate a dedication to staying at the forefront of technological advancements while prioritizing user satisfaction and staff development.
Together, the FLR103-55 kiosk and EZ Poster embody technological progress and efficiency. They exemplify the integration of modern solutions to enhance communication, training, and overall performance. These innovations showcase a proactive approach to staying ahead in an increasingly digital landscape.