Digital Signage Media Player for Pertubuhan Peladang Kebangsaan (NAFAS) 2019- Complete Solutions
Client : Pertubuhan Peladang Kebangsaan (NAFAS) | Project Date : 29-Aug-2022
We would like to express our sincere gratitude to Pertubuhan Peladang Kebangsaan (NAFAS) for trusting us with their digital signage project in March 2019. NAFAS plays a crucial role in supporting farmers' associations across Malaysia, and we are honored to have played a part in enhancing their communication capabilities with the installation of digital signage media players.
Our team at Israk Solutions supplied and commissioned digital signage media players equipped with the digital signage software CDMS. These media players were strategically placed in various locations such as NAFAS offices and farmers' associations to display relevant information. With the software's customization features, NAFAS was able to promote its initiatives and services effectively, improving engagement with farmers and other stakeholders.
The installation of the digital signage media players marked a significant step forward for NAFAS, as it demonstrated the organization's commitment to adopting modern technologies to better serve its stakeholders. The project's success was a result of our team's expertise and dedication to providing the best solutions for our clients' needs.
Once again, we would like to extend our heartfelt thanks to NAFAS for the opportunity to work on this project. We value our partnership and look forward to serving them and other clients with our digital signage solutions in the future.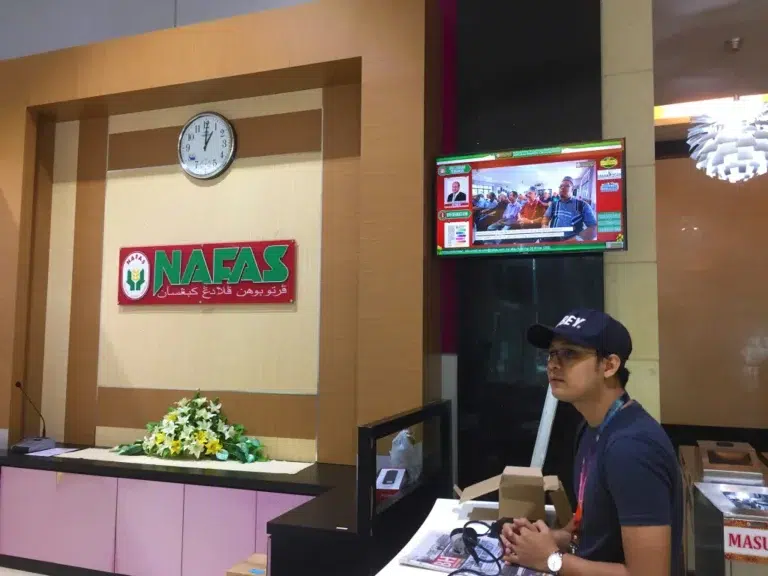 Image Gallery
About Our Solution
We offer innovative digital signage solutions, including Arvia Digital Signage, to help businesses and organizations communicate effectively with their audience. Our digital signage solutions enable you to display dynamic and engaging content such as videos, images, and animations in real-time. Available in several design including monitor, horizontal kiosk, floorstanding kiosk, media player and also large screen such as videowall.
Arvia Digital Signage is a cutting-edge digital signage software that provides a user-friendly content management system that makes it easy to create and update your digital signage content. It offers a range of features such as advanced scheduling, content preview, and remote management, making it an ideal solution for businesses of all sizes.
Our team of experts works closely with you to understand your business objectives and audience, enabling us to design and implement Arvia Digital Signage solutions that effectively communicate your message and drive engagement.
With our digital signage solutions, including Arvia Digital Signage, you can enhance your brand visibility, increase customer engagement, and ultimately boost your revenue. Contact us today to learn more about our digital signage solutions and how we can help your business grow.