LED Display Implementation for ICT Johor 2023 – Complete Solution
Client : ICT Johor | Project Date : 06-Jul-2023
ICT@Johor, a state government agency based in Johor Bahru, Malaysia, is dedicated to driving digital transformation within the region. In their pursuit of enhancing monitoring capabilities, ICT@Johor partnered with Israk Solutions to implement a state-of-the-art LED screen command center.
The LED screen, measuring 4480 x 1440mm with a pixel pitch of 1.25, serves as the central hub for real-time monitoring. It enables clear and detailed visuals, empowering decision-making and response coordination in areas such as security, surveillance, traffic management, and public services.
To complement the LED screen, we recommended a videowall controller software called Polywall that provides advanced control and content flexibility. This software allows ICT@Johor to create custom layouts, resize content windows, and seamlessly switch between information sources. Such control empowers quick adaptation to changing situations and optimized use of the command center.
The LED screen command center aligns with ICT@Johor's objective of digitizing processes and leveraging technology for efficient public services. It showcases their commitment to staying at the forefront of digital innovation and utilizing cutting-edge solutions for the betterment of the community.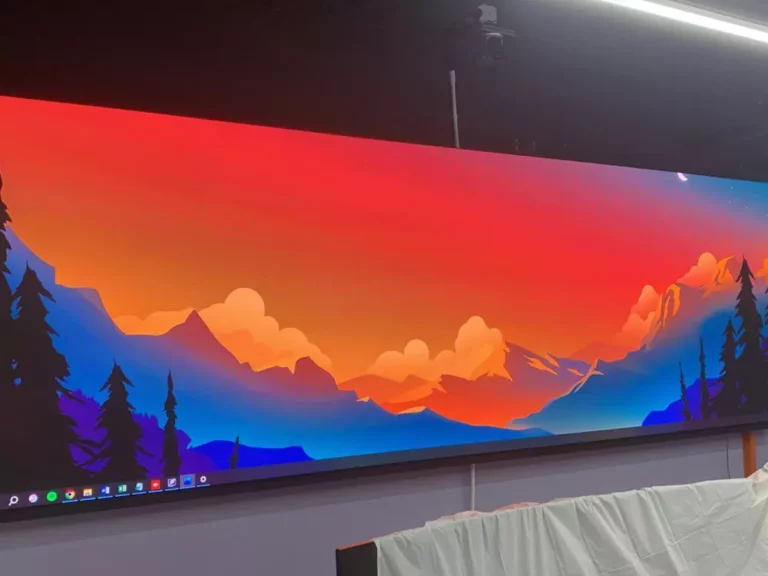 Image Gallery
About Our Solution
Our indoor LED screen solutions are not only perfect for advertising and promotions but also for command centre applications. With their high resolution and dynamic content capabilities, our indoor LED screens are ideal for displaying real-time data, graphics, and video feeds in command centre environments. Available in several option from P1.25 to P4 convenient for indoor used.
Whether you're monitoring critical systems or providing situational awareness, our indoor LED screens offer unparalleled visibility, allowing you to quickly and easily identify important information and respond accordingly. Plus, with their customizable configurations, you can create a display that meets your specific needs, whether it's a large-scale video wall or a smaller screen for a desktop console.
Our indoor LED screens come in a variety of sizes and configurations to suit any command centre environment, and their slim and sleek design ensures they integrate seamlessly into any space, without compromising on display quality. With the ability to display a range of content types, including video, images, and live feeds, our indoor LED screens deliver dynamic and engaging content that keeps your team informed and engaged.
We use only the highest quality materials and components in the construction of our indoor LED screens, ensuring they are built to last and can withstand the rigors of continuous use. Plus, our indoor LED screens are energy-efficient, making them a cost-effective and eco-friendly choice for command centres and other applications.