Logitech + Microsoft Teams
Video Conferencing Set
BRING TEAMS TOGETHER
Logitech and Microsoft work together to foster inclusive meeting experiences for people and teams, no matter their location. Our ecosystem of software, services, and Microsoft Teams Rooms-certified hardware are easy to deploy at scale, simple to use and manage, and seamlessly connect hybrid workplaces for everyone.
Description
SEE WHAT YOU'VE BEEN MISSING
Level the playing field for remote participants by providing a clear view of who's speaking and who's in the room. With RightSight 2, Rally Bar and Rally Bar Mini complement Teams Rooms Dynamic view to provide the room context that matters. 
SOLUTIONS FOR EVERY SPACE
From personal offices to boardrooms, Logitech and Microsoft help teams work wherever and however they want by delivering a better hybrid meeting experience. Our flexible solutions let you choose between Teams Rooms on Windows or Android, and switch as your needs evolve. Learn more about our joint solutions below.
Personal Office
Focus Room
Brainstorm Space
Think Tank
Boardroom
Training Space
Personal Office
Featuring Logitech Brio, Logi Dock, and Zone True Wireless.
Focus Room
Brainstorm Space
Think Tank
Boardroom
Training Space
YOUR WORKSPACE, YOUR WORK STYLE
Create the ideal personal workspace with Logitech's portfolio of webcams, headsets, and all-in-one docking stations. Be seen and heard, and join meetings with one-touch ease.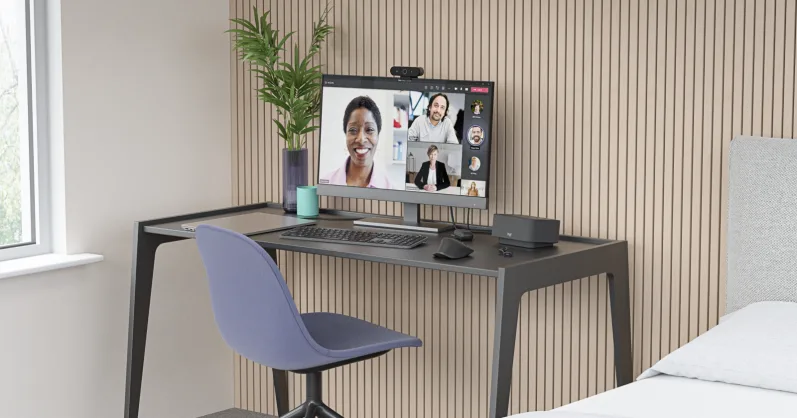 Whether you have a Microsoft Teams Rooms on Windows or Android deployment, you can create a room solution that works for any collaboration space or layout. Start with a Logitech conferencecam and Tap touch controller and enhance your space with a Tap Scheduler, Scribe, or variety of mounting and cabling options. Our solutions give you the flexibility to switch and scale as your needs evolve.