Polycom All-in-One Bar Poly Studio X50
Video Conferencing
• Ideal for small and medium sized rooms
• 5x digital zoom, 120° FOV , UHD 2160p (4K) capture resolution
• Automatic people framing, Automatic speaker tracking
• Microphone pickup range 25 ft
• Can be connected easily with any video collaboration software and no PC or Mac required as supported with cloud video services built right in.
Description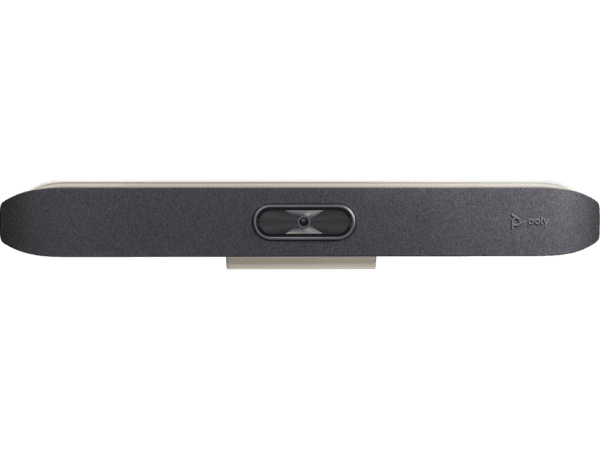 RADICALLY SIMPLE VIDEO CONFERENCING
Experience full board-room-quality audio, and knock-your-socks-off video, for mid-sized rooms. The Poly Studio X50 all-in-one video bar is radically simple to use with support for leading cloud video services built right in—no PC or Mac required. Voices are crisp and clear. Video feels natural. And wireless content sharing lets users collaborate from their devices without cables or pucks.
High performance stereo speakers with a unique acoustic chamber design delivers rich audio that reaches all parts of the room during video conferencing.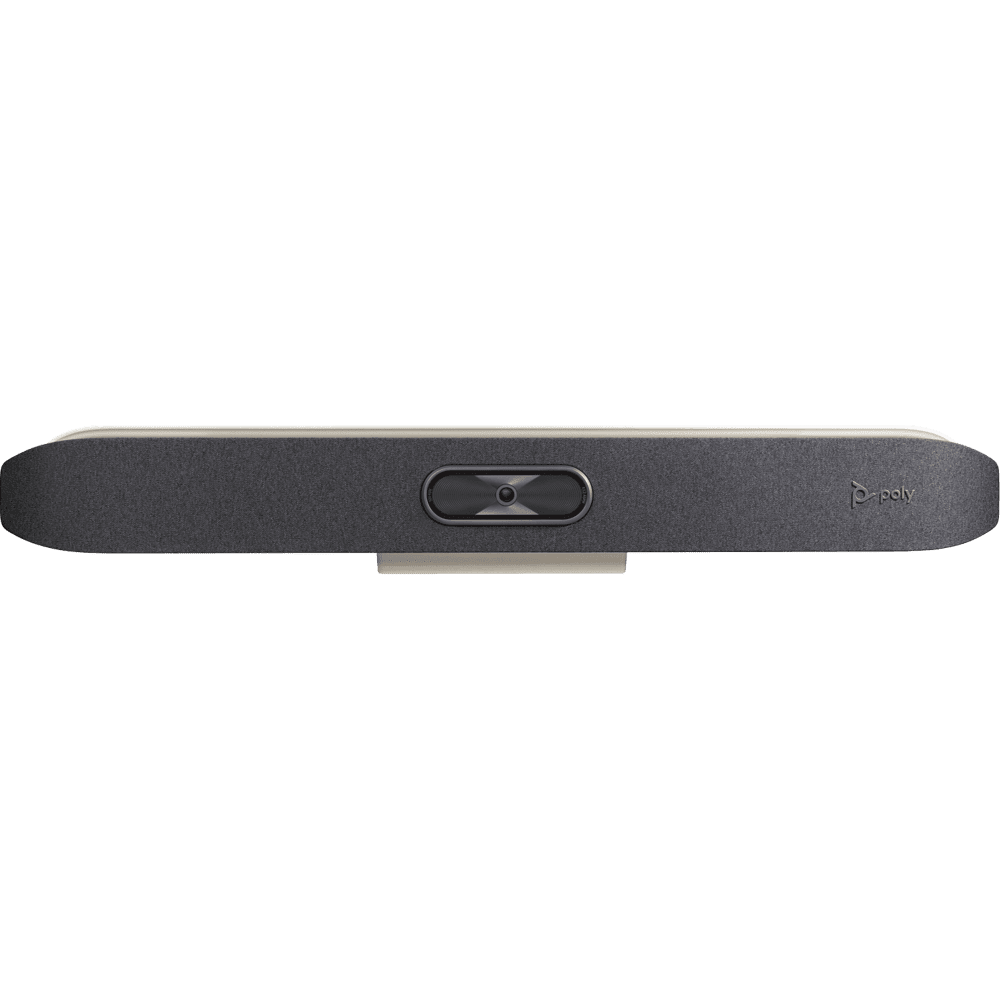 ADVANCED MICROPHONE DESIGN
Unique second order gradient microphones pick up all corners of the room with incredible clarity.
Feel connected with production-quality camera framing and tracking that keeps the visual focus in the right place throughout the conversation.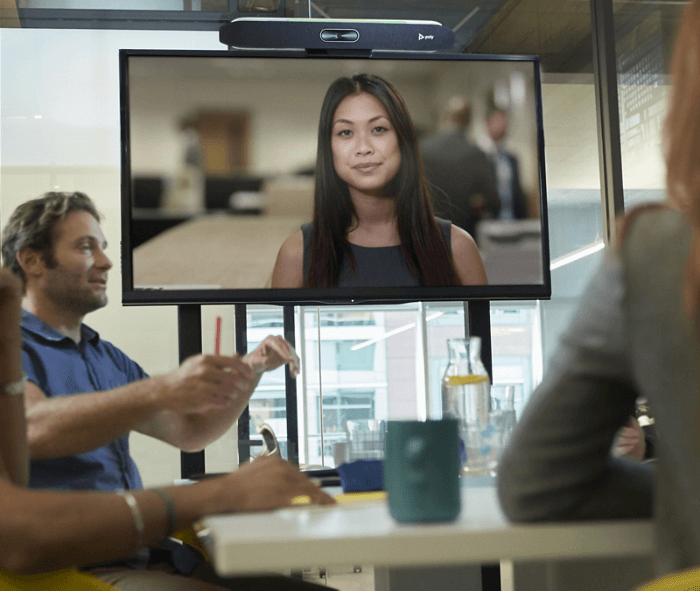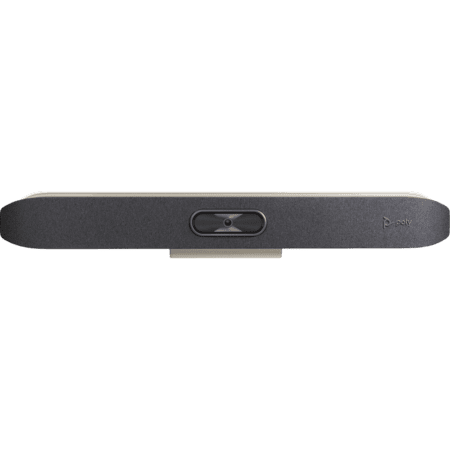 NOISE BLOCKING INNOVATIONS
Keep distracting noise and outside conversations from disrupting your meeting during video conferencing with Poly NoiseBlockAI and Acoustic Fence.
CLOUD VIDEO SOFTWARE BUILT RIGHT IN
No PC or Mac needed for always-on connectivity to your favorite video platforms.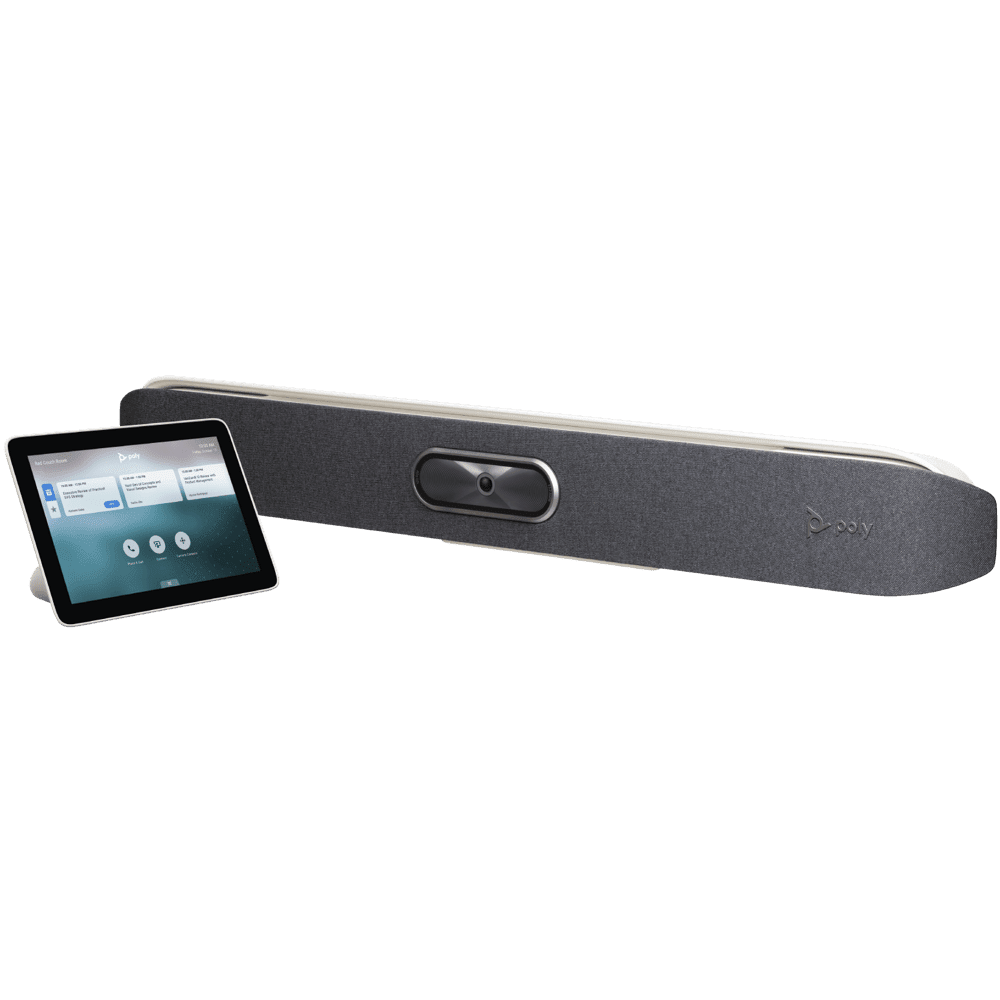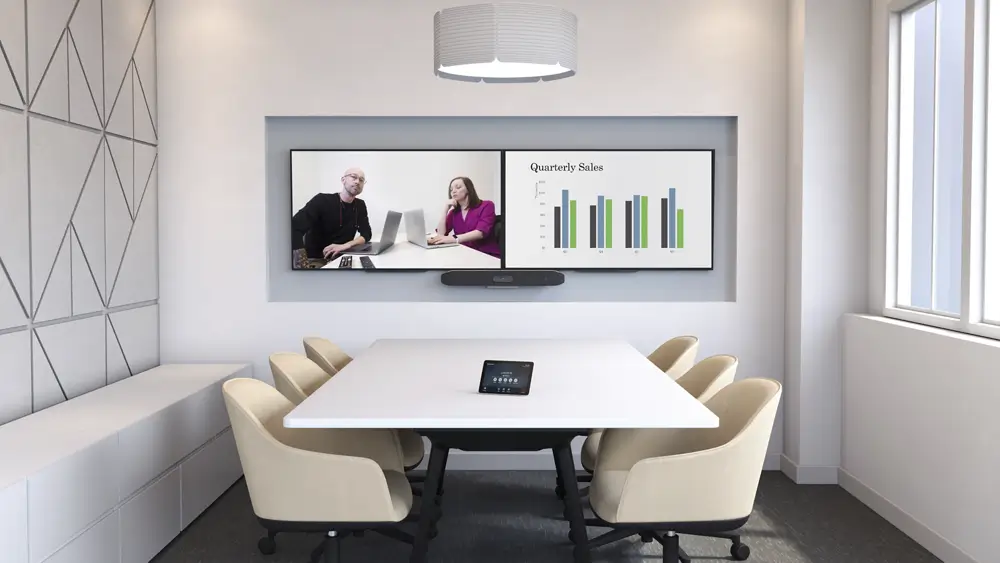 Connect two monitors to see both people that join video conference and content in full size.
30 W x 4 H x 4 D (Inches) 762 W x 102 H x 102 D (MM)
5.6 lbs/2.54 kg
Operating temperature: 0 to 40 °C
Operating humidity (non-condensing):15 to 80%
Non-operating temperature: -40 to 70 °C
Non-operating humidity (non-condensing): 5 to 95%
Maximum altitude: 16,000 ft
VIDEO STANDARDS AND PROTOCOLS
H.264 AVC, H.264 High Profile, H.265
VIDEO INPUT
1x HDMI
VIDEO OUTPUT
2x HDMI
Touch display compatible
PEOPLE VIDEO RESOLUTION
4K, 30 fps (TX & RX) from 2048 Kbps*
1080p, 60 fps from 1740 Kbps
1080p, 30 fps from 1024 Kbps
720p, 60 fps from 832 Kbps
720p, 30 fps from 512 Kbps
CONTENT VIDEO RESOLUTION
Input

UHD (3840 x 2160)
HD (1920 x 1080p)
WSXGA+ (1680 x 1050)
UXGA (1600 x 1200)
SXGA (1280 x 1024)
WXGA (1280 x 768)
HD (1280 x 720p)
XGA (1024 x 768)
SVGA (800 x 600)

Output

UHD (3840 x 2160)
WUXGA (1920 x 1200)
HD (1920 x 1080)
WSXGA+ (1680 x 1050)
SXGA+ (1400 x 1050)
SXGA (1280 x 1024)
HD (1280 x 720)
XGA (1024 x 768)

Content frame rate

5–60 fps (up to 4K resolution at 15 fps in call)
CONTENT SHARING
Poly Content app
Apple Airplay
Miracast
HDMI input
Digital Whiteboarding
CAMERA
5x digital zoom
120° FOV
UHD 2160p (4K) capture resolution
Electronic pan/tilt/zoom
Automatic group framing
Automatic speaker tracking
AUDIO INPUT
3x MEMS microphones, plus 2x 2nd order microphones
1x HDMI
1x 3.5 mm line-in
Microphone pickup range 25ft
AUDIO OUTPUT
Stereo speakers
1x 3.5 mm line-out
OTHER INTERFACES
2x USB-A (3.0)
1x USB-C
Bluetooth 5.0
WiFi 802.11a/b/g/n/ac (MIMO) Multi-channel Concurrency
AUDIO STANDARDS AND PROTOCOLS
22 kHz bandwidth with Polycom Siren 22 technology
20 kHz bandwidth with G.719 (M- Mode)and Polycom Siren 22 technology
14 kHz bandwidth with Polycom Siren 14 technology, G.722.1 Annex C
7 kHz bandwidth with G.722, G.722.1
3.4 kHz bandwidth with G.711, G.728, G.729A
NETWORK
IPv4
IPv6
1x 10/100/1G Ethernet
Auto-MDIX
H.323 and/or SIP up to 6 Mbps running Poly Video App
Lost Packet Recovery (LPR) technology
Dynamic bandwidth allocation
Reconfigurable MTU size
Web proxy support—Basic, Digest, and NTLM
Simple Certificate Enrollment Protocol (SCEP)
SECURITY
Media encryption (H.323, SIP): AES-128, AES-256
H.235.6 support
Authenticated access to admin menus, web interface, and API
Local account password policy configuration
Security profiles
Local account and login port lockout
Secure defaults
Remote logging with support for TLS
Active directory external authentication
OPTIONS
VESA mount kit
Stand
Poly TC8
Poly Bluetooth remote control
Poly Trio
Studio Extension Microphone
INTEROPERABILITY
Zoom Certified
Microsoft Teams Certified
All cloud service providers through Poly Video App Mode
USB device mode
Support for native 3rd party applications includes Zoom, Microsoft Teams, 8x8, GoToRoom, RingCentral and StarLeaf
ELECTRICAL
Auto sensing power supply
Typical operating voltage/power

37 VA @ 120 V @ 60 Hz
37 VA @ 230 V @ 50/60 Hz

Typical BTU/h: 65
WARRANTY
One-year return to factory parts and labor
Poly Studio X50
Cable bundle
Wall mount
Privacy cover