Video Conferencing System for Markas Tentera Darat 2021- Complete Solution
Client : Markas Tentera Darat | Project Date : 10-Apr-2023
We would like to express our sincere gratitude to our valued client, who trusted us with their Video Conferencing Solution project. Our client, Markas Tentera Darat, is a key player in the defense industry, with a long and proud history of serving the nation.
The challenge that our client faced was to ensure efficient communication and collaboration among their personnel across multiple locations. They needed a reliable video conferencing system that could connect teams in real-time and improve productivity while reducing travel costs.
Our team was tasked with supplying and commissioning a Video Conferencing System that met all their requirements. We provided them with state-of-the-art equipment, including PTZ Cameras and a Mic/Speaker, that allowed seamless communication and collaboration between teams. Our solution ensured that the client's personnel could easily connect and communicate, even from remote locations.
The project was successfully completed in October 2021, and we are proud to have delivered a solution that met all our client's expectations. We are grateful for the opportunity to have worked with such a distinguished client and played a role in enhancing their operations.
Once again, we thank our client for their trust and cooperation throughout the project. We look forward to continuing our partnership and serving them and other clients with innovative solutions in the future.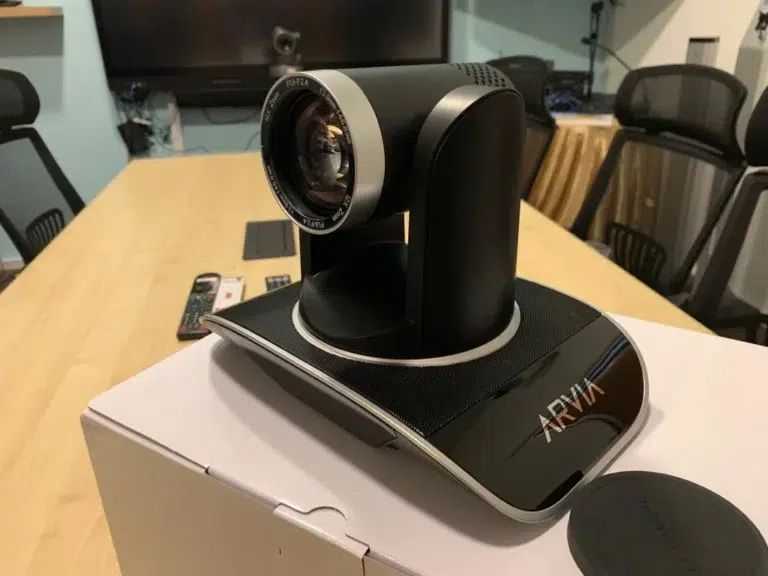 Image Gallery
About Our Solution
Our video conferencing solutions come with a range of features and capabilities that enable you to connect with colleagues, partners, and customers from anywhere in the world.
Our video conferencing solutions include high-quality cameras, such as our PTZ (pan-tilt-zoom) cameras, which provide superior image quality and remote control capabilities. We also offer all-in-one solutions that integrate a camera, microphone, and speaker into a single device, simplifying your setup and providing a more streamlined user experience.
Our 2-in-1 mic speaker solutions provide exceptional audio quality, making it easy for you to hear and be heard during video conferences. With advanced noise-cancelling technology, our mic speakers ensure that background noise is minimized, enabling you to focus on the conversation at hand.
Our team of experts works closely with you to understand your objectives and goals, enabling us to design and implement video conferencing solutions that effectively support your needs. We can provide end-to-end solutions, including hardware, software, and integration services, to ensure that your video conferencing solution is a success.