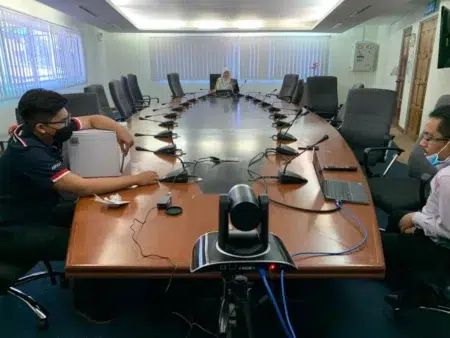 Video Conferencing System for National Institute for Occupational Safety and Health (NIOSH) 2020- Complete Solution
Client : National Institute for Occupational Safety and Health (NIOSH) | Project Date : 10-Apr-2023
We are pleased to share with you our recent project, which involved the supply and commissioning of a Video Conferencing Solution for the National Institute for Occupational Safety and Health (NIOSH). The client required a high-quality video conferencing system to enable their employees to communicate effectively and efficiently with colleagues, stakeholders, and partners across the country.
Our team provided the perfect solution by supplying and commissioning three essential items: the PTZ Conference Camera ARV950A-12-U3, IP Video Conference Camera ARV VC200, and USB Conference Microphone Speaker KT-M3EX. These components were carefully selected to ensure that the client had access to a reliable and user-friendly video conferencing system that met their specific needs.
The National Institute for Occupational Safety and Health (NIOSH) is a research agency focused on the study of worker safety and health, which is part of the U.S. Centers for Disease Control and Prevention. They have a diverse set of fields and more than 1,300 employees from various backgrounds, making effective communication vital for their daily operations. The video conferencing system we provided has enabled them to conduct meetings, seminars, and training sessions with ease, regardless of the distance between participants.
We are grateful for the opportunity to work with the National Institute for Occupational Safety and Health (NIOSH) and to provide them with a reliable and effective Video Conferencing Solution. Our team is committed to delivering the highest quality products and services to meet the unique needs of each of our clients.
Once again, we thank NIOSH for choosing us as their partner for this project. It has been a pleasure working with them, and we look forward to serving them in the future.
Image Gallery
About Our Solution
Our video conferencing solutions come with a range of features and capabilities that enable you to connect with colleagues, partners, and customers from anywhere in the world.
Our video conferencing solutions include high-quality cameras, such as our PTZ (pan-tilt-zoom) cameras, which provide superior image quality and remote control capabilities. We also offer all-in-one solutions that integrate a camera, microphone, and speaker into a single device, simplifying your setup and providing a more streamlined user experience.
Our 2-in-1 mic speaker solutions provide exceptional audio quality, making it easy for you to hear and be heard during video conferences. With advanced noise-cancelling technology, our mic speakers ensure that background noise is minimized, enabling you to focus on the conversation at hand.
Our team of experts works closely with you to understand your objectives and goals, enabling us to design and implement video conferencing solutions that effectively support your needs. We can provide end-to-end solutions, including hardware, software, and integration services, to ensure that your video conferencing solution is a success.