Video Conferencing System for Selia Ekuiti 2020 – Complete Solution
Client : Selia Ekuiti Sdn Bhd. | Project Date : 11-Apr-2023
We are thrilled to share the successful completion of the Video Conferencing project for Selia Ekuiti Sdn Bhd. The project involved the supply and commissioning of a Video Conferencing Set that included a PTZ Camera, ARV KT-HD92R with 12x Zoom Level, Conference Mic KT-M2, Mini PC with Windows 10, 8GB Ram, 128GB SSD and 60″ LED TV with a portable stand. Our team worked diligently to ensure that the installation was seamless and met the client's needs.
Our client, Selia Ekuiti Sdn Bhd, is one of the leading engineering and construction companies in Malaysia. They have diversified their business activities to include Asset Management and Property Development. It was an honor to work with such a prestigious company, and we are proud of the work we accomplished together.
The Video Conferencing Set is an essential tool for companies like Selia Ekuiti Sdn Bhd, where communication is vital for success. With this technology, they can communicate with clients and colleagues from anywhere in the world without needing to travel, saving both time and money. We believe that our solution will help Selia Ekuiti Sdn Bhd streamline their operations and achieve even greater success.
We would like to thank Selia Ekuiti Sdn Bhd for trusting us with their project. It was a privilege to work with such a professional team. Our team worked hard to ensure that the project was completed on time and within budget, and we are proud of the outcome. We look forward to working with Selia Ekuiti Sdn Bhd on future projects.
In conclusion, the Video Conferencing project was a resounding success, thanks to the hard work of our team and the trust and support of Selia Ekuiti Sdn Bhd. We are excited to continue to provide innovative solutions to our clients and help them achieve their goals.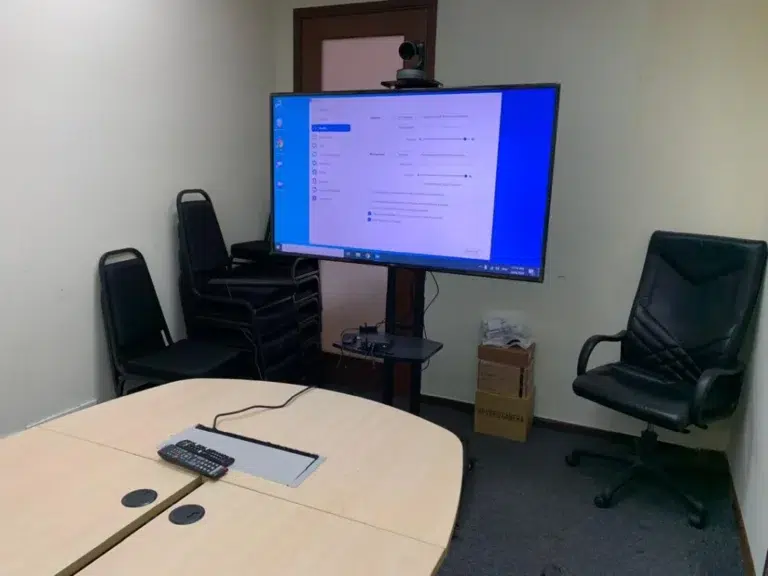 Image Gallery
About Our Solution
Our video conferencing solutions come with a range of features and capabilities that enable you to connect with colleagues, partners, and customers from anywhere in the world.
Our video conferencing solutions include high-quality cameras, such as our PTZ (pan-tilt-zoom) cameras, which provide superior image quality and remote control capabilities. We also offer all-in-one solutions that integrate a camera, microphone, and speaker into a single device, simplifying your setup and providing a more streamlined user experience.
Our 2-in-1 mic speaker solutions provide exceptional audio quality, making it easy for you to hear and be heard during video conferences. With advanced noise-cancelling technology, our mic speakers ensure that background noise is minimized, enabling you to focus on the conversation at hand.
Our team of experts works closely with you to understand your objectives and goals, enabling us to design and implement video conferencing solutions that effectively support your needs. We can provide end-to-end solutions, including hardware, software, and integration services, to ensure that your video conferencing solution is a success.