Moving

Forward

With Technology
Israk Solutions Sdn. Bhd. (1289622-T) previously known as Israk Technology Sdn. Bhd., is 100% Bumiputera, MSC-status company since 2011 was established to help any organization to take advantage of a new solution via the latest technology, internet, and video to facilitate marketing and corporate communications. Our core business includes Digital Signage, Videowall, Touchscreen Kiosk, Interactive Smartboard, LED Display, Online Learning Solution, Video Conferencing and Live Streaming Services. Our clients ranging from government agencies, MNC, GLC, and private organizations.
Vision
Inspire the world with innovative technologies, products and solutions that effectively leverage digital transformation to enrich cultural, organizational and operational ecosystem.
Mission
Provide wide range of innovative solutions that positively impact each customer and partner. We operate on the principles of professionalism, friendliness and excellent customer service.
Objectives
Prioritize employee development to maximize productivity by assessing employee performance using standard metrics at monthly and yearly intervals.
Our Products And Solution
At our company, we take pride in our state-of-the-art solutions that have been trusted and recognized across Malaysia since 2010. Our commitment to quality products and services is backed by our vast industry experience and an impressive portfolio of successful projects.
We understand that every client has unique needs, and we strive to deliver the ultimate cost-efficient solution that is tailored to those specific needs. Our team of experts will work closely with you to ensure that you are provided with the best possible outcome for your project.
From start to finish, we prioritize quality in everything we do. Our solutions are designed to elevate your business and exceed your expectations. We take the time to understand your goals, and we leverage our experience and expertise to deliver results that will set your business apart.
Whether you are looking to upgrade your audio-visual systems, implement state-of-the-art solutions for your meeting rooms or classrooms, or enhance your advertising with large and high-quality multimedia displays, we are here to help. With our trusted and recognized solutions, you can trust us to deliver the best possible outcome for your business.
The Multimedia Super Corridor (MSC) Malaysia status is a recognition awarded by the Government Of Malaysia through the Multimedia Development Corporation (MDeC) for companies that participate and undertake its ICT activities in the MSC. This award signifies our capabilities to provide world-class products and services to the world.
Syafee Khdri
Digital Signage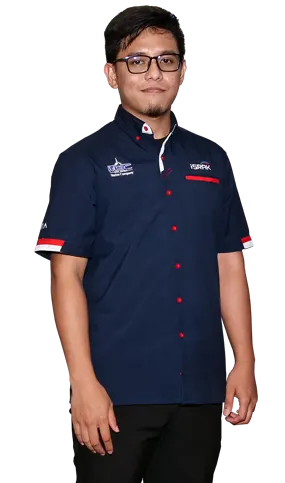 Muhammad Azim Anuar
LED Display
Ahmad Najib Habeb
Control Room & Command Center
Various of our solutions have been recognized and successfully implemented in Malaysia since 2011. We emphasize quality products & services. With vast experiences in the industries and great project portfolios, we guarantee a cost-efficient solution according to your demands.