Flip Touch for Inai Republic 2023 – Complete Solutions
Client : Inai Republic | Project Date : 07-Apr-2023
Inai Republic is an innovative technology company dedicated to revolutionizing the way people interact with digital content for Tik Tok , Instagram , Facebook platform. Our flagship product, Flip Touch, is a cutting-edge interactive touchscreen display designed to enhance collaboration, communication, and productivity in various professional settings.
At Inai Republic, they believe in the power of intuitive and immersive technology. Our Arvia Flip Touch is a state-of-the-art interactive touchscreen that combines high-definition visuals with seamless touch control, enabling users to interact with digital content effortlessly.
The Arvia Flip Touch is engineered to foster collaboration and communication in the modern workplace. Its large and vibrant display captivates attention, facilitating effective presentations and engaging discussions. Users can easily annotate, draw, and write on the screen, promoting dynamic collaboration and ideation. With the Flip Touch, teams can brainstorm, share ideas, and make real-time adjustments, improving productivity and decision-making.
The device also supports multi-touch gestures, allowing for intuitive zooming, rotating, and swiping, further enhancing user experience and productivity.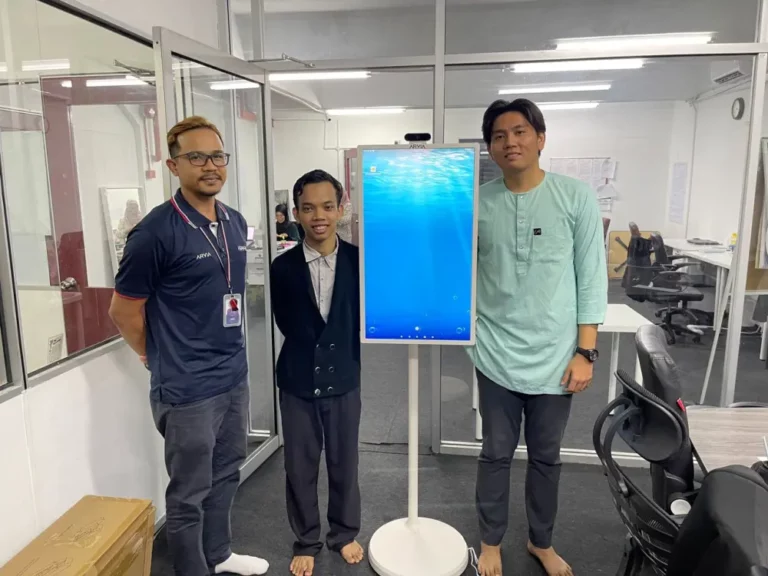 Image Gallery
About Our Solution
The Arvia Fliptouch is an innovative Android-based touchscreen that is designed to provide a portable and versatile solution for users on the go. With its unique flip design, users can rotate the screen to their preferred orientation, making it perfect for presentations, meetings, or entertainment. The Fliptouch is also equipped with a built-in battery, which means that users can take it anywhere, without the need for any external power source.   One of the key features of the Arvia Fliptouch is its built-in camera, which enables users to live stream and record their presentations, meetings, or events. The camera is high-resolution and can capture crystal-clear images and videos, which makes it perfect for video conferencing and remote collaboration. Additionally, the Fliptouch is equipped with a range of connectivity options, including Wi-Fi, Bluetooth, and HDMI, which makes it easy to connect to other devices and share content.   The Arvia Fliptouch is also highly versatile and customizable. It is based on the Android operating system, which means that users can download any app from the Google Playstore and customize the device to meet their specific needs. Whether it's productivity apps, entertainment apps, or educational apps, the Fliptouch can support them all.