LG Interactive Display – 65TR3BF-B
Smartboard
• 65" screen size
• Built-in OPS kit
• Can use web browser
• Native resolution 3,840 x 2,160 (UHD)
• Touch type infrared
Description
True Interactivity for Bringing People Together
With differentiated cutting-edge touch technology, the TR3BF Series supports multi-touch & writing functions providing accurate drawing and authentic touch quality. In addition, the Air Class and web browsers support multi-directional communication and interactive learning, which will help you achieve the successful business.
The TR3BF series can simultaneously use up to 20 points of multi touch. This function offers a lifelike board writing experience and makes collaboration much easier.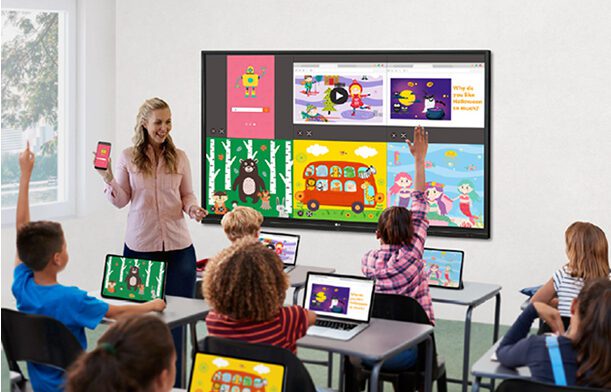 With the newly upgraded ScreenShare Pro, which enables to show a maximum of six shared screens or a file on a screen in real-time, it has enhanced usability by allowing users to share Chromecast mirroring on the same network without any application.
Air Class supports connecting up to 30 students and offers interactive meetings for all mobile devices on the same network, providing a variety of tools such as voting, answering, and sharing project texts.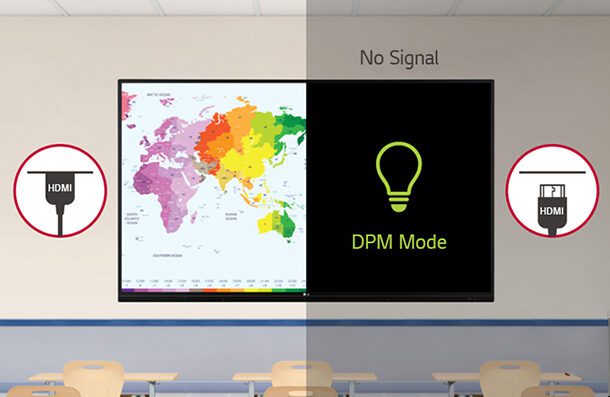 DPM (Display Power Management)
By activating DPM function, the display can be set to be on only when there is an input signal, which enables more efficient power management.
At annotation tool mode, 'Un-do' and 'Re-do' functions provide enhanced user experience. (Annotation tool can be used on any source.)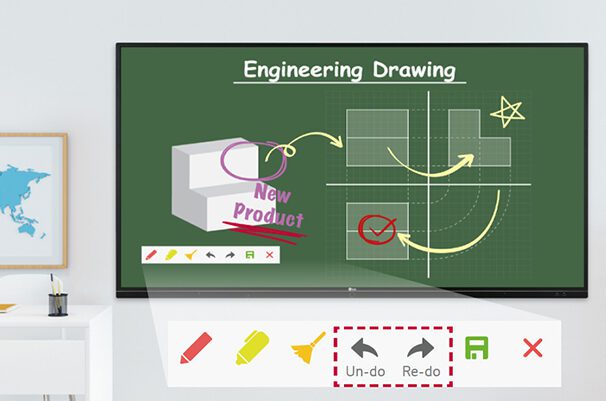 The TR3BF series supports the web browser in the Android OS, so you can search the web easily and quickly, without connecting to an external desktop.
The TR3BF series integrates both Android OS and Free apps into a high performance SoC, without a PC.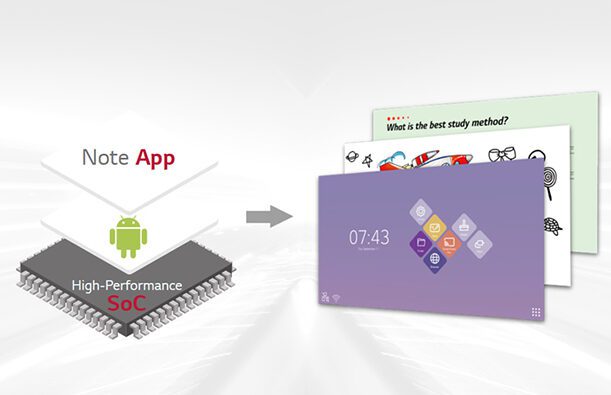 The TR3BF series supports OPS slots, allowing you to easily and conveniently mount OPS desktop at the back of the digital board without the hassle of connecting to an external desktop, offering you more expanded functions.
LG Interactive Display was granted an approval for Google's Compatibility Test Suite, which is Android API & Application Compatibility Test, on August of 2019. This CTS approval ensures that LG Interactive display supports stable work on Android OS.
The USB Block Mode that helps secure and prevent data from being copied into unauthorized devices in advance, which is essential for being used in space where security is critical.
Secure Mode blocks unauthorized contents to be shown via sharing screen function in various devices. The preloaded applications related to share screens will be hidden from menu. Secured mode disables screen mirroring options for SSP (Screen Share Pro). It helps prevent unauthorized access to your IDB.
Users can select the desired area of the screen to crop the image and store that in internal memory. Also, TR3BF allows that send cropped images directly to email or note apps.
TR3BF supports Bluetooth to connect wirelessly to various devices such as speaker, mouse, keyboard, etc. This is optimized for building a hybrid environment so that online and offline meeting and class can proceed without problems.
PIP function enables IDB to display multiple kinds of content while the android content remains in view. So it is possible to see and work on multiple tasks with additional input.

* PIP function is provided in app form.
* It can only be changed to the specified size.
Real-time ConnectedCare Service
Maintenance is easy and fast with the optional ConnectedCare* service, a cloud service solution provided by LG. It remotely manages the status of displays in client workplaces for fault diagnosis and remote-control services, ensuring the stable operation of clients' businesses.

* The availability of the "ConnectedCare" service differs by region, so please contact the LG sales representative in your region for more details.