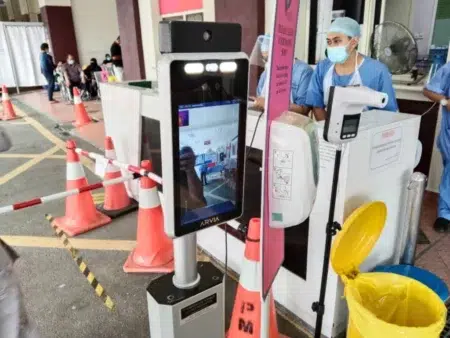 Temperature Scanner for Hospital Putrajaya 2021 – Complete Solution
Client : | Project Date : 07-Dec-2023
Thank you for purchasing our Temperature Scanner Solutions
Temperature Scanner Solution
Our temperature scanner is Linux-based, super fast infrared temperature measurement detector with built-in face recognition camera module, capable of personnel access management. It can be used with access gates and attendance for communities, office buildings, schools, hotels, scenic spots, transportation hubs, and other public service places.
Project Background : Supply and Commissioning of Automatic Temperature Scanner. Item Supplied was 1 unit of ARV FS02 with high floor stand and face recognition software.
Client : Putrajaya Hospital is a Malaysian government-owned public hospital in the administrative region of Putrajaya. Originally founded in 1998, this hospital has 369 beds. As a hospital located in the Multimedia Super Corridor, it has managed and maintained the hospital using the Full Hospital Information System.
Putrajaya Hospital (HPj) is a hospital located in an area of 27.2 acres (11.0 ha) in Precinct 7, Putrajaya. The hospital was first built in 1998 at a cost of RM283 million and operated in stages on 1 November 2000. Originally HPj only had 278 beds and has increased to 341 beds in 2012 with the establishment of a Low Risk Maternity Center in Precinct 8 and is now operational with 369 official beds starting January 2018
Image Gallery
About Our Solution