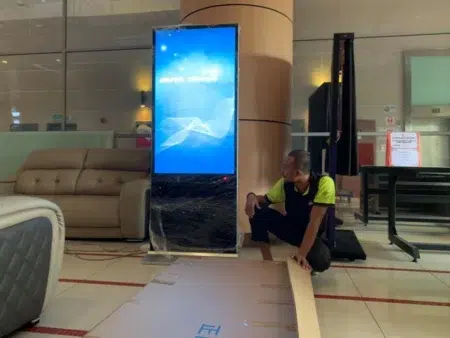 Touchscreen Floor Stand Kiosk for Mz Hani Enterprise 2020- Complete Solutions
Client : Mz Hani Enterprise | Project Date : 14-Apr-2023
We would like to express our sincere gratitude to Mz Hani Enterprise for choosing us as their partner for the Supply and Commissioning of Touchscreen Kiosk (Vertical). We truly appreciate the opportunity to work with such a dynamic and innovative company.
Mz Hani Enterprise is an all-in-one platform for construction professionals to look for new project opportunities, find new products and partners, and bid on tenders to get new projects. Their business revolves around providing a platform for people in the construction industry to connect and collaborate.
Our team was tasked with providing an interactive kiosk solution that could offer easy access to the Mz Hani platform. We provided a floor-standing touch kiosk FLR103 -55 inch with digital signage software CDMS. With this solution, users could quickly and easily access the Mz Hani platform and all of its features.
The project was completed in November 2019 and we are proud to have delivered a solution that exceeded our client's expectations. Thank you again to Mz Hani Enterprise for entrusting us with this project. We look forward to serving them and other clients in the future with our innovative and efficient solutions.
Image Gallery
About Our Solution
Interactive kiosk solutions are the perfect way to engage and connect with your audience in a dynamic and interactive way. Our Arvia interactive kiosks are designed to provide an immersive and engaging experience that will leave a lasting impression on your customers.
Arvia interactive kiosks come in a variety of configurations, including touch screen displays, audio and video capabilities, and even facial recognition technology. With their customizable interfaces, you can create a user experience that is tailored to your specific needs, whether it's for retail, hospitality, or other applications.
Our interactive kiosks are incredibly versatile and can be used for a wide range of applications, from self-service checkouts and wayfinding to product demonstrations and customer feedback. With their intuitive interfaces and easy-to-use functionality, our interactive kiosks make it easy for your customers to interact with your brand and access the information they need.
We use only the highest quality materials and components in the construction of our interactive kiosks, ensuring they are built to last and can withstand the rigors of continuous use. Plus, our interactive kiosks are designed to be easy to maintain and update, ensuring that they remain up-to-date and relevant over time.