Touchscreen Floor Stand Kiosk for Rising Fusion
Client : Rising Fusion | Project Date : 14-Apr-2023
We would like to express our sincerest gratitude to Rising Fusion Sdn. Bhd. for choosing our services to fulfill their needs for an interactive kiosk. As a private limited company in Malaysia that has been in the clothing and fashion business for 15 years, we understand that having the right technology in place is important to enhance customer experience and satisfaction.
Rising Fusion had a unique problem to solve, and we were honored to be able to provide a solution. Our team provided a customized 43″ touchscreen floorstanding kiosk with Android 5.1 Operating System, which met their specific needs. We took into consideration their location in Taman Perindustrian Bukit Serdang, Seri Kembangan, Selangor, and ensured that our product would function seamlessly in their environment.
At our company, we believe in providing practical and innovative solutions to our clients. We understand that each business has its unique challenges, and we are dedicated to delivering products and services that solve them. Our experience in providing touchscreen kiosks for various clients has given us the expertise to create tailored solutions that meet our clients' needs, and we are proud to have been able to do the same for Rising Fusion in August 2019.
Finally, we want to thank Rising Fusion for their trust and confidence in our company. We are committed to providing our clients with the highest quality products and services, and we look forward to serving them and other clients in the future.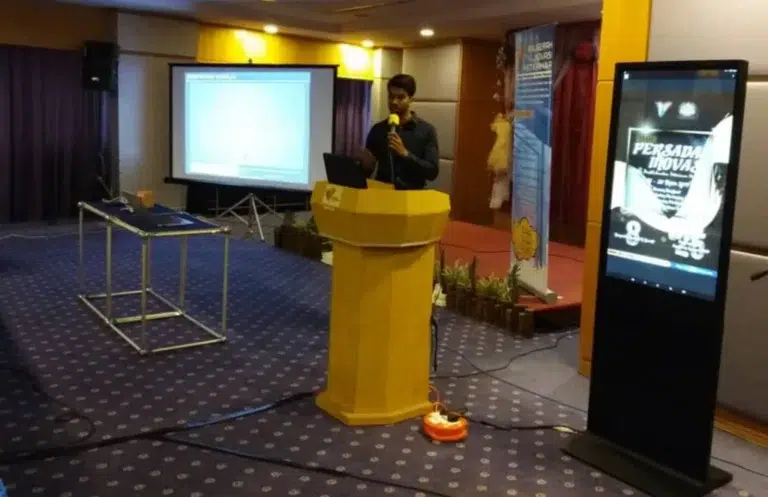 Image Gallery
About Our Solution
Interactive kiosk solutions are the perfect way to engage and connect with your audience in a dynamic and interactive way. Our Arvia interactive kiosks are designed to provide an immersive and engaging experience that will leave a lasting impression on your customers.
Arvia interactive kiosks come in a variety of configurations, including touch screen displays, audio and video capabilities, and even facial recognition technology. With their customizable interfaces, you can create a user experience that is tailored to your specific needs, whether it's for retail, hospitality, or other applications.
Our interactive kiosks are incredibly versatile and can be used for a wide range of applications, from self-service checkouts and wayfinding to product demonstrations and customer feedback. With their intuitive interfaces and easy-to-use functionality, our interactive kiosks make it easy for your customers to interact with your brand and access the information they need.
We use only the highest quality materials and components in the construction of our interactive kiosks, ensuring they are built to last and can withstand the rigors of continuous use. Plus, our interactive kiosks are designed to be easy to maintain and update, ensuring that they remain up-to-date and relevant over time.