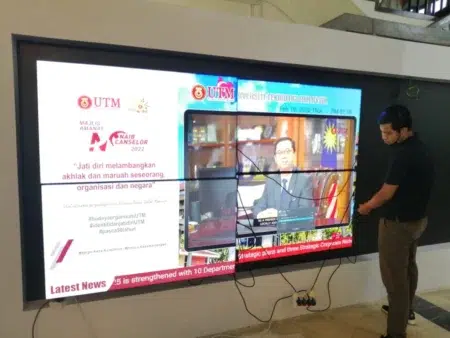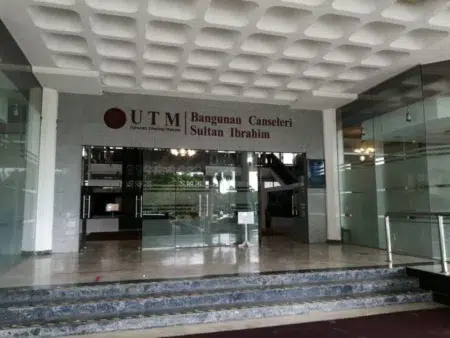 Videowall Implementation for Universiti Teknologi Malaysia (UTM) SKUDAI 2022 – Complete Solution
Client : Universiti Teknologi Malaysia (UTM) | Project Date : 18-Jun-2022
University of Technology Malaysia (UTM) (Malay: Universiti Teknologi Malaysia) is a premier Malaysian public research-intensive university ranked 187th in the world by QS University rankings. Its medium of instruction is English. UTM has three campuses – the main campus is in Skudai, and was the first university in the state of Johor. It has an area of 1148 hectares[9] and is the second largest public university after Universiti Putra Malaysia (UPM).
Project Background : Relocation of Videowall and Supply of Signage Media Player. UTM want to use the existing videowall and need to relocate to new area with new signage software from Israk Solutions. The software is using cloud based CDMS which allow customer to manage in centralize.
Image Gallery
About Our Solution
A videowall is a large display device made up of multiple individual displays (monitors, projectors or TVs) that are placed side-by-side to create one large screen. Videowalls are often used in public places such as airports, train stations and stadiums to show information or advertising to large numbers of people at once. Our videowall comprise with slim bezel such as 3.5mm, 1.8mm and 0.8mm.
Videowall can be used for a variety of purposes, including displaying video content, images, text and other information. They can also be used for command center, conference calling and other activities. Our solution for command center videowall are IP based KVM, Modular controller and compact videowall processor. Apart from videowall display, we also supply additional accessories include pop up bracket, signage software and videowall controller.