LED Display – Leyard CV-18 Indoor Series
LED Screen
Integrated and die-casting cabinet, solid and reliable. The cabinet is equipped with fast assembly connection which can make screen disassembled fastly. Meanwhile, it is designed with automatic alignment mechanism which can realize fast installation by single person.
Description
CV-18 Fixed Indoor LED Display
CV-18 series indoor LED display is an entry-level model for indoor use in shopping malls, advertisements, conferences, etc. It has a complete display hardware system by adopting Leyard's widely acclaimed SV, USV, ESV series wholesale modules. It realizes the possibility of mass production and rapid delivery services, witch effectively reduces the user's procurement costs.
Adopting SV, USV and ESV modules
The die-casting cabinet of CV-18 is suitable for SV, USV and ESV modules, with stable quality and excellent performance.
High-precision aluminum alloy die-casting cabinet
CV-18 series adopts a high-strength and light-weight aluminum alloy die-casting structure with ultra-high structural accuracy, which can meet the needs of indoor fine pitch display.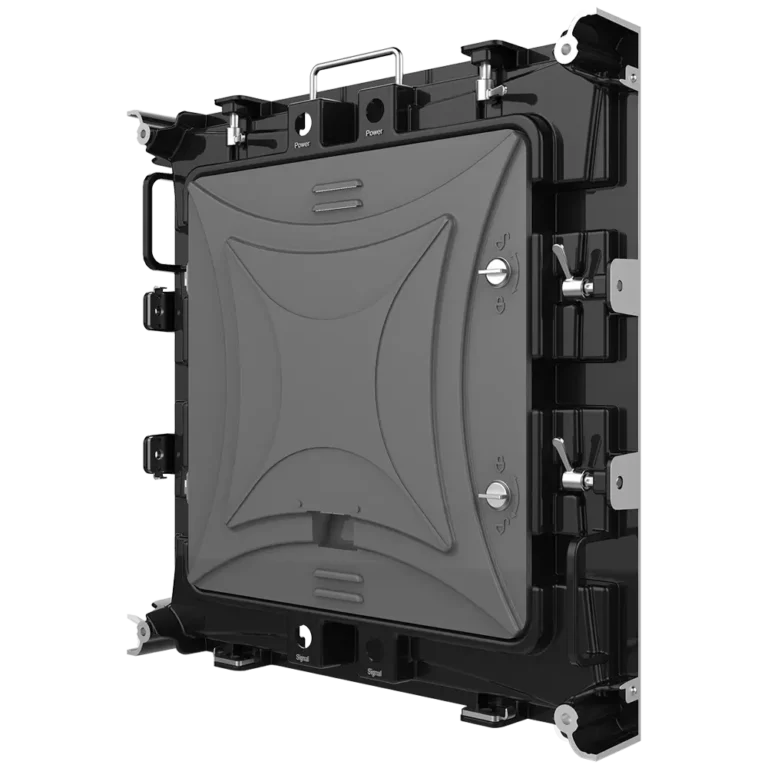 Front or rear maintenance optional
The cabinet structure of CV-18 can be front or rear maintenance, so that the product can be suitable for different use environments.
Fast installation mechanism
Adopting quickly assembled connectors and automatic alignment mechanism for fast installation.
Item

CV1.5-18

CV1.8-18

CV2-18

CV2.5-18

CV3-18

CV3(L)-18

CV4-18

Pixel Configuration

SMD

SMD

SMD

SMD

SMD

SMD

SMD

Pitch(mm)

1.538

1.86

2

2.5

3

3.076

4

Module Resolution(WxH)

208x104

172x86

128x64

128x64

64x64

104x52

80x40

Module Size(mm)(WxHxD)

320x160x16

320x160x16

256x128x16.5

320x160x16.5

192x192x16.5

320x160x16.5

320x160x16.5

Module Weight(Kg)

0.46

0.46

0.24

0.30

0.24

0.35

0.30

Module Composition(WxH)

2x4

2x4

2x4

2x4

3x3

2x4

2x4

Cabinet Resolution(WxH)

416x416

344x344

256x256

256x256

192x192

208x208

160x160

Cabinet Size(mm)(WxHxD)

640x640x90

640x640x90

512x512x86

640x640x90

576x576x86

640x640x90

640x640x90

Unit Area( ㎡ )

0.4096

0.4096

0.2621

0.4096

0.3318

0.4096

0.4096

Cabinet Weight(kg/㎡ )

32

32

32

32

32

32

32

Pixel Density(pixel/㎡ )

422500

288906

250000

160000

111111

105625

62500

Surface Flatness(mm)

≤0.3

≤0.3

≤0.3

≤0.3

≤0.3

≤0.3

≤0.3

Brightness(nits)

≥500

≥500

600-800

600-800

600-800

600-800

600-800

Color Temperature(K)

3000-10000 Adjustable

Horizontal Viewing Angle (° )

160

160

160

160

160

160

160

Vertical Viewing Angle (°)

140

140

140

140

140

140

140

Deviation of LED Luminance Center

≤3%

≤3%

≤3%

≤3%

≤3%

≤3%

≤3%

Brightness Uniformity

≥97%

≥97%

≥97%

≥97%

≥97%

≥97%

≥97%

Chromaticity Uniformity

±0.003Cx,Cy within

Max Power Consumption (W/㎡)

533

500

480

480

450

450

480

Average Power Consumption (W/㎡)

175

160

160

160

150

150

160

Power Supply

AC100~240V (50/60Hz)

Drive Mode

Constant Current Drive

Frame Rate(Hz)

50&60

50&60

50&60

50&60

50&60

50&60

50&60

Refresh Rate(Hz)

1920~3840

1920~3840

1920~3840

1920~3840

1920~3840

1920~3840

1920~3840

Lifetime(hrs)

100,000

100,000

100,000

100,000

100,000

100,000

100,000

Operation Temperature(℃)

-20~40

-20~40

-20~40

-20~40

-20~40

-20~40

-20~40

Storage Temperature(℃)

-30~60

-30~60

-30~60

-30~60

-30~60

-30~60

-30~60

Operation Humidity(RH)

10~80%

10~80%

10~80%

10~80%

10~80%

10~80%

10~80%

Storage Humidity(RH)

10~85%

10~85%

10~85%

10~85%

10~85%

10~85%

10~85%