Interactive Smartboard for Oriental Kedah Realty Sdn Bhd 2023 – Complete Solutions
Client : Oriental Kedah Realty Sdn Bhd | Project Date : 13-Apr-2023
Oriental Kedah Realty Sdn Bhd is a leading real estate company dedicated to providing exceptional property solutions and services in the Kedah region. With a strong commitment to excellence, we strive to meet the diverse needs of our clients and deliver superior real estate experiences.
The Arvia Smartboard's 75-inch display offers a visually stunning platform for delivering impactful presentations to clients, investors, and stakeholders. With its interactive features and touch-sensitive surface, our agents can engage clients in real-time, facilitating dynamic discussions, property walkthroughs, and virtual tours.
The Smartboard's intuitive interface allows us to showcase property listings, market trends, and multimedia content seamlessly, enhancing our clients' understanding and engagement.
The Arvia Smartboard's document management capabilities have streamlined their operations. With its integrated software, they can easily access, review, and annotate property documents, contracts, and presentations directly on the board. This efficient document management system saves time, eliminates paper clutter, and ensures that critical information is readily available during client meetings or negotiations.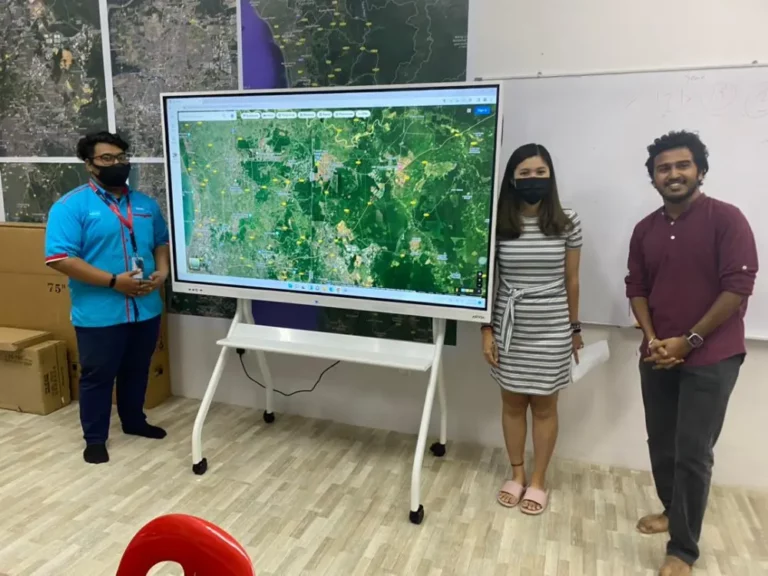 Image Gallery
About Our Solution
The Arvia Interactive Smartboard is a revolutionary interactive display solution that transforms the way people present and collaborate in various settings. Available in several sizes, including 65, 75, 86, and 98 inches, it's an ideal solution for any environment.
The Smartboard is equipped with advanced touch zero bonding technology, 4K resolution display, anti-glare coating, and an integrated sound system that ensures a seamless and intuitive experience. One of the key features of the Smartboard is its built-in wireless presentation system, which allows up to 9 devices to connect simultaneously, making it easier for users to share content and collaborate seamlessly.
In addition to its built-in features, the Arvia Interactive Smartboard is also compatible with a range of third-party applications, including Microsoft Office, Google Suite, and more. It's a sustainable solution built using high-quality materials that are designed to last, providing long-term value.
Whether you're a teacher, business professional, or anyone who needs to present and collaborate effectively, the Arvia Interactive Smartboard is a game-changing solution that's sure to meet your needs. Our team of experts works closely with you to understand your objectives and goals, enabling us to design and implement Arvia Interactive Smartboard solutions that effectively support your needs.