Interactive Smartboard for Sekolah Rendah Kebangsaan Seri Indera, Perlis – 2022- Complete Solutions
Client : sek keb seri indera | Project Date : 15-Nov-2022
We would like to express our sincere gratitude to Sekolah Rendah Kebangsaan Seri Indera (SRK Seri Indera) for choosing us as their partner in providing an interactive smartboard for their school. SRK Seri Indera is a national primary school located on Jalan Sekolah Derma with a total of 816 students and 56 teachers. The principal, Teacher Nor Sharmila Binti Shaari, contacted us through Facebook and direct calling to get more information on our products.
The school received a donation to buy Smartboard, and their objective was to purchase Arvia Smartboard, 65 inches to implement Teaching and Learning using digital applications directly. The principal also wanted to encourage the young generation to embrace digital learning. They were planning to purchase another unit after the success of the first one.
We supplied and commissioned an interactive smartboard with a size of 65 inches and Windows 11 Operating System, equipped with intel i5, 8GB Ram, 256GB SSD to meet their requirements. Our solution provided a perfect fit for their needs as it has 4k resolutions, 20 multi-touch points, my view board software for interactive whiteboard, and online meetings can be done through this smartboard. The project was successfully completed in October 2022.
Once again, we would like to thank SRK Seri Indera for trusting us with their project. We hope our solution has met their expectations and helped enhance their students' learning experience. We look forward to serving them and other clients in the future, and we are committed to providing the best possible solutions to meet their needs.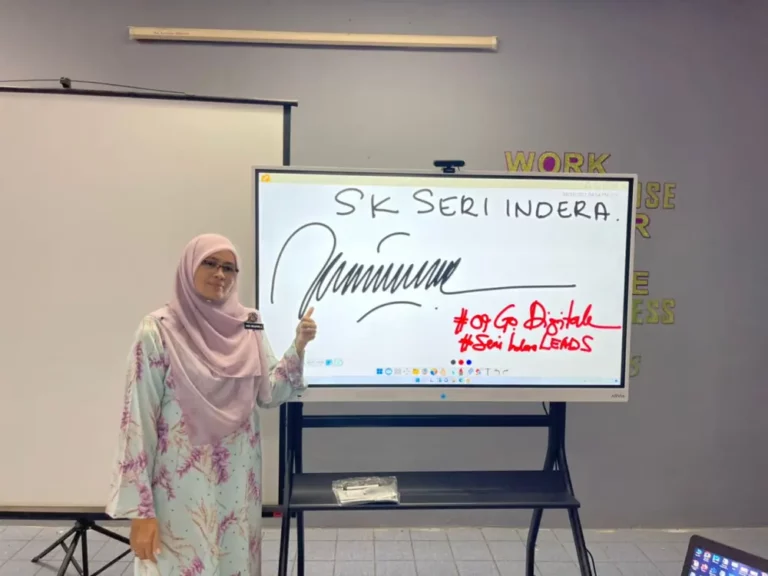 Image Gallery
About Our Solution
The Arvia Interactive Smartboard is a revolutionary interactive display solution that transforms the way people present and collaborate in various settings. Available in several sizes, including 65, 75, 86, and 98 inches, it's an ideal solution for any environment.
The Smartboard is equipped with advanced touch zero bonding technology, 4K resolution display, anti-glare coating, and an integrated sound system that ensures a seamless and intuitive experience. One of the key features of the Smartboard is its built-in wireless presentation system, which allows up to 9 devices to connect simultaneously, making it easier for users to share content and collaborate seamlessly.
In addition to its built-in features, the Arvia Interactive Smartboard is also compatible with a range of third-party applications, including Microsoft Office, Google Suite, and more. It's a sustainable solution built using high-quality materials that are designed to last, providing long-term value.
Whether you're a teacher, business professional, or anyone who needs to present and collaborate effectively, the Arvia Interactive Smartboard is a game-changing solution that's sure to meet your needs. Our team of experts works closely with you to understand your objectives and goals, enabling us to design and implement Arvia Interactive Smartboard solutions that effectively support your needs.