Interactive Smartboard for SMK Bandar Puteri Jaya, Kedah 2023 – Complete Solutions
Client : smk bandar puteri jaya | Project Date : 25-Jul-2023
In the heart of Bandar Puteri Jaya, education is taking a bold leap forward as SMK Bandar Puteri Jaya harnesses the power of technology to enhance learning experiences. With a commitment to providing cutting-edge education, SMK Bandar Puteri Jaya recently incorporated the ARV100-75″ Smartboard into their classrooms. This innovative addition comes as a response to the school's dedication to offering its 1,818 students the best possible education.
Gone are the days of traditional chalk and talk – the ARV100-75″ Smartboard has ushered in a new era of interactive learning. With its impressive 75-inch display and built-in Windows operating system, this smartboard offers students and teachers an immersive learning environment. Whether it's collaborating on projects, showcasing complex concepts, or exploring interactive educational applications, the smartboard's versatility empowers both educators and students to engage with content in dynamic ways.
Since its establishment in 2015, SMK Bandar Puteri Jaya has been on a journey of growth and excellence. With a student population of 1,818 and a teaching staff of 128, the school is no stranger to embracing innovation. The introduction of the ARV100-75″ Smartboard marks a significant milestone in the school's technological advancement. This state-of-the-art tool equips educators with the means to create more engaging lessons, cater to different learning styles, and foster a collaborative and interactive classroom atmosphere.
As SMK Bandar Puteri Jaya continues to evolve as a center of learning, the integration of the ARV100-75″ Smartboard stands as a testament to the school's dedication to providing its students with a modern and enriched educational experience. The future-focused approach adopted by SMK Bandar Puteri Jaya reinforces the belief that education is not just about imparting knowledge but also about cultivating a passion for learning, critical thinking, and innovation.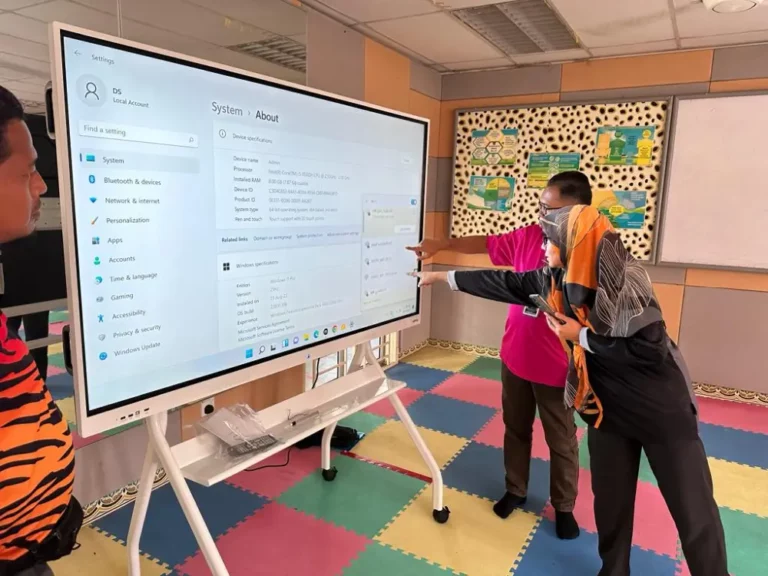 Image Gallery
About Our Solution
The Arvia Interactive Smartboard is a revolutionary interactive display solution that transforms the way people present and collaborate in various settings. Available in several sizes, including 65, 75, 86, and 98 inches, it's an ideal solution for any environment. The Smartboard is equipped with advanced touch zero bonding technology, 4K resolution display, anti-glare coating, and an integrated sound system that ensures a seamless and intuitive experience. One of the key features of the Smartboard is its built-in wireless presentation system, which allows up to 9 devices to connect simultaneously, making it easier for users to share content and collaborate seamlessly. In addition to its built-in features, the Arvia Interactive Smartboard is also compatible with a range of third-party applications, including Microsoft Office, Google Suite, and more. It's a sustainable solution built using high-quality materials that are designed to last, providing long-term value. Whether you're a teacher, business professional, or anyone who needs to present and collaborate effectively, the Arvia Interactive Smartboard is a game-changing solution that's sure to meet your needs. Our team of experts works closely with you to understand your objectives and goals, enabling us to design and implement Arvia Interactive Smartboard solutions that effectively support your needs.