Panasonic AW-UE150 PTZ Camera
Video Conferencing
The AW-UE150 is a key model in Panasonic's comprehensive professional PTZ camera lineup. Featuring a 1-type large MOS sensor, this next-generation PTZ camera supports high-quality 4K/UHD 60p video, features a 75.1-degree viewing angle, 20x optical zoom and supports versatile outputs, including 12G-SDI, HDMI, optical fiber, and IP. Simultaneous 4K/HD operation makes this PTZ camera powerhouse ideal for those looking to future-proof their system.
Description
Introducing the AW-UE150, a new 4K integrated Pan/Tilt/Zoom (PTZ) remote camera that offers 4K/UHD 60p capture, a first in its broadcast-camera class. The UE150 also affords the widest viewing angle (75.1 degrees, horizontal), which currently is the widest in its class. With an HDR mode, support of various 4K interfaces and simultaneous 4K/HD output, the AW-UE150 is the perfect remote camera for higher-end applications in broadcast, production, corporate, events & staging, education, House of Worship and more.
The AW-UE150 incorporates a 1-inch large MOS sensor and 20X optical zoom, along with seamless Intelligent Zoom (iZoom). The 4K interfaces supported include 12G-SDI, HDMI, optical fiber, and IP. The UE150 features a larger tally light for more effective on-air indication where needed, as well as a modern, bold new design.
The large 1 inch MOS sensor enables high sensitivity shooting with low noise. The sensor boasts a light-capturing area that is approximately four times larger than that of the 1/2.3-type sensor to guarantee a wide dynamic range. Combined with our intelligent imaging functions, the AW-UE150 brings image quality never before seen in a PTZ camera.
To be able to incorporate realistic VR (virtual reality) or AR (augmented reality) studio sets in your live productions, accurate camera positioning data is imperative. The AW-UE150 features the FreeD protocol, which provides you with the option to output Pan / Tilt / Zoom / Iris information via Serial (RS 422) and IP (UDP) directly from the camera to your tracking system. The FreeD protocol is supported by most popular virtual set systems, including solutions such as Brainstorm, Ross UX XPERIENCE / Xpression, The Future Group Pixotope, Vizrt Viz Virtual Studio, and Zero Density. The UE150's FreeD compliant command enables the integration of robotic camera systems into virtual studios / virtual sets without an encoder.
The AW-UE150 is the first robotic PTZ camera in the world to incorporate support for V-LOG video output, a key feature of high-end cinema cameras such as the VariCam. The ability for the UE150 to output in a LOG format opens up a wide-range of video production possibilities. The wide dynamic range and color gamut provide images suitable for color grading, helping to facilitate a consistent video look and enabling color matching with the Netflix approved VariCam cinema cameras and the AK-UC4000 broadcast camera system. The robotic camera's V-LOG output mode enables the LOG-profile video to be output via 12G-SDI, 3G-SDI, monitor out, and HDMI. Additionally, two types of settings, V-LOG and V-709, can be selected independently per output interface. This allows 4K V-LOG video for color grading to be simultaneously output with full-HD V-709 video for on-site camera monitoring.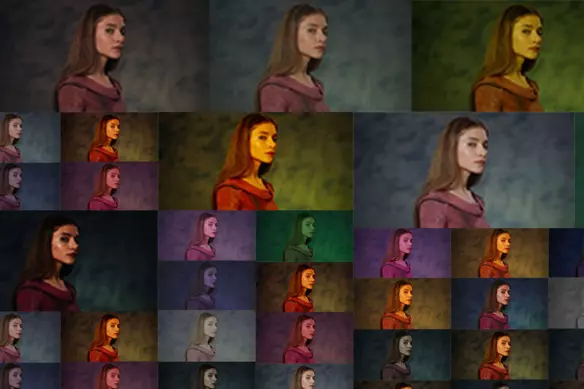 The camera supports HDR (High Dynamic Range) to prevent blown-out highlights and blocked-up shadows and enable picture quality close to that of the naked eye. The color balance is shifted to display according to the BT.2020 color gamut.
12G-SDI, 3G-SDI, HDMI, Optical Fiber & Multiple Interfaces Supported
A wide range of outputs are supported: 12G-SDI, 3G-SDI, HDMI, IP, and even Optical Fiber output. The addition of 4K/HD simultaneous output guarantees the right output for the operation at hand. 4K video can be down-converted to HD directly within the camera.
SFP+ Optical Fiber Support
The AW-UE150 PTZ camera features a slot for an SFP+ optical fiber module. Installing a fiber module enables the UE150 to transmit uncompressed video over infrastructure fiber, making it useful for extended cable runs typically found in large facilities, stadiums and arenas.
Optical Image Stabilizer (OIS) Loaded
Vibrations of the mounted surface caused by doors opening and closing, audio systems and other installed equipment are automatically corrected to ensure stable shooting.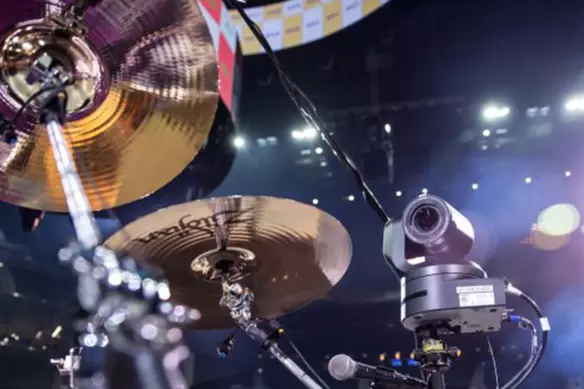 Images shot in 4K can be output in their entirety while simultaneously cropping parts of those images. The cropping position can be specified from a maximum of 3 locations to enable simple operation from the Remote Camera Controller AW-RP150, a web browser or other operations screen.
Automated PTZ Camera Auto Tracking Control
The AW-UE150 PRO PTZ camera is compatible with Panasonic's advanced auto tracking software / server. Utilizing sophisticated facial and body recognition, as well as deep-learning technology, the automated robotic camera control solution allows for accurate tracking of a speaker in a lecture hall or on a presentation stage. The camera auto tracking solution enables streamlined presenter tracking without the need for other accessories or a time-consuming setup process. In addition to standard automated camera tracking, the latest version of the auto tracking software utilizes the UE150's 4K crop feature to enable the simultaneous tracking of up to 3 people.
Flexible Installation & Mounting
The AW-UE150 robotic camera is lightweight and compact enough for easy permanent or portable installs. It's equipped with a turn lock mechanism for easy installation and comes standard with a safety cable for extra security and peace of mind.
Blend-in: The camera is exceptionally easy to integrate and is available in two colors (AW-UE150W: pearl white / AW-UE150K: black matte) to suit a wide range of applications.
Ceiling Mount: A twist-lock ceiling mount is included as a standard accessory.
Tripod Mount for Mobile Production: The UE150 is also equipped with a 1/4-20 tripod mounting screw receptacle and a safety lanyard for use with many mounting and grip systems.
Wall Mount: An optional heavy-duty wall mount is available in either black (FEC-150WMK) or white (FEC-150WMW).


SRT Support for Stable Video Transmission Over the Network
SRT, a next-generation video transmission protocol with strong security suitable for unstable network environments, is supported.
Direct Broadcast via RTMP / RTMPS
RTMP / RTMPS (Real-Time Messaging Protocol) is supported by the AW-UE150 to enable direct upload of video to live-streaming services such as YouTube and Facebook Live. This means a live stream can be broadcast directly from the camera.
Integrates into NDI Ecosystem
The AW-UE150W/K can be upgraded to an NDI|HX compatible model by purchasing a license. Highly efficient NDI|HX compatibility enables high-quality video to be encoded and transmitted in real-time and input signals to be directly sent to a switcher (such as the AV-HLC100 Stream Studio) without the need for an IP decoder.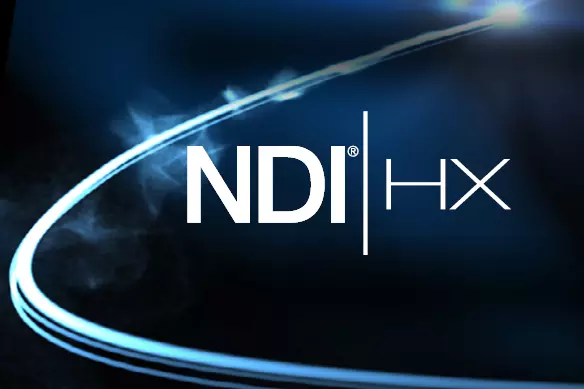 Single Cable Installation with PoE++
With PoE++ technology , the AW-UE150 offers an optimal level of installation flexibility, providing not just power to the camera, but also enabling control and video output, all via a single LAN cable. Using PoE++ with the UE150 camera simplifies cable runs, decreases overall installation costs, and in some cases, eliminates the need for having a dedicated electrician onsite for the install.
More than just a preset, the tracing memory function allows for a full sequence of camera moves and settings to be stored (pan, tilt, zoom focus, iris, gain, white balance) and recalled as needed. Up to 5 minutes for 10 operations can be memorized for a single camera, making it ideal for theaters, rental & staging setups, broadcast studios and more.
Power Requirements
Due to increased PRO PTZ camera installations utilizing existing PoE++ infrastructure, the AW-UE150 unit does not include a standard power supply. If the AW-UE150 will be installed in an area without PoE++, please utilize an IA-70a power supply. XLR 4-PIN: 12 V DC (10.8 V to 13.2 V) PoE++: IEEE 802.3bt (Type 4) Standard DC 42 V to 57 V (Camera Input)
PoE++
IEEE802.3bt standard: DC 42 V to 57 V (Camera Input)
Current consumption
4.0 A (XLR IN connector), 1.2 A (PoE++ power supply)
Ambient Operating Temperature
0 °C to 40 °C (32 °F to 104 °F)
Ambient Operating Humidity
20 % to 90 % (no condensation)
Storage Temperature
-20 °C to 50 °C (-4 °F to 122 °F)
Mass
Approx. 4.2 kg (9.24 lb) (excluding mount bracket)
Dimensions (W x H x D)
(mm) 213 mm x 267 mm x 219 mm (excluding protrusions, direct ceiling mount bracket)
Dimensions (W x H x D)
(inch) 8-3/8 inches x 10-1/2 inches x 8-5/8 inches
(excluding protrusions, direct ceiling mount bracket)
Finish AW-UE150WP/AW-UE150WE: Pearl white
AW-UE150KP/AW-UE150KE: Black
Controller supported*1
AW-RP150GJ
Camera Unit ---
Imaging Sensors
1-type 4K MOS×1
LENS
* Motorized Optical 20x zoom, F2.8 to F4.5
[f=8.8 mm (11/32 inches) to 176.0 mm (6-15/16 inches); 35 mm (1-3/8 inches)
equivalent: 24.5 mm (31/32 inches) to 490.0 mm (19-9/32 inches)]
Zoom
・Optical zoom: 20x
・i.Zoom: UHD 24x, FHD 32x
・Digital zoom: 10x
Conversion Lens
Not supported
Angle of View Range
Horizontal angle of view: 75.1° (wide) to 4.0° (tele)
Vertical angle of view: 46.7° (wide) to 2.3° (tele)
Diagonal angle of view: 82.8° (wide) to 4.6° (tele)
Optical Filter
Through, 1/4, 1/16, 1/64, IR through (IR through is used as "Night mode")
Focus
Switching between auto and manual
Focus Distance
Entire zooming range: 1000 mm (3.3 ft)
Wide end: 100 mm (0.33 ft)
Color separation optical system
1MOS
Standard Sensitivity
F9, 2000 lx (When normal mode is selected)
MINIMUM ILLUMINATION
2 lx (F2.8, 59.94p, 50IRE, 42 dB, without accumulation)
S/N
60 dB or more
Horizontal Resolution
1600 TV lines Typ (Center area)
Gain Selection
Auto, 0 dB to 36 dB*2
Super Gain function equipped : +37 dB to 42 dB
Frame mix*3
0 dB, 6 dB, 12 dB, 18 dB, 24 dB
Electronic Shutter Speed
59.94p/59.94i
1/60, 1/100, 1/120, 1/250, 1/500, 1/1000, 1/2000, 1/4000, 1/8000, 1/10000
29.97p 1/30, 1/60, 1/100, 1/120, 1/250, 1/500, 1/1000, 1/2000, 1/4000, 1/8000, 1/10000
23.98p/24p
1/24, 1/48, 1/60, 1/100, 1/120, 1/250, 1/500, 1/1000, 1/2000, 1/4000, 1/8000, 1/10000
50p/50i
1/60, 1/100, 1/120, 1/250, 1/500, 1/1000, 1/2000, 1/4000, 1/8000, 1/10000
25p
1/25, 1/50, 1/60, 1/100, 1/120, 1/250, 1/500, 1/1000, 1/2000, 1/4000, 1/8000, 1/10000
Syncro Scan
59.94p/59.94i : 60.00 Hz to 7200 Hz
29.97p : 30.00 Hz to 7200 Hz
23.98p/24p : 24.00 Hz to 7200 Hz
50p/50i : 50.00 Hz to 7200 Hz
25p : 25.00 Hz to 7200 Hz
Gamma
HD / FILMLIKE1 / FILMLIKE2 / FILMLIKE3/ FILM REC / VIDEO REC / HLG
WHITE BALANCE ATW :
3200K, 5600K
ATW Speed : Normal / Slow / Fast
AWB : AWB-A / AWB-B
VAR (selectable between 2000K and 15000K by designating a value)
Chroma Amount Variability
OFF, -99 % to 99 %
Scene File
Scene1, Scene2, Scene3, Scene4
Output Format
4K
2160/59.94p, 2160/50p, 2160/29.97p*4, 2160/25p*4, 2160/24p*4, 2160/23.98p*4
HD
1080/59.94p, 1080/50p, 1080/29.97p*4, 1080/29.97PsF, 1080/25p*4, 1080/25PsF, 1080/23.98p*5, 1080/24p*4, 1080/23.98p*4, 1080/23.98PsF, 1080/59.94i, 1080/50i, 720/59.94p, 720/50p
Synchronization System
Internal / External synchronization (BBS / Tri-level sync)
INPUT ---
Input Connector
DC 12 V IN, G/L IN (BNC)
・BBS (Black Burst Sync), tri-level sync supported
OUTPUT -
VIDEO OUTPUT
HDMI
HDMI 2.0 standard
4:2:2/10bit
・HDCP is not supported.
・Viera Link is not supported.
12G-SDI OUT
SMPTE 2082-1 standard / 75 Ω (BNC x 1)
3G-SDI OUT
SMPTE292 / 75 Ω (BNC x 1)
・Level-A/Level-B supported
MONI OUT
SMPTE292 / 75 Ω (BNC x 1)
Optical Fiber
SFP+ standard
Single Fiber
・The signal sent is the same as 12G-SDI OUT.
・This unit does not support input by optical signals.
INPUT/OUTPUT ----
Input / Output Connector
LAN
LAN connector for IP control (RJ-45)
RS-422
CONTROL IN RS-422A (RJ-45)
MIC/LINE input
φ3.5 mm stereo mini jack
Input impedance: High impedance
・During MIC input
Supported mic: Stereo mic (plug-in power, on/off switching via menu)
Supply voltage: 2.5 V ± 0.5 V
Mic input sensitivity: Approx. -40 dBV ± 3 dBV
(0 dB=1 V/Pa, 1 kHz)
・During LINE input
Input level: Approx. -10 dBV ±3 dBV
Pan-tilt Head Unit -
Camera/pan-tilt head control
IP connecting cable
・LAN cable*6*7 : (category 5e or above, straight cable / crossover cable)
max. 100 m (328 ft)
AW protocol connecting cable
LAN cable*6 (category 5e or above, straight cable)
max. 1000 m (3280 ft)
Installation Method
Stand-alone (Desktop) or suspended (Hanging)*8
Pan/Tilt Operation Speed
Minimum speed 0.08°/s
Maximum speed 60°/s or higher*9
・Maximum speed is 180°/s in high-speed mode
Panning range
±175°
Tilting Range
-30° to 210°*10
Quietness
NC35 or less
Supported operating systems and web browsers*11
-
Supported operating systems and web browsers
Windows
Microsoft(R) Windows(R) 7, 10
Windows(R) Internet Explorer(R) 11 (64-bit/32-bit)
Microsoft Edge
Google Chrome
Mac
Mac OS 10.13, Mac OS 10.12, Mac OS 10.11, Safari 11, Google Chrome
iPhone / iPad iOS 11.4.1
Google Chrome
IP Streaming ----
Image Streaming Mode
JPEG (MJPEG), H.264, H.265
Image Resolution
3840×2160, 1920×1080, 1280×720, 640×360, 320×180
Image Transmission setting (JPEG)
Frame Rate: Maximum 30 fps
Image quality (Fine / Normal)
Image Transmission Setting (H.264)
■Frame Rate
[60Hz]
5fps/15fps/30fps/60fps (UHD: 30fps, 60fps)
[50Hz]
5fps/12.5fps/25fps/50fps (UHD: 25fps, 50fps)
■Max Bit Rate
HD : 512kbps/768kbps/1024kbps/1536kbps/2048kbps/3072kbps/4096kbps/6144kbps/8192kbps/10240kbps/12288kbps/14336kbps/16384kbps/20480kbps/24576kbps/32768kbps/40960kbps/51200kbps/76800kbps
UHD : 12800kbps/25600kbps/51700kbps/76800kbps
Image Transmission Setting (H.265)
■Image Transmission Type:
Unicast port (AUTO)
Unicast port (MANUAL)
Multicast port
■Frame Rate
[60Hz] 30fps
[50Hz] 25fps
■Max Bit Rate
8192kbps/12800kbps/25600kbps/51200kbps/76800kbps
Audio Compression Type
AAC-LC, 48 kHz / 16 bit / 2ch
Supported protocol ■IPv6 : TCP / IP, UDP / IP, HTTP, HTTPS, DNS, NTP, DHCPv6, RTP, MLD, ICMP, ARP, RTMP
■IPv4 : TCP / IP, UDP / IP, HTTP, HTTPS, RTSP, RTP / RTCP, DHCP, DNS, DDNS, NTP, UPnP, IGMP, ICMP, ARP, RTMP
Other Function ---
NDI support*12
NDI | HX
Tally LED display color
red / green