Polycom Conference Phone Poly Trio 8300
Video Conferencing
• Ideal for small sized rooms
• Wi-Fi audio calling (2.4-5 GHz)2
• built-in Wi-Fi, USB and Bluetooth® and IP connectivity
• 3 cardioid microphones, Pickup range 3.7 m/12 ft range, Poly NoiseBlock eliminates background noise
• Call timer and call waiting, Call transfer, hold, divert (forward), pickup Called, calling, connected-party information
Description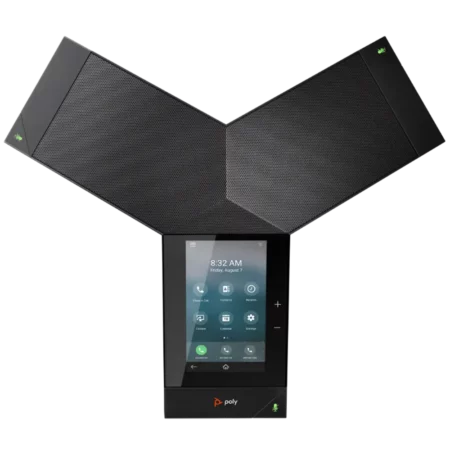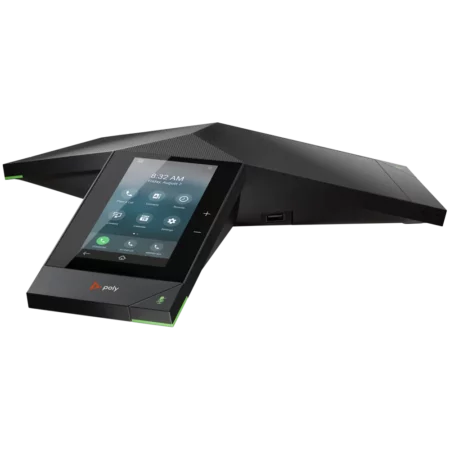 Think your small meeting room has limited possibilities? Think again. Poly Trio 8300 transforms any small conference hub into a smart collaboration space with the touch of a button. Plus, you get future-proof flexibility with the option to easily add video conferencing and content sharing accessories. Help your teams get more done in less space—and make meetings more engaging for everyone. 
Room-filling audio up to 14KHz and up to 12'/3.7m mic range. Industry-leading full duplex, echo cancellation and noise reduction with intelligent processing gives you the superior quality audio experience you expect during video conference.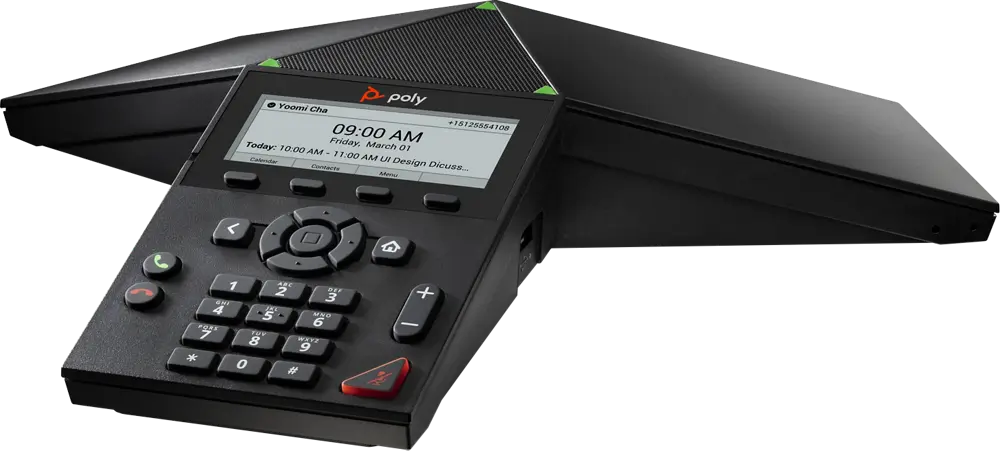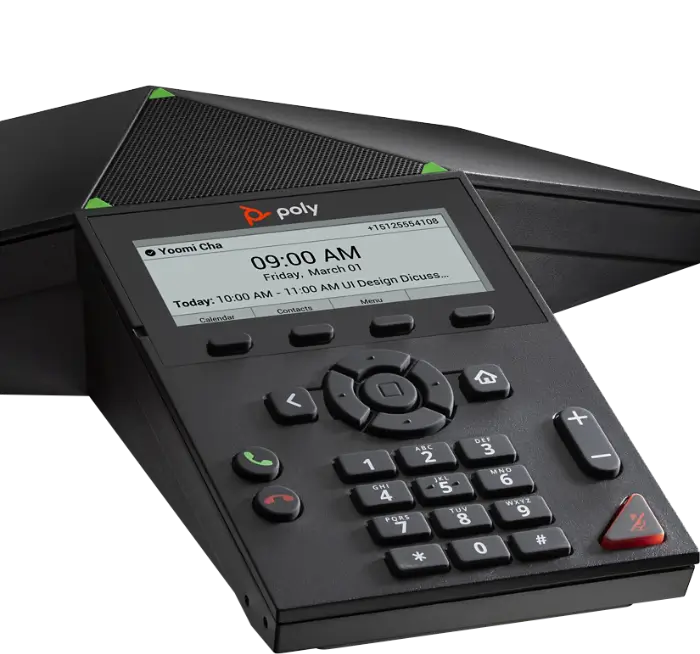 Classic keypad and LCD display with simple-to-use menu navigation.
Easily connect your mobile device or laptop via Bluetooth and use Trio as the speakerphone to enhance the audio experience during video conference when using personal devices.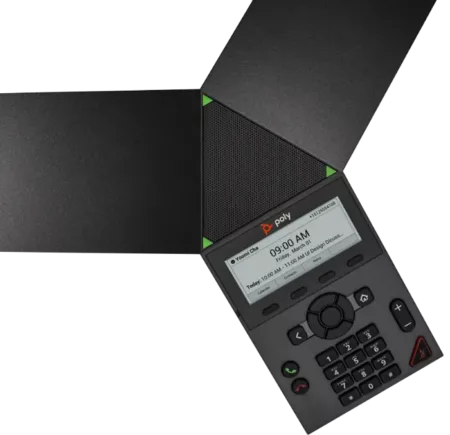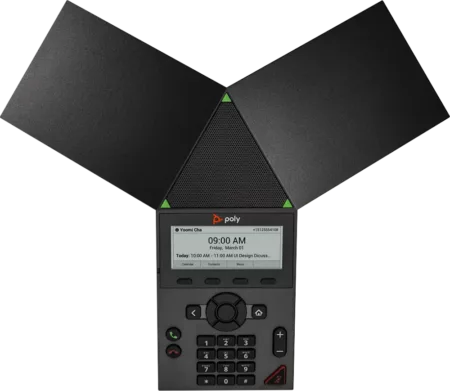 Connect to one or multiple leading SIP and Cloud Conferencing Services at the same time. No need to choose just one.
2.4-5GHz Wi-Fi audio calling reduces cabling needs.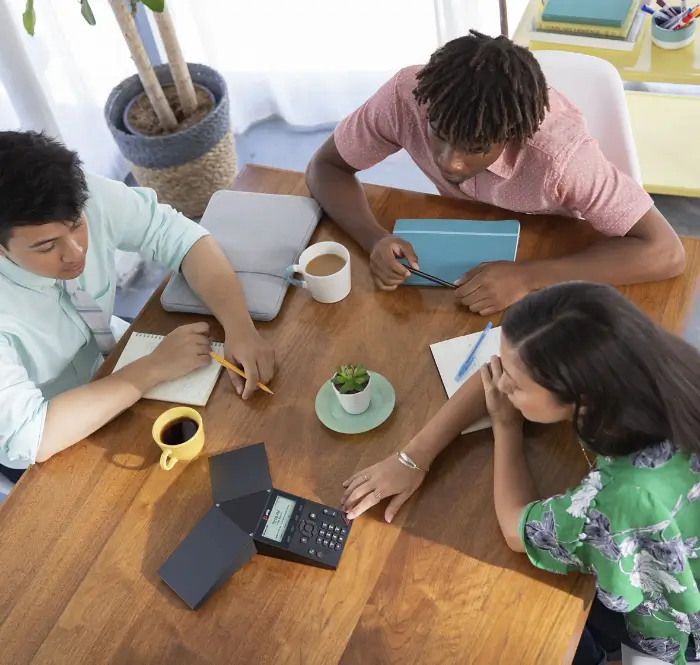 Phone: 33.9 x 29.4 x 6 cm (13.3 x 11.5 x 2.4 in)
Unit weight: 735 g (1.62 lbs)
Box dimensions: (L x W x H): 40 x 36 x 8.5 cm (15.7 x 14.1 x 3.5 in)
Box weight: approx. 1.76 Kg (2.2 lbs)
Operating temperature: 0 to 40 °C (+32 to 104 °F)
Relative humidity: 5% to 95% (non-condensing)
Storage temperature: -20 to +70 °C (-4 to +160 °F)
AUDIO
Three cardioid microphones
Loudspeaker frequency: 220-14,000 Hz
Volume: 90 dB at 0.5-m peak volume
3.7 m/12 ft microphone pickup range
AUDIO FEATURES
Audio Codecs

G.711 (A-law and μ-law)
G.722
G.722.1, G.722.1C
G.729AB
G.719
SILK
Polycom® Siren™ 7, Siren™ 14
iLBC (3.33Kbps and 15.2Kbps)
Opus (8Kbps-24Kbps)

NoiseBlock
Voice activity detection
Acoustic Clarity™ technology provides full-duplex conversations, acoustic echo cancellation and background noise suppression–Type 1 compliant (IEEE 1329 full duplex)
Bluetooth device pairing for wideband speech and multimedia streaming (HFP/AD2P) 2
DTMF tone generation (RFC 2833 and in-band)
Comfort noise generation
Low-delay audio packet transmission
Adaptive jitter buffers
Packet loss concealment
CALL HANDLING FEATURES*
Up to three lines (registrations)
Shared call/bridged line appearance
Distinctive incoming call treatment/call waiting
Call timer and call waiting
Call transfer, hold, divert (forward), pickup
Called, calling, connected-party information
Local three-way audio conferencing
One-touch speed dial and meeting join
Do-not-disturb function
Local configurable digit map/dial plan
Corporate directory access using LDAP
Visual conference management
*Most software-enabled features and capabilities must be supported by the server. Please contact your IP PBX/Softswitch vendor or service provider for a list of supported features.
NETWORK AND PROVISIONING
IETF SIP (RFC 3261 and companion RFCs)
SDP
Single-port gigabit Ethernet 10/100/1000Base-TX across LAN
Wi-Fi network connectivity

2.4–2.4835 GHz (802.11b, 802.11g, 802.11n HT20)
5.15–5.825 GHz (802.11a)

Manual or dynamic host configuration protocol (DHCP) network setup
Time and date synchronization using SNTP
FTP/TFTP/HTTP/HTTPS server-based central provisioning
RealPresence Resource Manager (v 10.7 or above) based provisionin
Provisioning and call server redundancy support
Polycom Zero Touch Provisioning
PDMS-E, PDMS-SP
QOS SUPPORT
IEEE 802.1p/Q tagging (VLAN), layer 3 TOS, and DSCP
VLAN-CDP, DHCP VLAN discovery
LLDP-MED for VLAN discovery
SECURITY
FIPS 140-2 compliant cryptographic module
802.1X authentication and EAPOL
Media encryption via SRTP
Transport layer security (TLS) v1.2
Encrypted configuration files
Digest authentication
Password login
Support for URL syntax with password for boot server address
HTTPS secure provisioning
Support for signed software executables
Wi-Fi encryption: WEP, WPA-Personal, WPA2-Personal, WPA2-Enterprise with 802.1X (EAP-TLS, PEAP-MSCHAPv2)2
POWER
LAN IN: Built-in auto-sensing IEEE 802.3af. PoE Device (Class 0)
Optional power kit includes extended single-port gigabit midspan, 802.3af Type 2 compliant, local power cord and network cable
ENERGY STAR® rated
APPROVALS
FCC Part 15 (CFR 47) Class B
ICES-003 Class B
EN55032 Class B
CISPR22 Class B
EN55024
EN61000-3-2, EN61000-3-3
NZ Telepermit
Australia RCM
ROHS Compliant
So. Africa ICASA
Saudi Arabia CITC
Singapore IMDA
UAE TRA
Japan MIC/VCCI
Australia/NZ RCM
Brazil ANATEL
RADIO**
US
CANADA
EEA

ETSI EN 300 328 V1.9.1
ETSI EN 301 489-3
ETSI EN 301489-1
ETSI EN 301489-17

Australia/New Zealand
**Not available with the Poly Trio 8300 NR (No Radio) version only.
SAFETY
UL 60950-1 and UL 62368-1
CSA C22.2 No. 60950-1-07
CSA C22.2 No. 62368-1-14
CE Mark
EN 60950-1 & EN 62368-1
IEC 60950-1 & IEC 62368-1
AS/NZS 60950.1
AS/NZS 62368.1
TRIO 8300 SHIPS WITH
Phone console: 2200-66840-xxx
7.6 m/25 ft network cable CAT 5e
Setup sheet
WARRANTY
One year