Aten 2×2 4K HDMI Matrix Switch – VM0202H
Videowall Controller
• Connects 2 HDMI sources to any 2 HDMI display or screen
• HDMI (3D, Deep Color, 4k); HDCP 1.4 Compatible
• Maximum Data Rate 10.2 Gbps (3.4 Gbps Per Lane)
• Multiple Control Methods – system management via front panel push buttons, IR remote and RS- 232 control
Description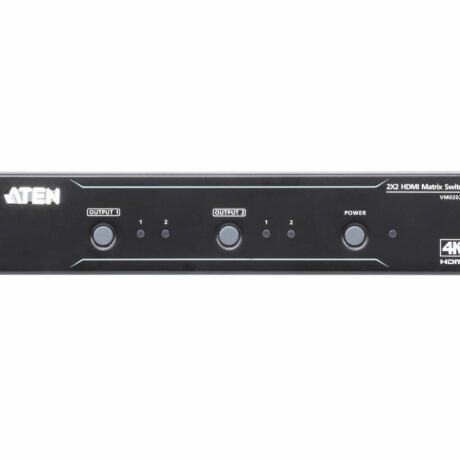 The VM0202H is a 2 X 2 HDMI Matrix Switch that meets HDMI Specification features including 3D, Deep Color up to 12- bit, and data rates up to 10.2 Gbps. Engineered for the future trend of high-definition video switching, the VM0202H supports computer and video signals at resolutions up to 4K.
The VM0202H matrix switch provides high performance routing of 2 HDMI video sources such as HD camcorders, satellite boxes, HD-DVD players, high-definition Blue- ray players, home theater PCs and stand-alone streaming media players to any 2 HDMI displays. The remote control and convenient front panel pushbuttons allow you to efficiently cycle through HDMI source devices and displays, while the front panel LEDs indicate the source device for each display at a glance.
Ideal for Managing Content Across 2 Displays
The VM0202H is a compact 2 x 2 matrix switch compatible with HDMI source and display devices. Any input can be routed to any output, reducing the need for you to move devices or cables when displaying content from different HDMI sources on different outputs. It is ideal for meeting rooms and classrooms, as well as any venue where you need to switch between 2 different video sources on different displays.
Stunning Video Quality with 4K
Featuring support for up to 4096×2160@60Hz (4:2:0) resolutions, the VM0202H delivers brilliant video quality with amazing detail.
Multiple Control Options for Easy Operation
The VM0202H offers both manual and remote control options to make your operations easy. You can switch inputs to outputs and adjust audio settings manually through front panel pushbuttons. For remote control, simply plug-n-play the IR receiver and the corresponding IR remote. In addition, you can even integrate VM0202H with your preferred control interface via RS-232.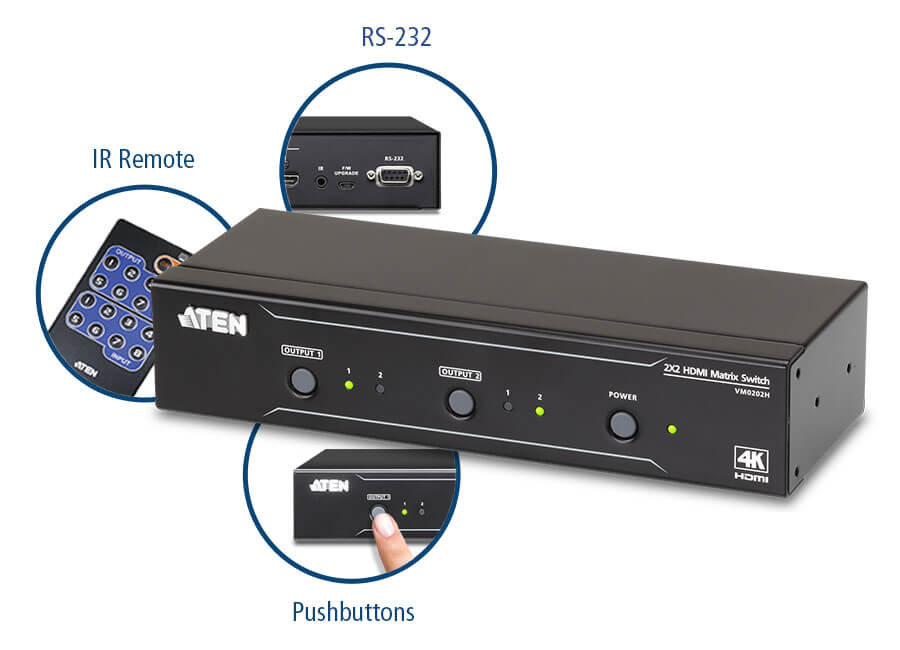 Connects 2 HDMI sources to any 2 HDMI displays
HDMI (3D, Deep Color, 4k); HDCP 1.4 Compatible
Supports computer and video resolutions up to 4K
Max. Data Rate 10.2 Gbps (3.4 Gbps Per Lane)
Supports long distance transmission at a distance up to 15 meters
Multiple Control Methods- system management via front panel push buttons, IR remote and RS- 232 control
Consumer Electronics Control (CEC) allows interconnected HDMI devices to communicate and respond to one remote control
EDID Expert™ — Selects optimum EDID settings for smooth power- up, high- quality display and use of the best video resolution across different screens
Supports ATEN's Lock Pro™ HDMI cable lock for securing HDMI cable connections
All- metal casing
Firmware upgradable
Rack mountable
Weight
0.58 kg ( 1.28 lb )
Housing
Metal
Dimensions (L x W x H)
20.00 x 7.60 x 4.20 cm
(7.87 x 2.99 x 1.65 in.)
| | |
| --- | --- |
| Operating Temperature | 0-40°C |
| Storage Temperature | -20 - 60°C |
| Humidity | 0 - 80% RH, Non-Condensing |
Video Input
Interfaces
2 x HDMI Type A Female (Black)
Impedance
100 Ω
Max. Distance
5 m
Video Output
Interfaces
2 x HDMI Type A Female (Black)
Impedance
100 Ω
Max. Distance
15 m
Video
Max. Data Rate
10.2 Gbps (3.4 Gbps Per Lane)
Max. Pixel Clock
340 MHz
Compliance
HDMI (3D, 4K, Deep Color)
HDCP 1.4 Compatible
Consumer Electronics Control (CEC)
Max. Resolution
Up to 4096 x 2160 / 3840 x 2160 @ 60Hz (4:2:0);
4096 x 2160 / 3840 x 2160 @ 30Hz (4:4:4)
Max. Distance
Up to 15 m
Control
USB
1 x Micro USB
F/W upgrade
RS-232
Connector: 1 x DB-9 Female (Black)
Baud rate and protocol:
Baud Rate: 19200, Data Bits: 8, Stop Bits:1, Parity: No, Flow Control: No
IR
1 x Mini Stereo Jack Female (Black)
EDID Settings
EDID Mode: Default / Port1 / Remix
Carton Lot
5 pcs
Connectors
Power
1 x DC Jack (Black)
Power Consumption
DC5V:4.3W:20BTU
1x VM0202H 2x2 4K HDMI Matrix Switch
1x Rack Mount Kit
1x Power Adapter
1x IR Control
1x IR Receiver
1x User Instructions