In the rapidly evolving landscape of professional training and workshops, the emergence of interactive smartboards has revolutionized the way we learn, share ideas, and collaborate. These cutting-edge technological marvels have transcended traditional teaching methods and paved the way for immersive and dynamic learning experiences. At Israk Solutions, we are proud to introduce the next generation of interactive smartboards that are designed to elevate your training sessions and workshops to new heights.
The Evolution of Learning Tools: From Chalkboards to Interactive Smartboards
Gone are the days of mundane chalkboards and static presentations. With the advent of interactive smartboards, a new era of engagement and interactivity has dawned upon us. Our Interactive Smartboards combine the power of digital technology with the ease of traditional teaching, providing a seamless transition for educators and presenters alike.
Smartboards have come a long way from their humble beginnings. Traditional chalkboards and whiteboards were once the primary tools for disseminating information in educational and professional settings. However, these methods were limited by their static nature, often hindering the ability of presenters to fully captivate their audience. This is where interactive smartboards step in, seamlessly integrating the tactile familiarity of writing with the dynamic capabilities of digital technology.
Unleashing Creativity and Engagement
Imagine a training room where ideas come to life with just a touch. Our Interactive Smartboards empower presenters to unleash their creativity and captivate the audience's attention. Through vibrant visuals, real-time annotations, and interactive multimedia elements, complex concepts can be broken down into digestible bits, making learning not only effective but also enjoyable.
Visual stimuli have been proven to enhance learning retention and understanding. With our smartboards, presenters can utilize a wide array of multimedia resources to complement their teachings. Whether it's embedding videos, interactive quizzes, or 3D models, these tools serve to engage participants on multiple levels, catering to different learning styles and preferences.
Moreover, the ability to make real-time annotations and markups fosters a sense of participation and collaboration. Participants can directly contribute to the discussion, highlight key points, and collectively brainstorm ideas. This level of engagement not only enhances the overall learning experience but also cultivates a more inclusive and interactive workshop environment.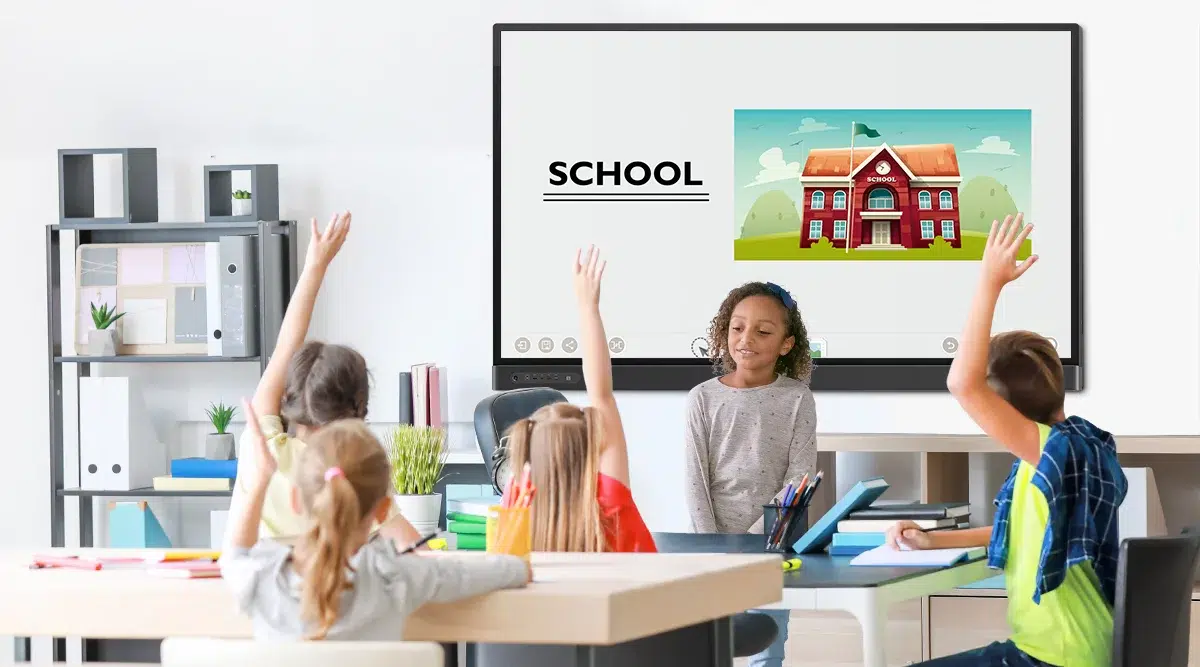 Seamless Collaboration, Anytime and Anywhere
In today's globalized world, collaboration knows no bounds. Our smartboards transcend geographical constraints by enabling remote participation. With features such as live streaming, video conferencing, and cloud-based storage, teams scattered across the globe can come together seamlessly, sharing insights and brainstorming ideas as if they were in the same room.
The concept of collaboration has evolved from in-person interactions to virtual teamwork. This shift has been further accelerated by the recent surge in remote work and virtual events. Our smartboards are equipped with state-of-the-art connectivity options, allowing participants to connect from various locations and time zones. This not only saves valuable travel time and expenses but also promotes a greener and more sustainable approach to professional gatherings.
Live streaming and video conferencing capabilities ensure that every voice is heard, regardless of physical presence. The intuitive user interface of our smartboards facilitates smooth communication, ensuring that discussions flow naturally and ideas are exchanged seamlessly. Furthermore, cloud-based storage ensures that all content and contributions are securely stored and easily accessible, fostering a sense of continuity and allowing for future reference.
Elevating Workshops to a New Dimension
Workshops are all about hands-on learning and skill development. Our Interactive Smartboards provide the perfect platform for participants to dive deep into practical exercises. Whether it's a design workshop, smart classroom, a coding boot camp, or a marketing strategy session, these smartboards facilitate step-by-step guidance, instant feedback, and the ability to save and share progress.
The transformational potential of our smartboards becomes especially evident in the context of workshops. These immersive learning environments thrive on active participation and experiential learning. Our smartboards empower workshop leaders to guide participants through intricate processes, ensuring that each step is clearly demonstrated and understood.
Take, for example, a culinary workshop aiming to teach intricate cooking techniques. With the aid of our smartboards, instructors can display detailed recipes, annotate cooking procedures in real time, and showcase video demonstrations. Participants can then follow along, replicating the steps on their own stations. The instant feedback feature allows instructors to address queries and provide guidance on the spot, fostering a sense of confidence and accomplishment among participants.
Furthermore, the ability to save and share progress serves as a valuable resource beyond the workshop itself. Participants can revisit the material, review their work, and continue refining their skills at their own pace. This not only enhances the overall learning curve but also reinforces the workshop's impact long after its conclusion.
Tailoring Learning Experiences
No two learners are alike, and that's where the adaptability of our Interactive Smartboards shines. Educators can customize content based on the audience's pace, ensuring that no one is left behind. Advanced tracking and analytics provide valuable insights into participant engagement and comprehension, allowing for real-time adjustments and improvements.
Personalization lies at the heart of effective education and training. Our smartboards empower presenters to tailor their content to suit the unique needs and preferences of their audience. Through interactive polls, quizzes, and surveys, educators can gauge the participants' prior knowledge and understanding, allowing them to adjust the pacing and complexity of the material accordingly.
Furthermore, our smartboards track participant interactions and engagement patterns in real time. This data provides invaluable insights into which segments of the presentation resonated the most, as well as areas that may require further elaboration. Armed with this information, presenters can make on-the-fly adjustments, ensuring that the learning experience remains engaging and impactful.
The Future of Training: Today
As we delve into the digital age, embracing innovative tools is not just an option; it's a necessity. Our Interactive Smartboards embody the future of training and workshops, fostering a collaborative and dynamic environment that prepares individuals for success in a fast-paced world.
The relentless march of technology shows no signs of abating, and the world of professional training is no exception. Those who adapt and embrace these advancements are poised to thrive in an ever-changing landscape. Our smartboards serve as a bridge between traditional teaching methodologies and the digital future, equipping both educators and learners with the tools they need to excel.
Conclusion
In conclusion, interactive smartboards have redefined the way we approach professional training and workshops. Their seamless integration of technology, interactivity, and collaboration opens up a realm of possibilities that were once unimaginable. At Israk, we are committed to pushing the boundaries of learning and empowering educators, presenters, and participants to embark on a journey of knowledge and growth.
Image Gallery