POLYWALL Videowall Software
Videowall
A high-end software solution to manage video walls and information displays for Command and Control Rooms, Collaboration Rooms and Digital Signage projects. You can manage content on you control room screens and videowalls easily with universal software operator console, manually placing sources, creating layouts and even fully automating videowall content – with a single web application running in any browser.
Description
Polywall is used in more than 300 projects all over the world.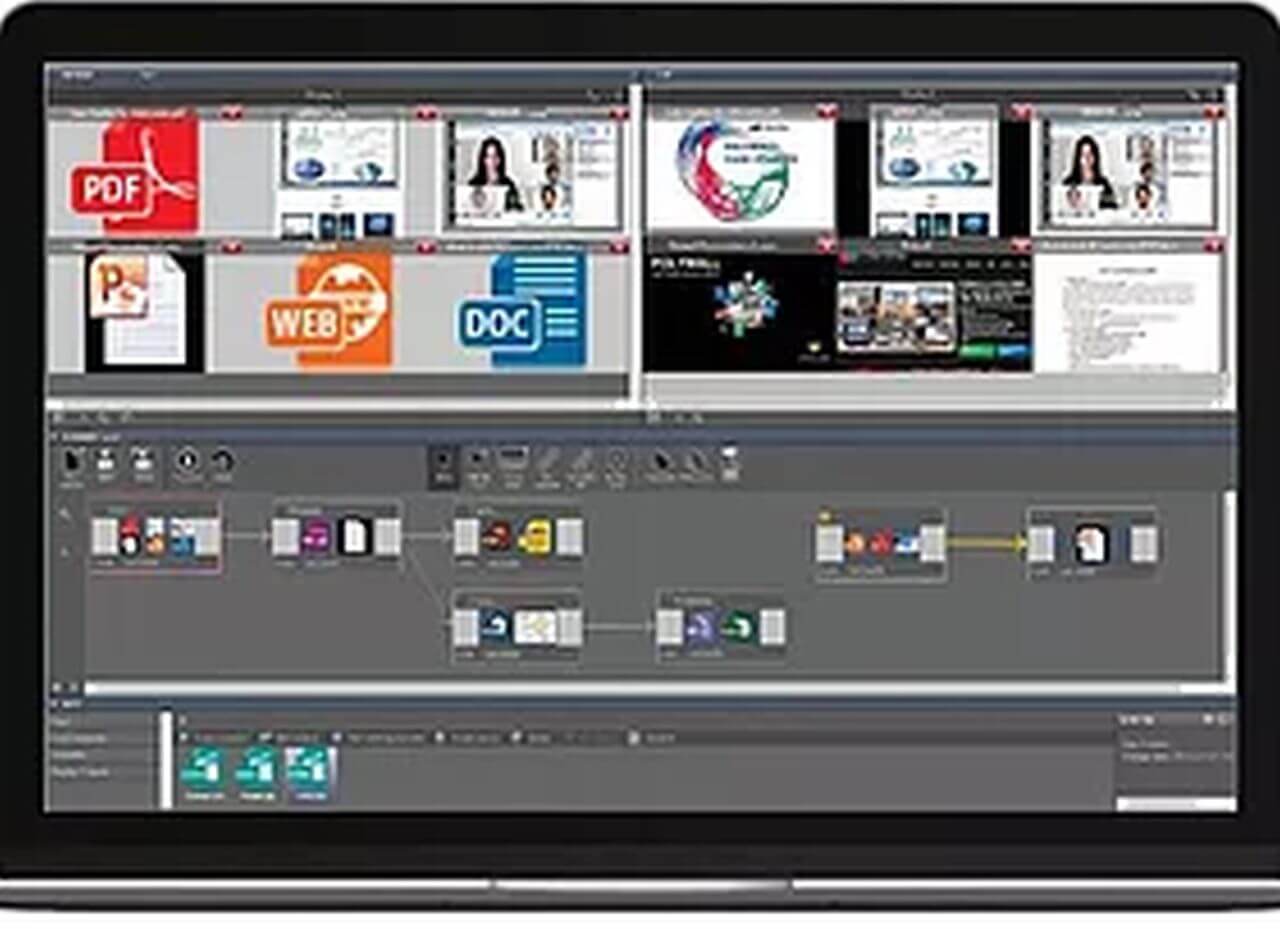 MANAGE multiple video walls and displays from a web interface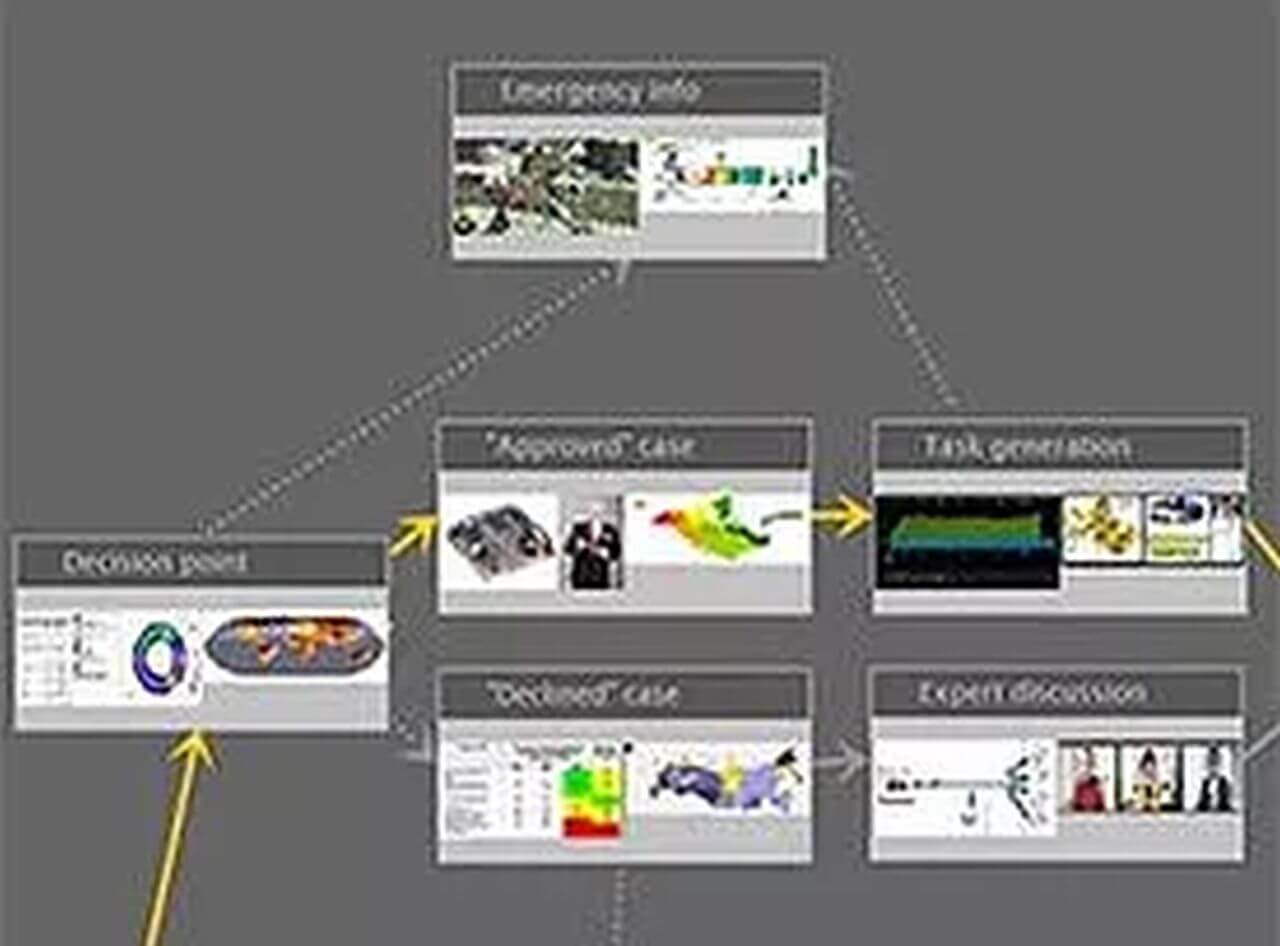 CREATE scenarios (playlists) to automate playback of content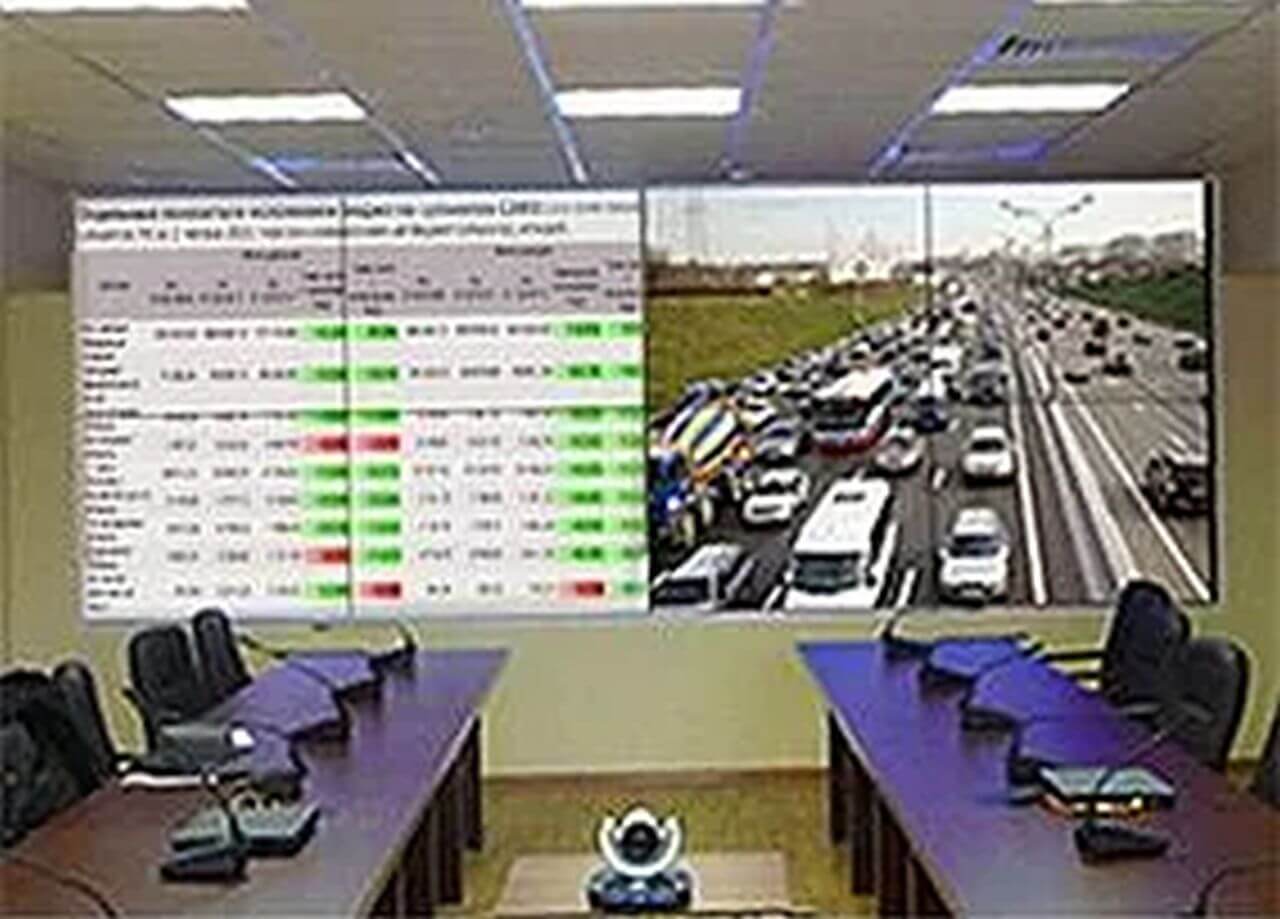 STREAM various content types on any display over network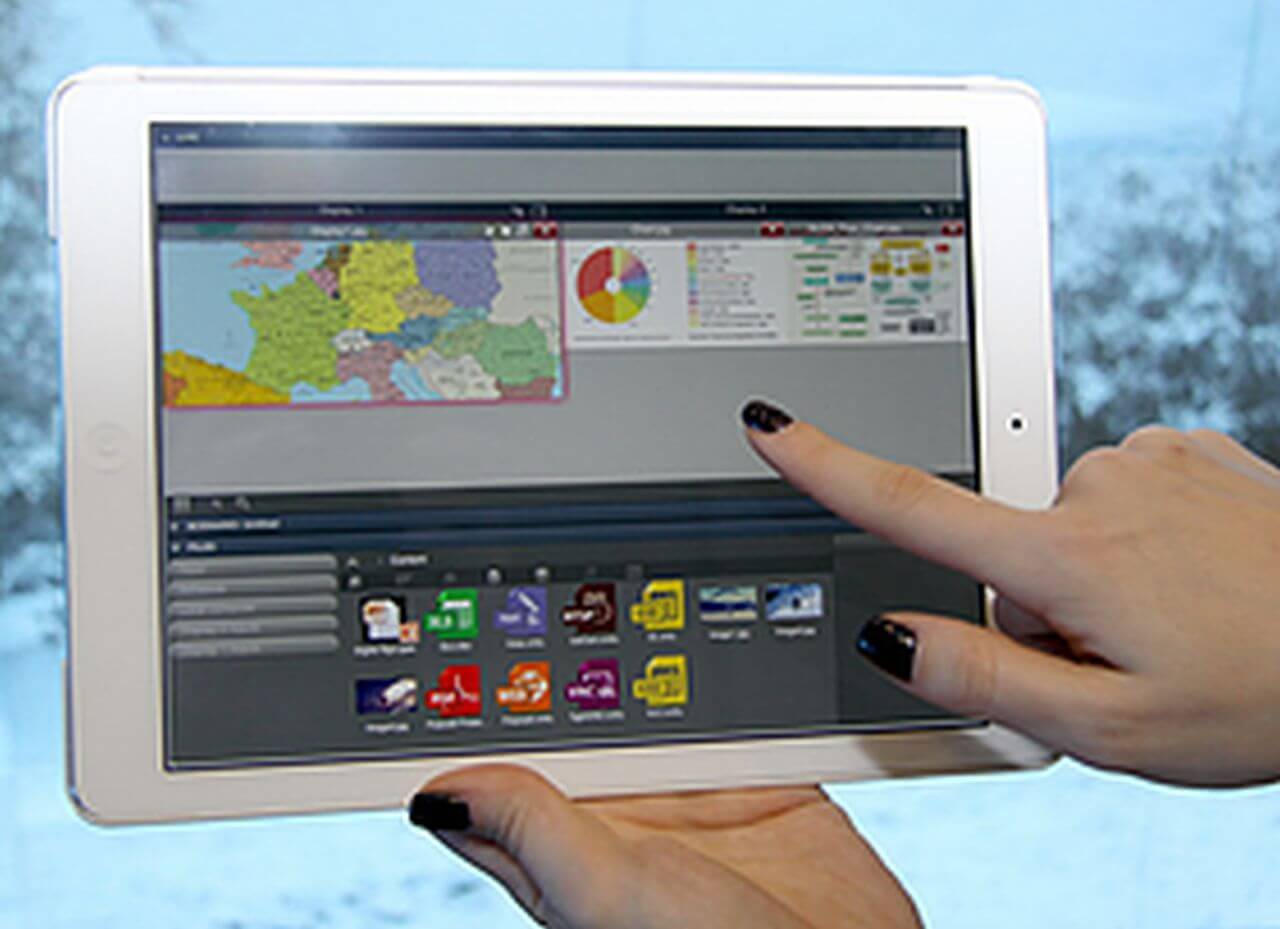 CONTROL your video wall by drag and drop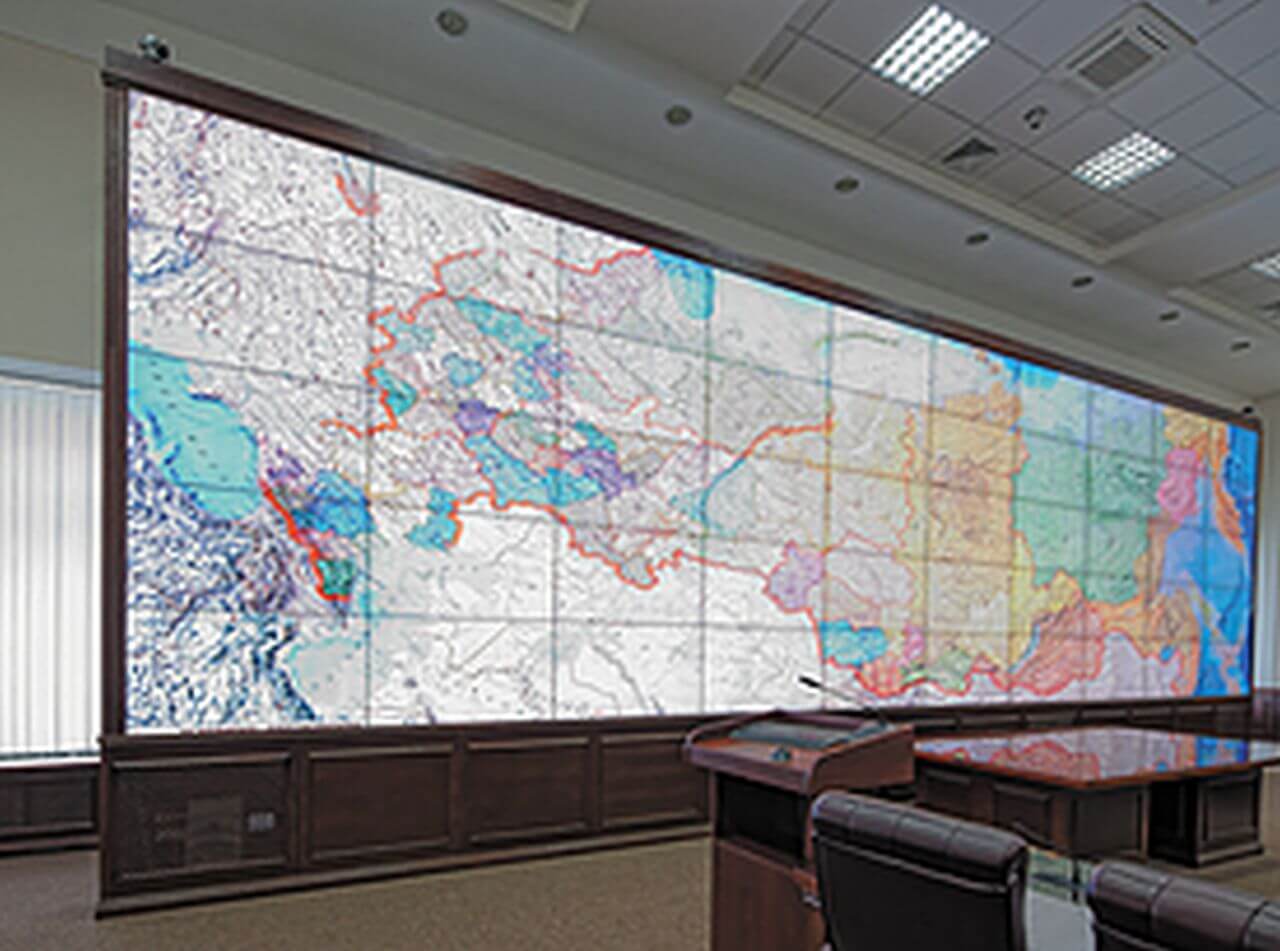 INTEGRATE with Big Data and enterprise information systems
SCHEDULE the playback of content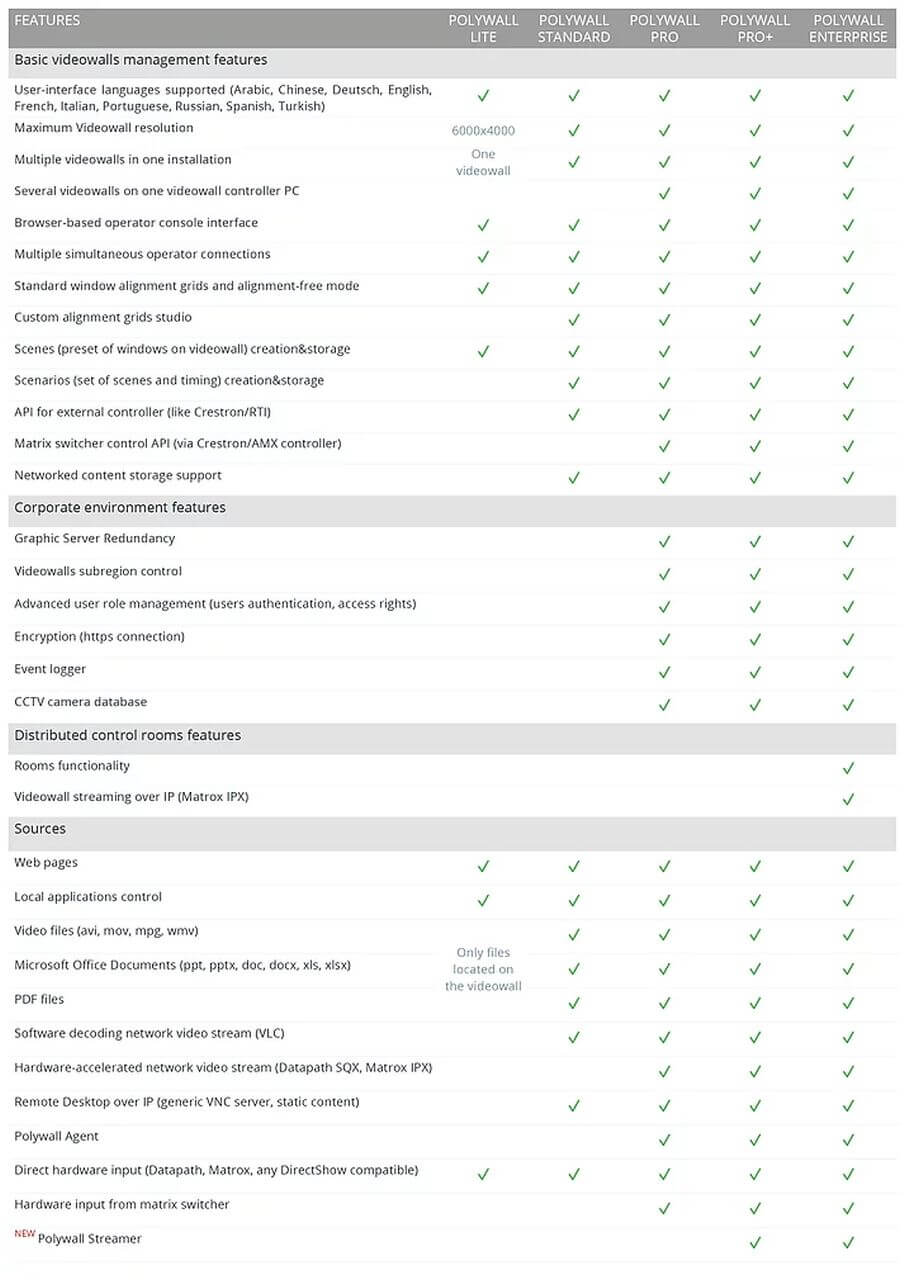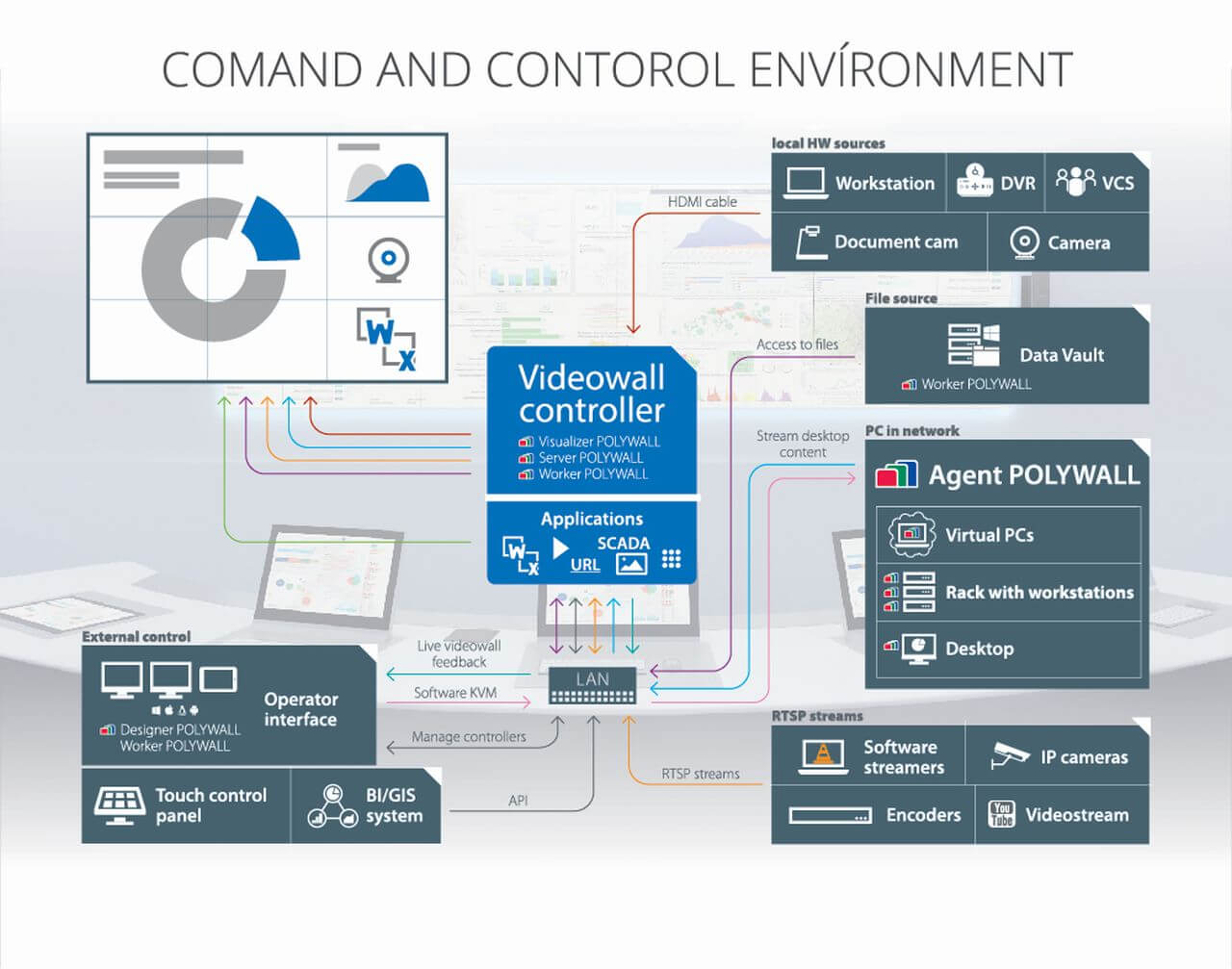 Polywall installation usually consists of four types of nodes: Server, Visualizer, Worker and Agent. All nodes communicate over standard Ethernet network.
Operator or designer uses Polywall Designer to interact with the system. Polywall Designer is a web application that can be used on any computer that is connected to the same network as Polywall Server.
Polywall Server has special API to communicate with matrix switchers. It is required to use Crestron/AMX controller as a gateway to matrix switching equipment. However, installer can create his own implementation of hardware gateway as Polywall Server API is open.
One of the most simple deployment options is to install all Polywall software modules to one standalone video wall controller. This controller has to run Windows and have compatible graphic cards installed. For video walls up to 6 displays AMD Eyefinity or Nvidia cards are a good option. However, for larger video walls specialized graphic cards are recommended such as Datapath or Matrox. Polywall software might be installed on top of existing operating system or preloaded together with Windows Embedded image. Second option is preferable for manufacturers of standalone video wall controllers. So, in this case the only hardware required for the project is Windows-based video wall controller and displays.
Polywall is the perfect solution for any video wall project requiring high performance and reliability in a cost effective and easy-to-use platform.
Typically control rooms have a wide variety of data sources and it is often difficult to effectively manage them even on single high-resolution screen. Polywall can help you make this process a breeze – that is why Polywall is an excellent solution for all type of control rooms.
Network Operation Center (NOC)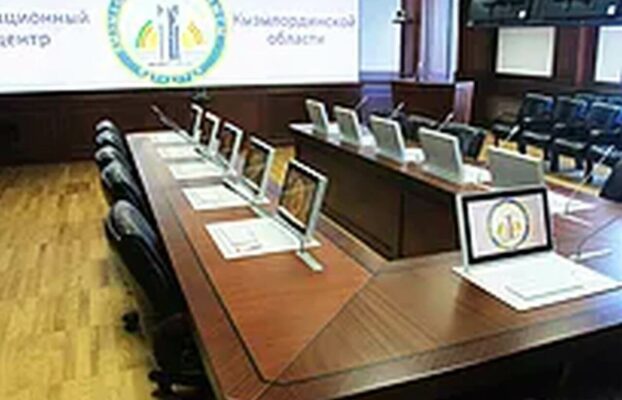 Command Center

Public and Military Security and Surveillance
Traffic Control

With Polywall it is easy to manage piles of presentations, start them with a single drag & drop or to synchronize several presentations (even on separate displays). You can show media material that supports your event like videos, animations, live feeds, etc.
Boardroom and Meeting Room
Press Center
Training Centers
Conference halls
There are many solutions available on the market that can turn a display into remotely controlled advertising billboard. However, most of these solutions are built by engineers for engineers. Digital Signage systems are usually managed by marketing professionals. They do not want to waste time on complicated trainings. The solution is using Polywall software.
In-store signage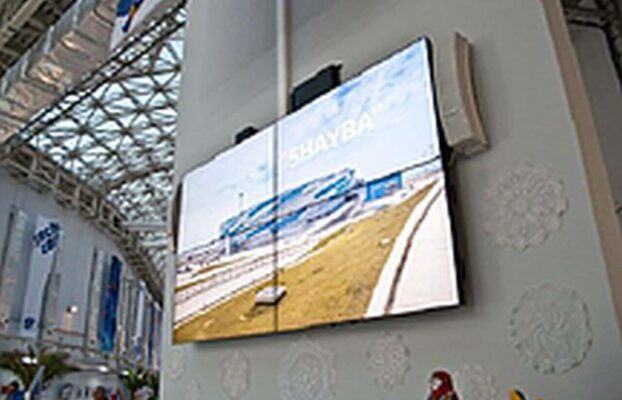 Display in Mall
Museum
Fast Food Chain
LICENSING
VIDEOWALL CONTROLLER HARDWARE COMPATIBILITY
Video Cards Datapath DP4+; Matrox C-series, MPX; Nvidia Quadro, Sync; AMD Fire Pro; Intel HD graphics
Capture Cards Datapath capture cards — Vision, SC, AV, IO; Matrox capture cards IPX, MPX; Magewell Pro Capture, Eco Capture
NEW Blackmagicdesign SDK integrated
OS Windows 10 Pro
SUPPORTED CONTENT TYPES ON VIDEOWALLS
Files:
Media files — pictures, videos in almost any format, playlists
Documents — MS office (Word, Excel, Powerpoint); PDF
Applications: URLs — using Chromium
NEW Chrome and IE integration for URL browsing with security and plugins
Single-windowed applications (without a standalone application server)
Hardware: Video signal via capture cards — any connected hardware like PC, VMS, HDTV etc
VIDEOWALL CONTENT MANAGEMENT
Versatile web-based operator interface
Simple drag and drop source placement mechanics
Set of pre-defined gridlines for simple source positioning on a videowall
Studio to create customized grid lines layouts
Sources can auto-snap to grids or be manually placed/resized across the entire wall
A source automatically re-arranges after gridlines layout change
Operator can take control over a source to manage it as an application
NEW Convenient sound management for individual sources from operator interface
NEW Live videowall feedback inside the operator interface
VIDEOWALL MANAGEMENT AUTOMATION
Operator can save layouts of sources as a preset (Scene), for later use
LICENSING
VIDEOWALL CONTROLLER HARDWARE COMPATIBILITY
Video Cards Datapath DP4+; Matrox C-series, MPX; Nvidia Quadro, Sync; AMD Fire Pro; Intel HD graphics
Capture Cards Datapath capture cards — Vision, SC, AV, IO; Matrox capture cards IPX, MPX; Magewell Pro Capture, Eco Capture
NEW Blackmagicdesign SDK integrated
OS Windows 10 Pro
SUPPORTED CONTENT TYPES ON VIDEOWALLS
Files:
Media files — pictures, videos in almost any format, playlists
Documents — MS office (Word, Excel, Powerpoint); PDF
Applications: URLs — using Chromium
NEW Chrome and IE integration for URL browsing with security and plugins
Single-windowed applications (without a standalone application server)
Hardware: Video signal via capture cards — any connected hardware like PC, VMS, HDTV etc
Streams:
IP streams from any hardware, web streams of any type
Desktops of networked workstations with KVM control (via Polywall Agent or 3rd party VNC) – Polywall Agent
VIDEOWALL CONTENT MANAGEMENT
Versatile web-based operator interface
Simple drag and drop source placement mechanics
Set of pre-defined gridlines for simple source positioning on a videowall
Studio to create customized grid lines layouts
Sources can auto-snap to grids or be manually placed/resized across the entire wall
A source automatically re-arranges after gridlines layout change
Operator can take control over a source to manage it as an application
NEW Convenient sound management for individual sources from operator interface
NEW Live videowall feedback inside the operator interface
VIDEOWALL MANAGEMENT AUTOMATION
Operator can save layouts of sources as a preset (Scene), for later use
Operator can create a Schedule — linked scenes with predefined playback time, run manually or by timer
Scenarios can be saved and distributed/stored
EXTERNAL MANAGEMENT OF A SOLUTION
External management of a videowall via API
Integration with ERP, BI, GIS systems for data visualization
Integration with matrix switchers for multiple HW source commuting
Integration with touch/control devices for external Polywall management
LICENSING
VIDEOWALL CONTROLLER HARDWARE COMPATIBILITY
Video Cards Datapath DP4+; Matrox C-series, MPX; Nvidia Quadro, Sync; AMD Fire Pro; Intel HD graphics
Capture Cards Datapath capture cards — Vision, SC, AV, IO; Matrox capture cards IPX, MPX; Magewell Pro Capture, Eco Capture
NEW Blackmagicdesign SDK integrated
OS Windows 10 Pro
SUPPORTED CONTENT TYPES ON VIDEOWALLS
Files:
Media files — pictures, videos in almost any format, playlists
Documents — MS office (Word, Excel, Powerpoint); PDF
Applications: URLs — using Chromium
NEW Chrome and IE integration for URL browsing with security and plugins
Single-windowed applications (without a standalone application server)
Hardware: Video signal via capture cards — any connected hardware like PC, VMS, HDTV etc
Streams:
IP streams from any hardware, web streams of any type
Desktops of networked workstations with KVM control (via Polywall Agent or 3rd party VNC) + Polywall Agent
NEW Polywall Agent for AV-over-IP streaming of workstation desktops and connected USB cameras
VIDEOWALL CONTENT MANAGEMENT
Versatile web-based operator interface
Simple drag and drop source placement mechanics
Set of pre-defined gridlines for simple source positioning on a videowall
Studio to create customized grid lines layouts
Sources can auto-snap to grids or be manually placed/resized across the entire wall
A source automatically re-arranges after gridlines layout change
Operator can take control over a source to manage it as an application
NEW Convenient sound management for individual sources from operator interface
NEW Live videowall feedback inside the operator interface
VIDEOWALL MANAGEMENT AUTOMATION
Operator can save layouts of sources as a preset (Scene), for later use
Operator can create a Schedule — linked scenes with predefined playback time, run manually or by timer
Scenarios can be saved and distributed/stored
EXTERNAL MANAGEMENT OF A SOLUTION
External management of a videowall via API
Integration with ERP, BI, GIS systems for data visualization
Integration with matrix switchers for multiple HW source commuting
Integration with touch/control devices for external Polywall management
CORPORATE FEATURES
User management — login with Active Directory, actions logging, access rights management
Videowall controller hot redundancy
Encrypted interaction of Polywall components
LICENSING
VIDEOWALL CONTROLLER HARDWARE COMPATIBILITY
Video Cards Datapath DP4+; Matrox C-series, MPX; Nvidia Quadro, Sync; AMD Fire Pro; Intel HD graphics
Capture Cards Datapath capture cards — Vision, SC, AV, IO; Matrox capture cards IPX, MPX; Magewell Pro Capture, Eco Capture
NEW Blackmagicdesign SDK integrated
OS Windows 10 Pro
SUPPORTED CONTENT TYPES ON VIDEOWALLS
Files:
Media files — pictures, videos in almost any format, playlists
Documents — MS office (Word, Excel, Powerpoint); PDF
Applications: URLs — using Chromium
NEW Chrome and IE integration for URL browsing with security and plugins
Single-windowed applications (without a standalone application server)
Hardware: Video signal via capture cards — any connected hardware like PC, VMS, HDTV etc
Streams:
IP streams from any hardware, web streams of any type
Desktops of networked workstations with KVM control (via Polywall Agent or 3rd party VNC)
NEW Polywall Agent for AV-over-IP streaming of workstation desktops and connected USB cameras
VIDEOWALL CONTENT MANAGEMENT
Versatile web-based operator interface
Simple drag and drop source placement mechanics
Set of pre-defined gridlines for simple source positioning on a videowall
Studio to create customized grid lines layouts
Sources can auto-snap to grids or be manually placed/resized across the entire wall
A source automatically re-arranges after gridlines layout change
Operator can take control over a source to manage it as an application
NEW Convenient sound management for individual sources from operator interface
NEW Live videowall feedback inside the operator interface
VIDEOWALL MANAGEMENT AUTOMATION
Operator can save layouts of sources as a preset (Scene), for later use
Operator can create a Schedule — linked scenes with predefined playback time, run manually or by timer
Scenarios can be saved and distributed/stored
EXTERNAL MANAGEMENT OF A SOLUTION
External management of a videowall via API
Integration with ERP, BI, GIS systems for data visualization
Integration with matrix switchers for multiple HW source commuting
Integration with touch/control devices for external Polywall management
CORPORATE FEATURES
User management — login with Active Directory, actions logging, access rights management
Videowall controller hot redundancy
Encrypted interaction of Polywall components
Videowall content recording w/ hardware encoding
DISTRIBUTED ROOMS FEATURES
Rooms with dedicated interface, users, videowalls, repositories