Independent Controller – MCTRL 300
Videowall Controller
MCTRL300 is NovaStar's independent control card from the M3 Series, and supports audio and video input. The M3 undertakes encoding and data processing, sending the audio and video to the display. A single card supports maximum loading capacity of 2048×668@60Hz. It communicates with PC via USB port for convenience.
– DVI video input
– Audio transmission
– Dual-Ethernet output, with dual-Ethernet cable hot backup and multiple controller hot backup
– USB port control, for cascading and control of multiple units
Description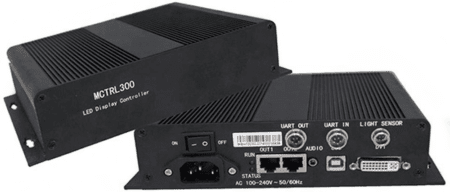 1.3 million pixel loading capacity, with resolutions of 1280×1024@60Hz, 1024×1200@60Hz, 1600×848@60Hz, 1920×712@69Hz, 2048×668@60Hz and Maximum height: 3840; Maximum height:3840
1 light sensor interface, adjust the screen brightness automatically
Independent power supply
Certifications: CE, RoHS, EAC, FCC, IC
1 × DVI input
1 × audio input
1 × type-B USB control port
UART control ports to cascade devices for uniform control.
Dual Ethernet outputs.
Supports the new generation of NovaStar calibration technology, which is fast and efficient.
1 × light sensor connector.
Supports resolutions up to 2048×668@60Hz and downward compatibility.
Supports a variety of video formats.
MCTRL300 connection diagram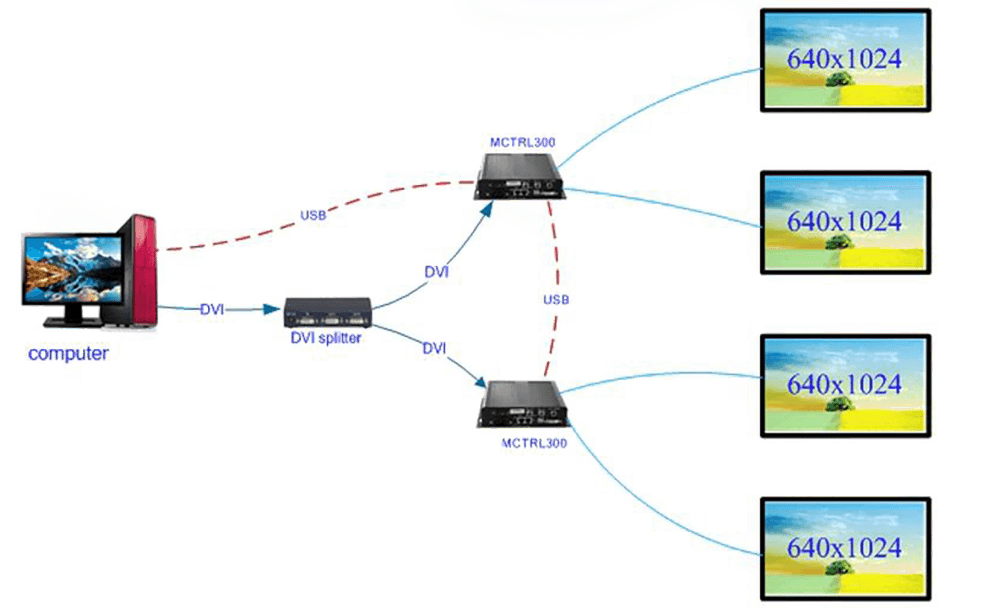 CONNECTOR
INPUT
DVI IN
Single-link DVI connector
Resolution up to 1920×1200@60Hz and downward compatible
Custom resolutions supported:
Resolution with maximum width: 3840×600@60Hz Resolution with maximum height: 800×2560@60Hz
AUDIO
Audio input connector
OUTPUT
RJ45 × 2
2 Gigabit Ethernet outputs
Maximum loading capacity of a single Ethernet port: 650,000 pixels
Support redundancy between Ethernet ports.
FUNCTION
LIGHT SENSOR
Connect to light sensor to monitor ambient brightness to realize automatic screen brightness adjustment.
CONTROL
UART IN/OUT
Input and output ports for cascading devices
USB
Type-B USB control port for connecting to PC
POWER
AC 100V-240V~50/60Hz
RUN
Device operating indicator. Working status:
- Flashing slowly: Video input unavailable
- Flashing normally: Video input available
- Flashing rapidly: The screen is displaying startup image.
- Breathing: Ethernet port redundancy has taken effect.
STATUS
FCC, RoHS, EAC, IC, PFOS, LVD, EMC