Discover how interactive smartboards are revolutionizing collaborative workspaces, enhancing teamwork, boosting creativity, and streamlining productivity. Explore the key features and the positive impact of interactive smartboards in facilitating engagement, improving decision-making processes, and delivering impressive presentations. Embrace the power of interactive smartboards for a vibrant and productive work environment.
Introduction
In today's fast-paced and technology-driven world, collaborative workspaces have become the cornerstone of efficient teamwork and productivity. One of the key tools transforming these work environments is the interactive smartboard. These sophisticated devices combine cutting-edge technology with intuitive user interfaces, revolutionizing the way teams interact, brainstorm, and present ideas. In this article, we will explore the role of interactive smartboards in collaborative workspaces, highlighting their benefits, features, and the positive impact they have on teamwork and overall productivity.
The Power of Interactive Smartboards
Enhancing Collaboration
Interactive smartboards serve as a catalyst for collaboration, providing a dynamic platform for team members to engage with one another. With features like touch-screen capabilities, gesture recognition, and real-time content sharing, these boards foster an environment that encourages active participation and idea exchange. Whether it's during brainstorming sessions, project planning, or client presentations, interactive smartboards facilitate seamless collaboration and improve overall communication within the team.
Boosting Creativity and Innovation
By merging digital technology with traditional whiteboarding, interactive smartboards unlock new possibilities for creativity and innovation. With a vast array of digital tools and resources at their fingertips, team members can brainstorm, sketch ideas, and visualize concepts in a more interactive and engaging manner. The ability to annotate directly on the board, manipulate images and objects, and access a wide range of multimedia content empowers individuals to think outside the box and explore creative solutions. This infusion of technology sparks innovation and leads to more impactful outcomes.
Streamlining Workflow and Productivity
In a collaborative workspace, efficiency and productivity are paramount. This solution streamline workflow by centralizing information, eliminating the need for multiple devices, and reducing time-consuming tasks. With seamless integration into existing software and applications, team members can access and share files, documents, and presentations directly from the smartboard, eliminating the hassle of switching between different platforms. Furthermore, the ability to save, export, and revisit previous sessions ensures that valuable ideas and discussions are never lost, enhancing productivity and allowing for continuous improvement.
Key Features of Interactive Smartboards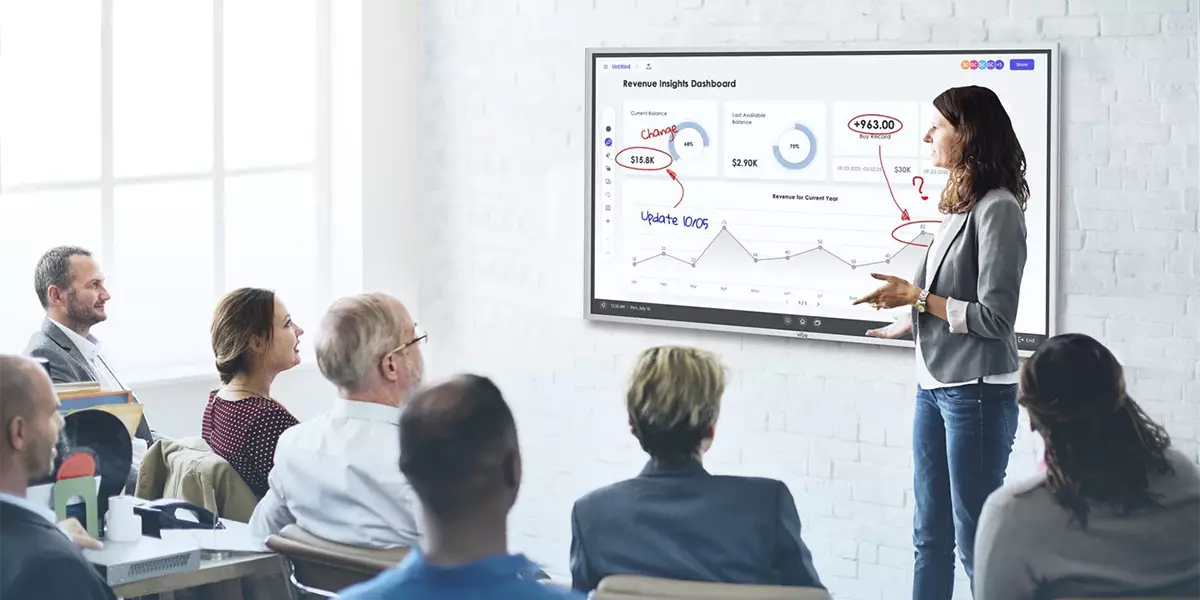 Intuitive Touch-Screen Interface
Interactive smartboards feature intuitive touch-screen interfaces that mimic the familiarity of smartphones and tablets. This user-friendly design eliminates the learning curve traditionally associated with technology, allowing team members to navigate and interact with the board effortlessly. The touch-screen interface enables users to write, draw, and manipulate content with precision and ease, creating a seamless user experience.
Seamless Integration with Digital Tools
To maximize their potential, this solution seamlessly integrate with a wide range of digital tools and software. From office productivity suites to project management platforms, these boards ensure compatibility with commonly used applications. This integration empowers teams to leverage their existing workflows and collaborate seamlessly without the need for additional training or complex setup procedures.
Real-Time Content Sharing
One of the most powerful features of interactive smartboards is the ability to share content in real-time. Whether it's displaying a presentation, sharing live data, or collaborating on documents, team members can instantly share their screens and contribute to the discussion. This real-time content sharing promotes active participation, accelerates decision-making, and ensures that everyone is on the same page.
Multimedia Capabilities
Interactive smartboards offer a rich multimedia experience that goes beyond traditional whiteboards. These boards support various media formats, allowing teams to incorporate images, videos, and audio into their presentations and discussions. The ability to showcase multimedia content enhances engagement and facilitates a more immersive and impactful communication experience.
The Impact on Collaborative Workspaces
Increased Engagement and Participation
Interactive smartboards create an environment that encourages active engagement and participation from all team members. With their interactive features and immersive capabilities, these boards captivate the attention of the audience and foster a sense of involvement. By promoting inclusivity and giving every team member a voice, interactive smartboards elevate the quality of discussions, leading to more well-rounded decisions and outcomes.
Improved Decision-Making Processes
Collaborative workspaces thrive on effective decision-making processes. Interactive smartboards provide teams with the tools and resources needed to analyze information, evaluate options, and make informed decisions. The ability to visualize data, compare alternatives side by side, and gather feedback in real-time empowers teams to arrive at consensus more efficiently. This streamlined decision-making process ensures that projects progress smoothly and goals are achieved within the allocated timeframes.
Enhanced Presentations and Client Interactions
In client-facing scenarios, interactive smartboards offer a competitive edge by enhancing presentations and interactions. With their multimedia capabilities and dynamic content manipulation, these boards enable teams to deliver impactful pitches, engage clients in interactive discussions, and leave a lasting impression. The ability to annotate directly on presentations, showcase real-time data, and collaborate with clients in real-time fosters stronger relationships and increases client satisfaction.
Conclusion
In conclusion, interactive smartboards have become indispensable tools in modern collaborative workspaces, revolutionizing the dynamics of teamwork and idea-sharing. These innovative devices bring a multitude of benefits, transforming the way teams interact, collaborate, and present ideas.
With their enhanced collaboration features, interactive smartboards foster an environment of seamless communication and active participation. Team members can engage with the board through touch-screen interfaces, enabling them to contribute their ideas, annotate content, and manipulate digital elements with ease. This level of interactivity sparks creativity and encourages the free flow of ideas, resulting in more innovative solutions.
Furthermore, interactive smartboards streamline workflow and enhance productivity by centralizing information and eliminating the need for multiple devices. Team members can access files, documents, and presentations directly from the smartboard, saving time and avoiding the hassle of switching between different platforms. The ability to save and revisit previous sessions ensures that valuable ideas and discussions are never lost, enabling continuous improvement.
By embracing interactive smartboards, organizations create a vibrant and productive work environment that sets them apart from the competition. These boards empower teams to work more efficiently, collaborate seamlessly, and unleash their creative potential. The result is enhanced teamwork, improved decision-making processes, and ultimately, greater success in achieving organizational goals.
In summary, interactive smartboards have proven to be invaluable assets in collaborative workspaces, driving teamwork, innovation, and success. Embrace the power of these remarkable tools in your workspace and unlock new levels of productivity, creativity, and achievement.
Image Gallery