Big LED screen displays for indoor use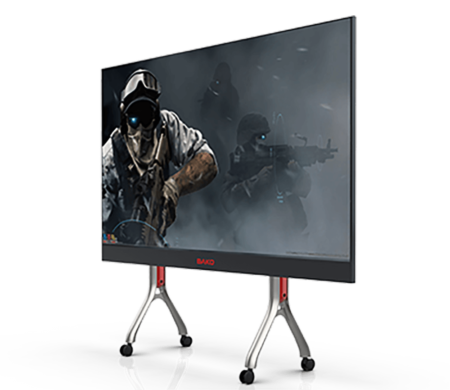 Businesses in many sectors are using technology to efficiently sell their products and services. Signage both inside and outside is increasingly chosen for brand promotion. Why is the IT industry going crazy over this new and improved screen? We'll look at the benefits and uses of the indoor Big LED screen display in this post.
Big LED screen for indoor
Light-emitting diodes are used in LED technology to show messages. Smart touch technology allows for touch-screen operation of the adaptable displays. They are big and shared by enormous shopping malls, entertainment venues, events, and digital signage.
Nevertheless, you can use them for a variety of purposes based on your need. Indoor Big LED screens provide excellent contrast and are quite bright. They use LED bulbs to display both moving and motionless images. The Indoor LED Advertising Screen is smooth and won't break images, in contrast to the Video Wall.
Additionally, the makers will adjust the panels and calibrate the LED wall: The uniformity of the colours and brightness depends on the product's quality. They are different from projectors in that you may use them in a bright environment and still see the images and messages displayed. Big LED screen spanning a hallway showing vibrant images. Creative Boom as a Source
Benefits of Indoor LED Displays
It makes sense to spend money on digital signs. Depending on the requirements of your organisation, the vendors will have a solution. Investing in digital signage often yields a significant return. You'll have the opportunity to market your company to a larger target market and create actual leads. The following are some benefits of making such an investment in technology.
High Definition Projectors and wall movies cannot match the pixel pitch of an indoor LED panel screen. While providing a high quality and sharp image, its pixels are better.You can utilise them for your display requirements in the various model lineup for lecture hall presentations, business occasions, musical performances, and expos. You receive the greatest items, be sure to buy from a recognised digital signage from Israk Solution Sdn Bhd.
Vibrant and Captivating
The audience will be able to see an LED display even if you put it in a location with lots of natural light. High resolution images with unmatched visual quality are provided. You can attract attention by using an indoor LED advertising panel with a high pixel pitch.
HD picture on an LED display. The ProDisplay website
Flexibility
When looking for an indoor LED display screen, you have many options. They are adaptable and can be arranged in either flat or curved shapes.
Nevertheless, you can pick a size that is appropriate for the viewing distance. The sizes can be changed to fit your preferences, whether you want a tiny or large LED display panel.
Depending on how you wish to use it, the initiative aids in producing a variety of visual effects. Also, using them in various indoor locations will improve the experience.
High Efficiency
The manufacturing process for indoor Big LED screens uses more advanced technology than that of projectors and video walls.
Beyond just the hardware, it also incorporates it into other systems. Since LED displays are high-performing technology, their use is increasing daily.
The digital signage software will make sure that a company shows different types of material to an audience for marketing purposes.
An indoor Big LED screen panel, on the other hand, needs little upkeep. However, be sure to have any damaged LED modules replaced by experts.
The LED signage devices are weatherproofed by the manufacturers, so you can use them outside.
Flexible Positioning
Given that you can put up indoor Big LED screen displays in various shapes, they are adaptable and may be used in any commercial location. A lightweight cabinet design or an ultra-slim depth can be mounted on the wall.
Additionally, portable choices guarantee that you can always move your display. In order to support the business's communication goals, take into account the device's screen size in relation to the environment of the meeting room. Concerts also make use of Big LED screens.
Participatory
An indoor LED display panel may be controlled from a separate location thanks to its internet connection. Businesses can reduce expenses because they don't have to send employees to modify the promotional materials. The LED signage advertising tools can still be programmed to match the audience you are aiming for.
Using digital standee displays or freestanding digital signage, brands can obtain a significant competitive advantage.
You can use LED signage to tell passersby about your business in addition to promoting it by putting up marketing materials. It is simple to set up and use LED displays. To complete the jobs, you don't required to possess any specialised abilities.
Its functioning is simple, and you may simply send various commands to your digital signage player via a control module.  Diverse industries all use LED signs. Screen sizes for the digital floor series range. The display quality is determined by their pixel pitches.
Here are the most widely used indoor Big LED screen applications.
Presenting at business meetings is best done with corporate LED displays. You may use them in any room, unlike projectors where you require a dark setting to obtain a good picture.
The LED signage display is bright and clear to observers despite the ambient light. Because of its adaptability, Big LED screens can be positioned in a variety of ways to meet your requirements.
Options that are portable can be used as mobile presentation displays.
Digital signage for internal communication can enhance message delivery across the board in many corporate contexts.
An Big LED screen was used for the presentation.
Retail Businesses must discover strategies to differentiate themselves from rivals due to the increased competition among stores that offer goods in the retail sector.
Businesses showcase their items for passersby via LED signage. A smart video wall made of LED displays can help draw customers to the store.
They leave a favourable first impression and help clients readily identify your business both offline and online.
a video wall presentation. From OnSign TV
Third: Hospitality
Customers enjoy being able to see something as they wait in a lobby. As guests enjoy common areas while they wait for service, the practise is widespread in the hospitality sector.
You can choose the content to display based on your audience and business goals.
a restaurant with a spread of Big LED screens. Origin: Leyard
In airports and museums, LED displays for tourism serve as communication tools.
It employs a content management system to show crucial data to the general public, like flight times and routes to a particular location.
Multi-touch models can also be used to enhance wayfinding in transportation hubs or for exhibitions.
A young man in an airport is watching Big LED screens.
Indoor Interactive LED Display
Regarding the signage and communication requirements of businesses, Israk Solution provides thoughtful solutions. The all-inclusive package gives you access to knowledgeable and seasoned specialists and the most recent technology.
There are several choices, and they can tailor a suitable strategy to fit your budget. If you want the optimum user experience from an indoor LED display, job quality is a key factor.
You require a business with staff with the necessary skills to instal, run, and manage digital assets.
Last Word
The business process can be made more efficient and effective by digitising it. LED signage may be used in a variety of ways thanks to the versatility of the Israk solution product. Make sure you are clear on your IT goals in order to choose the best option for your business.Find the perfect digital signage product for your company by speaking with one of our professionals now!
Image Gallery