Discover tips and best practices for designing effective content for digital signage. Explore how to optimize your messaging, visuals, and layout to engage your audience and maximize the impact of your digital signage campaigns. Create captivating content that captures attention, communicates effectively, and drives desired actions. Enhance your digital signage strategy with these valuable insights.
Introduction
In today's fast-paced digital world, capturing and maintaining the attention of your target audience is more challenging than ever. Digital signage has emerged as a powerful communication tool for businesses, offering a dynamic and eye-catching platform to engage customers and convey messages effectively. However, to make the most of digital signage, it is crucial to design content that grabs attention, communicates messages clearly, and drives desired actions. In this article, we will explore in detail the tips and best practices for designing effective content for digital signage campaigns. By optimizing your messaging, visuals, and layout, you can create captivating content that maximizes the impact of your digital signage campaigns.
Understanding Your Audience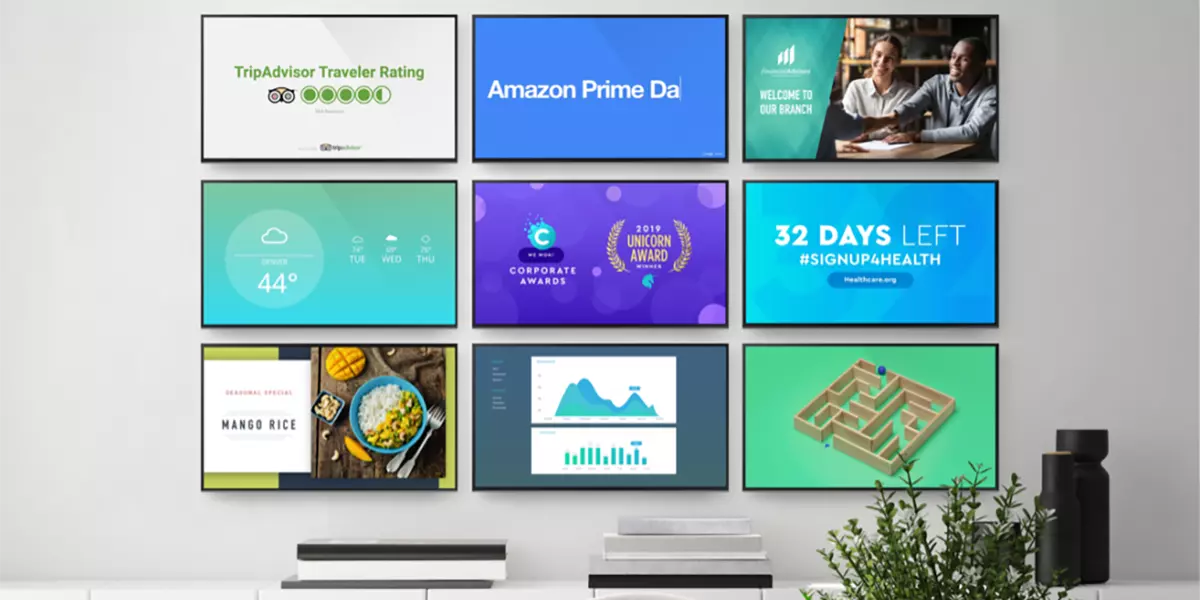 Audience Analysis
The first step in designing effective content for digital signage is understanding your audience. Conduct thorough audience analysis to identify their demographics, interests, and preferences. This understanding will guide your content creation process and help you tailor your messaging to resonate with your target audience. Consider their needs, motivations, and pain points to deliver relevant and compelling content that grabs their attention and prompts action.
Targeted Messaging
Once you have a clear understanding of your audience, craft targeted messages that align with their interests and preferences. Use language and tone that appeals to your specific audience segment. Tailor your messaging to address their pain points and highlight the benefits of your product or service. By speaking directly to their needs, you can capture their attention and create a connection that drives engagement.
Clear and Concise Messaging
Simplify Your Message
In the digital signage environment, where attention spans are limited, it is essential to communicate your message clearly and concisely. Simplify your content by focusing on the key message you want to convey. Use concise headlines, brief descriptions, and straightforward language to deliver your message effectively. Avoid cluttering the screen with excessive text. Instead, focus on delivering key information in a concise and memorable way.
Emphasize Key Information
Within the limited screen real estate of digital signage, it is crucial to prioritize and emphasize key information. Use visual hierarchy to draw attention to important messages or call-to-action. Use larger font sizes, bold text, or contrasting colors to ensure they stand out. By making important information easily noticeable, you increase the chances of capturing viewers' attention and driving desired actions.
Compelling Visuals
High-Quality Visual Content
Visuals play a crucial role in capturing attention and conveying messages quickly on digital signage. Use high-resolution images, videos, and graphics that align with your brand and the message you want to convey. Ensure your visuals are eye-catching, relevant, and engaging. Use vibrant colors, dynamic motion, and visually appealing design elements to draw viewers' attention and create a lasting impression.
Consistent Branding
Maintain consistency in your visual branding across your digital signage content. Use your brand colors, fonts, and logo consistently to reinforce brand recognition. Consistent branding helps viewers associate your messages with your brand, building trust and familiarity over time.
Dynamic Content and Motion
Engaging Motion Graphics
Leverage the dynamic nature of digital signage by incorporating motion and dynamic content. Use animations, transitions, and subtle movements to make your content visually interesting and captivating. Dynamic content helps to engage viewers and create a sense of liveliness in your digital signage. However, strike a balance between subtle motion and overwhelming distractions to ensure your content remains clear and legible.
Interactive Elements
Consider incorporating interactive elements into your digital signage content. Touchscreen displays or motion sensors can enable viewers to interact with your content, further enhancing engagement and providing a personalized experience. Interactive elements encourage viewers to spend more time with your digital signage, increasing the chances of conveying your message effectively and driving desired actions.
Strategic Layout and Hierarchy
Plan Your Layout
An effective layout is key to delivering your message clearly and guiding viewers' attention. Plan your layout strategically, considering the hierarchy of information and arranging elements on the screen. Place important messages or call-to-action prominently to ensure they are easily noticed. Use visual cues such as arrows or bullet points to guide viewers' eyes to specific areas. Pay attention to the readability of text, ensuring it is large enough and easily legible from a distance.
White Space
Don't underestimate the power of white space in your digital signage design. White space, or negative space, helps to create visual breathing room and allows viewers to focus on the essential elements of your content. Use white space strategically to enhance readability, separate content sections, and create a clean and uncluttered look.
Regular Content Updates
Fresh and Relevant Content
To keep your digital signage fresh and engaging, regularly update your content. Stale and outdated content can quickly lose viewers' interest. Consider scheduling content rotations and plan for regular updates to keep your digital signage campaigns dynamic and relevant. This ensures that viewers consistently encounter new and exciting content, increasing the likelihood of engagement and impact. Align your content updates with relevant promotions, seasonal themes, or trending topics to maintain relevancy and capture viewers' attention.
Data-Driven Content Optimization
Leverage data analytics to optimize your digital signage content. Monitor viewership and engagement metrics to gain insights into what content is resonating with your audience and what needs improvement. Use this data to refine and optimize your content strategy, making informed decisions about the types of content that drive the desired actions. By continuously analyzing data, you can iteratively improve your content and maximize its impact.
Conclusion
In conclusion, designing effective content for digital signage is crucial to maximize its impact and engage your target audience effectively. By understanding your audience, crafting clear and concise messaging, utilizing compelling visuals, incorporating dynamic content and motion, strategizing the layout, and ensuring regular content updates, you can create captivating digital signage campaigns that grab attention, communicate messages effectively, and drive desired actions. Embrace these tips and best practices to optimize your digital signage content and elevate the success of your campaigns. With thoughtful design and execution, digital signage can become a powerful medium to captivate and engage your audience, leaving a lasting impact on viewers.
Image Gallery