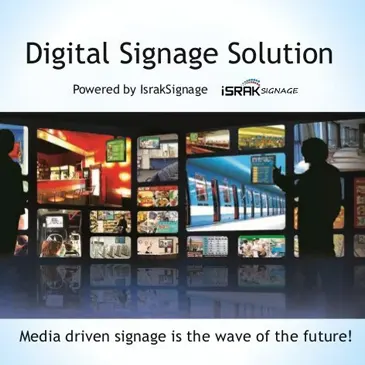 What is Digital Signage?
Known as Digital Signs or Digital Boards, this technology is digital video content or digital images displayed on your screen. Digital signage, sometimes called electronic sign, refers to display technologies such as LED walls (or video walls), projection, and LCD monitors for displaying web pages, videos, directions, restaurant menus, marketing messages, or digital images in vibrant colors. One particular use for digital signage is out-of-home advertising, where video content, advertisements, and/or messages are displayed on digital signs, aiming to get targeted messages delivered, at a particular place and/or to specific consumers, at a particular time.
How do digital signage works?
Digital signage displays utilize content management systems and digital media delivery systems that may run on either personal computers and servers, or on regional/national media hosting providers. With digital signage, restaurants, salons, spas, car service shops, and fitness studios can provide rotating content and information on walls, windows, or an eye-catching digital screen. While paper menus or fixed displays are still common, businesses can artfully display their services offerings on a digital screen. Using and the Israk Content Manager Software apps, businesses can convert any Windows 10 device into a digital signage with a few simple clicks.
Digital signage systems allow for repeatable configurations, and the cloud-based systems allow users to view and edit configurations remotely. While there are still plenty of excellent systems that are only available on the desktop/computer, cloud-based options are becoming more and more popular because of the ability to remotely update the signage. Many businesses shy away from using digital signage, suggesting that it is too expensive, but advances in technology have brought down costs for solutions such as large LED video walls, making it affordable for many businesses. To truly take advantage of digital signage, you will need the best digital signage software to go along with the hardware devices, which allows remote control over several screens.
For what purpose I can use digital signage?
Because media screens utilize video and animations, as well as rotating graphics, advertisers can include digital signage content that features static advertisements, product demonstrations, or video testimonials. Digital signage can be used to deliver public information, transmit internal communications, or share product information in order to improve customer service, promotions, and brand recognition. With digital signage content, you can build an integrated emergency communications plan and keep up-to-date information across different screens in the structure.
If so, you will want to make sure that your CMS and players are capable of supporting interactive content, and you also need to have a screen with touch capabilities. The ability to break up what is playing on a digital display for applications like emergency messages, mobile interaction, etc. Actions taken with respect to networked information, for example, turning display on and off, rebooting the device, etc.
Can I control digital signage remotely?
If you are considering the deployment of several digital displays in different locations, being able to control the network remotely will be crucial for your success. If you have gained a solid understanding of your intentions and the resources needed to make your network successful, then it is time to procure some digital displays and get your feet wet. Basic displays can be created using a built-in editor, but more experienced users can take advantage of technology to get highly professional results.
Conclusion
By digitally displaying content, departments are able to cut down on time, costs, and the environmental footprint associated with traditional print media. More sophisticated software will store digital files, such as images, in an internal memory, which will guarantee continuous playback if Internet connectivity is lost, unlike a streaming solution that relies on constant Internet connection for operation.
Image Gallery