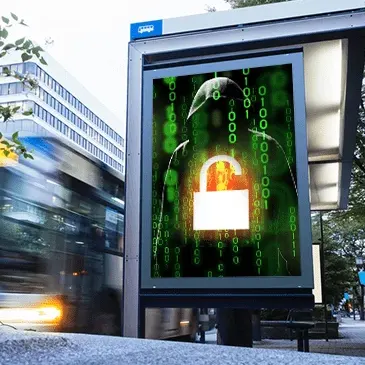 Digital signage is a type of electronic display that uses digital technology to communicate information to customers. The signs can be located in public places, such as restaurants and retail stores, or in private businesses. It can be used to provide information about products and services, or simply to manage a business's image. The question is, how do digital signage works?
What is digital signage?
Digital signage is a technology that provides interactive content and information to users of digital displays, such as LED signs and monitors. DS can be used in a variety of settings, such as in retail stores and airports, to provide updated information to customers or to promote specific products. Digital signage can also be used in restaurants and other locations to provide information about services or specials. The main purpose of digital signage is to use the latest technology to provide customers with information, entertainment, and promotional messages that are relevant and useful.
How do digital signage works?
The digital signage system consists of a content management server, which creates and delivers the content, and one or more players, which receive and display the content. The players can be attached to displays or located remotely. The digital signage system has to be connected to a network, which enables the content to be delivered and viewed. The players are controlled by software running on computers, laptops, or tablets.
What are the components of a digital signage system?
Digital signage systems are made up of a number of different components, all of which work together to deliver content to a monitor. The most important component is the content management system, which stores and manages the digital media files that will be displayed. The media player is responsible for playing back the media files, while the monitor displays the content. In order to keep everything synchronized, a clock or timer is often used to control the playback of the media files.
How to create content for digital signage?
Digital signage content management systems (CMS) help organizations create, manage, and deliver digital media content across a network of monitors. A CMS typically consists of a media player and content management software. The media player receives digital media content from the content management system and displays it on a monitor. The content management system allows users to make changes to the media player and the content displayed on the monitors.
There are many different types of CMS software available, so it's important to choose one that fits your organization's needs. Some CMS software is designed for small businesses, while other software is more complex and designed for large enterprises. Content management systems are great for managing a large amount of content. The content can be stored in one central location and edited by any person who has access to the system.
Once you've selected a CMS, you need to create digital media content that will be displayed on the monitors. This content can include text, images, videos, or any other type of digital media. To create this content, you'll need to learn how to use CMS software. For example, if you are creating a brochure for your business, you will need to learn how to create text and images. This can be done through the software that comes with the CMS or by using a photo editing program. You can also use graphics programs like Adobe Photoshop.
Best practices for digital signage
When planning and implementing a digital signage system, there are a number of best practices to keep in mind. One of the most important is creating content that is both engaging and relevant to your audience. This content can be delivered through a content management system (CMS), which allows you to easily create, manage, and publish content across multiple channels. Furthermore, content can be tailored to each individual channel with a CMS.
Another key consideration is the use of digital media delivery systems, which allow you to deliver content to monitors or other digital displays. These systems can be used to schedule and automate the display of content, as well as manage user interactions such as touch screens or kiosks. Finally, it is important to select the right media player and monitor your needs. Digital signage can also work together with an interactive smartboard, or the latest smartboard by Arvia, smartboard chromeOS.
Conclusion
In this article, we have discussed the followings:
a. Introduction: What is digital signage?
b. How do digital signage works?
c. The components of a digital signage system
d. How to create content for digital signage
e. Best practices for digital signage
Digital signage is a great way to get your message across to a large audience. It is an effective and efficient way to communicate with your customers or employees. The right signage can be the difference between a successful campaign and a failure. At Israk, we've got all you need to get the job done. We can create custom-made signage that s tailored to your needs, from a simple poster to an elaborate web banner. We can also provide you with printed materials, such as brochures, postcards, and flyers. Contact us or request a free quotation today for more information about our services.
Image Gallery