Discover tips and resources for empowering teachers with interactive smartboards. Explore the benefits of interactive smartboards in the classroom, effective strategies for integrating them into teaching practices, and valuable resources to support teacher development in utilizing this technology to enhance student engagement and learning.
Introduction
Interactive smartboards have revolutionized the way teachers engage with students and deliver educational content in the classroom. These innovative tools provide a dynamic and interactive learning environment that enhances student engagement, promotes collaboration, and facilitates effective teaching practices. In this article, we will explore tips and resources for empowering teachers with interactive smartboards, enabling them to harness the full potential of this technology in the classroom.
The Benefits of Interactive Smartboards in Education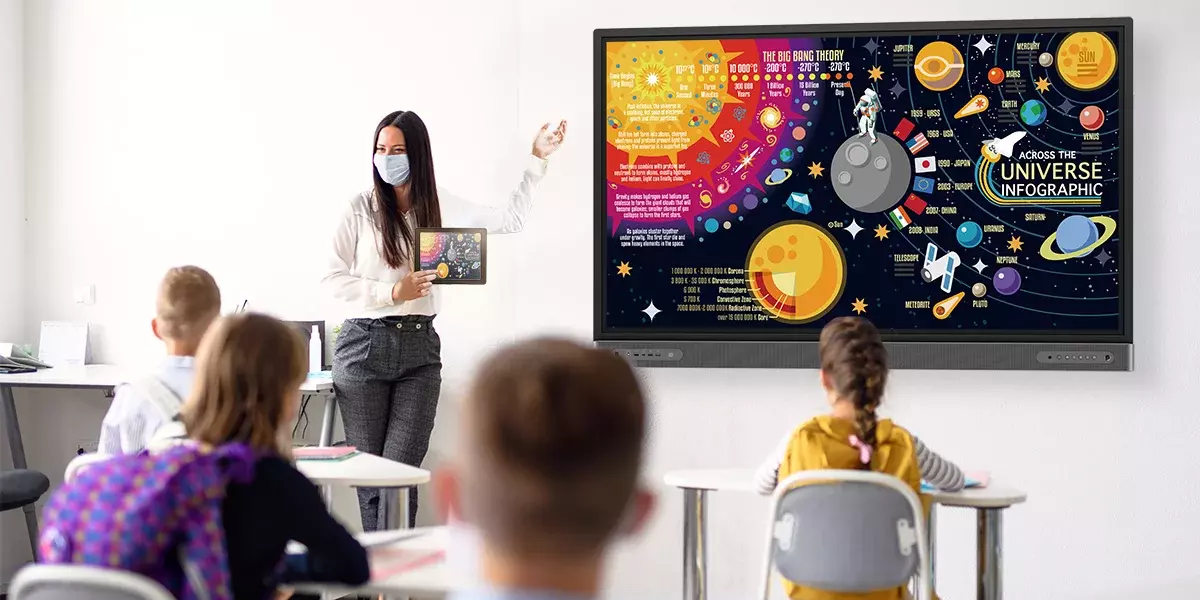 Enhanced Student Engagement
Interactive smartboards offer a variety of features, such as touch-enabled screens, interactive pen tools, and multimedia integration, that capture students' attention and foster active participation. These tools enable teachers to create interactive lessons that stimulate curiosity, encourage exploration, and keep students actively engaged in the learning process. By providing a dynamic and visually rich experience, interactive smartboards make learning more enjoyable and memorable for students.
Collaboration and Interaction
Interactive smartboards promote collaboration and interaction among students. With features like split-screen functionality, collaborative whiteboarding, and interactive quizzes, students can actively participate in group activities, share ideas, and work together on projects. These collaborative experiences not only enhance critical thinking and problem-solving skills but also cultivate a sense of teamwork and cooperation among students.
Multimodal Learning
Interactive smartboards facilitate multimodal learning by incorporating various media types into lessons. Teachers can easily integrate videos, images, audio clips, and interactive simulations to deliver content in a multimodal format that caters to different learning styles and preferences. This approach accommodates the diverse needs of students, allowing them to engage with the content in ways that best suit their individual learning preferences.
Real-Time Assessment and Feedback
This solution enable teachers to assess student understanding and provide immediate feedback. Through interactive quizzes, polls, and formative assessment tools, teachers can gauge student comprehension and adjust instruction accordingly. Real-time feedback allows teachers to address misconceptions promptly, reinforce learning objectives, and provide personalized support to students, promoting their academic growth.
Strategies for Effective Use of Interactive Smartboards
Plan Engaging Lessons
When utilizing smartboards, teachers should plan lessons that leverage the interactive features of the technology. Incorporate interactive activities, multimedia elements, and hands-on demonstrations to capture students' interest and actively involve them in the learning process. Well-designed lessons should have clear learning objectives, incorporate opportunities for student interaction, and align with the curriculum.
Encourage Student Participation
Smartboards empower students to become active participants in their learning. Encourage students to interact with the smartboard, collaborate with peers, and share their ideas during lessons. Utilize features such as virtual voting, digital hand raising, or interactive quizzes to foster student engagement and promote a student-centered learning environment.
Provide Guided Exploration
Interactive smartboards offer opportunities for guided exploration and discovery. Teachers can present open-ended questions, interactive simulations, or virtual experiments that allow students to explore concepts and arrive at their own conclusions. This approach promotes critical thinking, problem-solving skills, and independent learning.
Incorporate Formative Assessment
Utilize the interactive capabilities of smartboards to incorporate formative assessment strategies. Create interactive quizzes, polls, or surveys to check student understanding during or at the end of a lesson. Analyze the results in real-time and provide immediate feedback to students, addressing any misconceptions and reinforcing learning objectives.
Professional Development and Collaboration
To effectively empower teachers with smartboards, provide ongoing professional development opportunities and encourage collaboration among educators. Offer training sessions on the technical aspects of using interactive smartboards, as well as strategies for integrating them into teaching practices. Foster a supportive environment where teachers can share ideas, exchange best practices, and learn from one another's experiences.
Resources for Teacher Development
Online Training Modules and Courses
Numerous online platforms offer training modules and courses specifically designed to support teachers in utilizing interactive smartboards effectively. These resources cover topics such as interactive lesson design, software applications, and classroom management strategies. Teachers can access these courses at their convenience and enhance their skills in leveraging smartboards for effective teaching and learning.
Teacher Communities and Forums
Joining teacher communities and forums focused on interactive smartboard usage can provide valuable insights, resources, and opportunities for collaboration. These communities allow teachers to connect with peers, share ideas, and seek advice on using interactive smartboards in the classroom. Engaging in discussions and participating in virtual conferences or webinars can broaden teachers' knowledge and enhance their expertise.
Manufacturer Resources and Support
Interactive smartboard manufacturers often provide comprehensive resources and support materials for teachers. These resources may include instructional videos, lesson plan libraries, and user manuals. Exploring these resources can help teachers discover new ways to integrate interactive smartboards into their teaching practices and maximize their impact on student engagement and learning.
Professional Development Workshops
Consider hosting or attending professional development workshops dedicated to interactive smartboard usage. These workshops can be conducted by educational technology experts or in collaboration with interactive smartboard vendors. Hands-on training, demonstrations of best practices, and opportunities for collaborative learning can significantly benefit teachers seeking to enhance their skills in utilizing interactive smartboards effectively.
Conclusion
Interactive smartboards offer teachers a wealth of possibilities for enhancing student engagement, promoting collaboration, and facilitating effective teaching practices. By harnessing the benefits of interactive smartboards and utilizing effective strategies, teachers can create dynamic and immersive learning experiences that empower students and foster their academic growth. With the support of valuable resources, ongoing professional development, and a collaborative network, teachers can maximize the potential of interactive smartboards to transform their classrooms into engaging and interactive educational environments.