Discover how interactive touchscreen menus can revolutionize the way customers engage with your business. Enhance customer experience, streamline operations, and increase sales with this innovative technology.
Introduction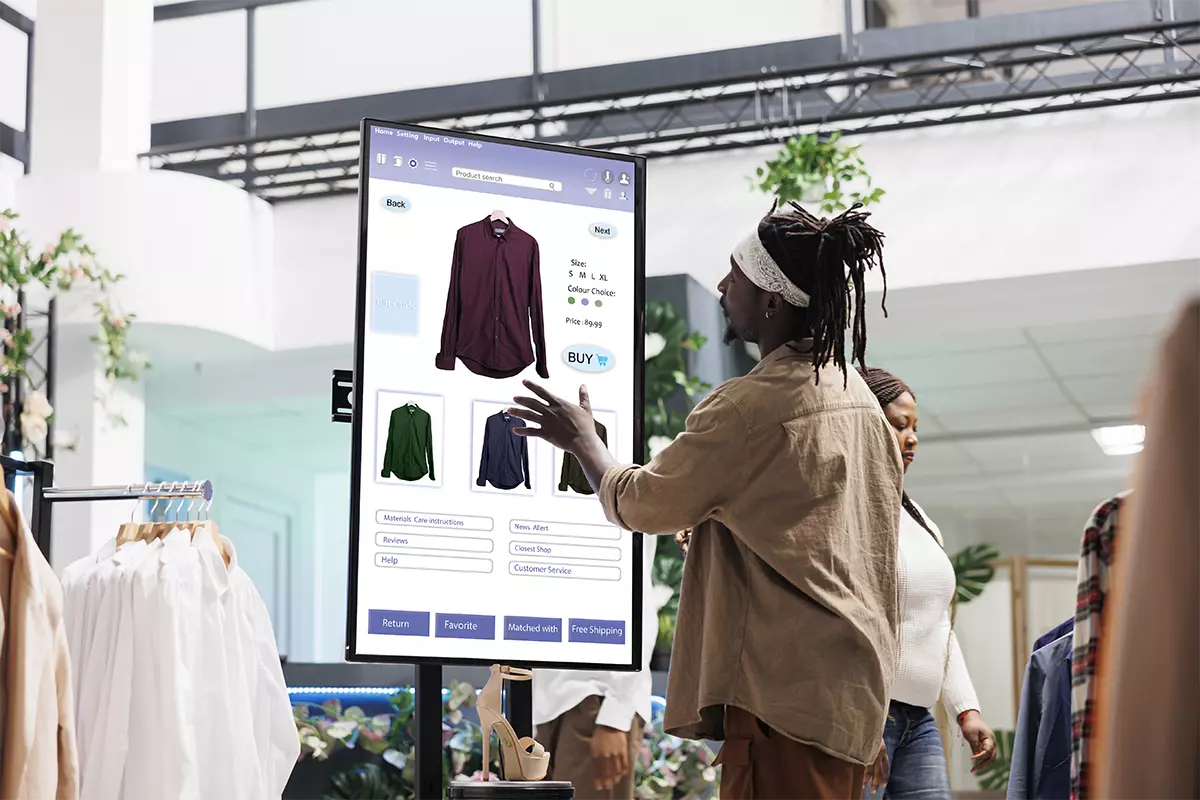 In today's competitive business landscape, providing an exceptional customer experience is paramount for success. One of the emerging technologies that have revolutionized the way businesses engage with their customers is interactive touchscreen menus. By integrating interactive touchscreen technology into your business, you can transform the way customers interact with your products and services, enhancing their overall experience.
The Power of Interactive Touchscreen Menus
Interactive touchscreen menus offer a wide array of benefits for businesses across various industries. These menus leverage the power of touch-based interactivity to provide a seamless and intuitive user experience. With just a few taps on a vibrant touchscreen display, customers can effortlessly explore your offerings, access detailed information, and make informed decisions.
Streamlining Ordering Processes
Traditional menus often rely on printed materials or static displays, which can be limiting and time-consuming. Interactive touchscreen menus, on the other hand, enable customers to browse through a digital interface that can be easily updated, allowing for real-time changes to prices, availability, and promotions. By streamlining the ordering process, businesses can reduce wait times, eliminate manual errors, and increase operational efficiency.
Personalization and Customization
Interactive touchscreen menus provide an opportunity for businesses to personalize the customer experience. Through tailored recommendations based on individual preferences, previous orders, or dietary restrictions, businesses can offer a more personalized and relevant menu selection. This level of customization not only enhances customer satisfaction but also fosters customer loyalty and repeat business.
Engaging Visual Content
Humans are visual beings, and interactive touchscreen menus capitalize on this by incorporating vibrant imagery, videos, and animations. High-quality visuals showcase your products or services in an engaging and appetizing way, enticing customers to explore further and make confident choices. By providing an immersive visual experience, businesses can effectively capture customers' attention and increase the likelihood of upselling.
Improving Customer Satisfaction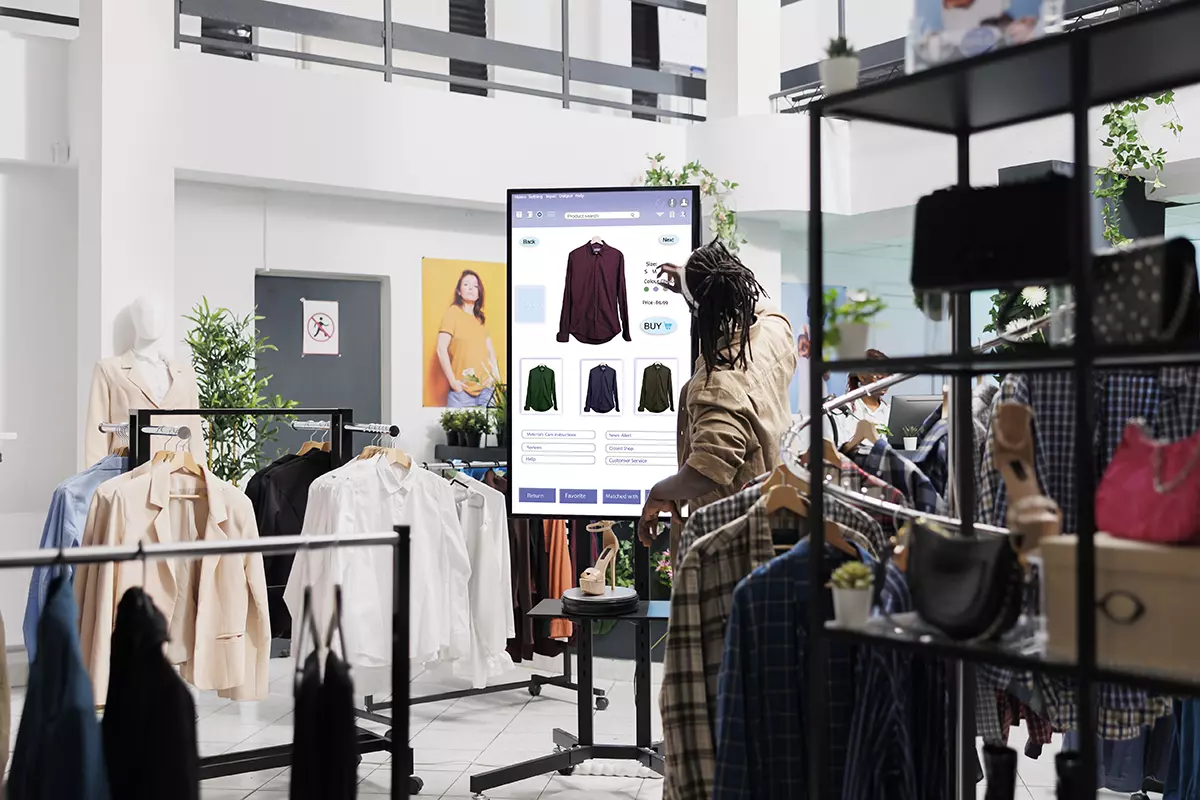 Customer satisfaction is a top priority for any business, and interactive touchscreen menus can significantly contribute to enhancing it. By offering a user-friendly interface that enables quick and easy access to information, customers can make informed decisions at their own pace. This self-service approach empowers customers, reduces order inaccuracies, and eliminates communication barriers. Moreover, interactive menus can accommodate various languages, catering to a diverse customer base and ensuring inclusivity.
Efficient Queue Management
In establishments with high footfall, such as restaurants or cafes, interactive touchscreen menus can assist in managing queues effectively. Customers can browse the menu, place their orders, and receive notifications when their orders are ready for pickup or delivery. This streamlined process reduces congestion, minimizes waiting times, and enhances overall customer satisfaction.
Allergen and Nutritional Information
For businesses in the food industry, it is crucial to provide accurate allergen and nutritional information to customers. Interactive touchscreen menus can display detailed ingredient lists, allergen warnings, and nutritional facts, empowering customers to make informed choices that align with their dietary requirements or restrictions. This level of transparency not only builds trust but also positions businesses as proactive in catering to their customers' needs.
Boosting Sales and Revenue
Implementing interactive touchscreen menus can have a significant impact on sales and revenue generation. By showcasing enticing visuals, highlighting promotions, and offering upsell suggestions, businesses can increase the average order value. Furthermore, interactive menus can integrate with the point-of-sale system, automatically updating inventory levels and optimizing order management. This integration enhances operational efficiency and reduces the chances of stockouts, leading to increased customer satisfaction and repeat business.
Integration and Data Analytics
Interactive touchscreen menus can be seamlessly integrated with other business systems, such as customer relationship management (CRM) platforms or loyalty programs. By collecting data on customer preferences, ordering patterns, and feedback, businesses can gain valuable insights into their target audience. This data can inform strategic decision-making, refine marketing efforts, and further improve the customer experience.
Upselling and Cross-Selling Opportunities
Interactive touchscreen menus present an ideal platform for promoting upselling and cross-selling opportunities. By strategically placing suggestions and recommendations within the menu interface, businesses can entice customers to explore additional options or complementary products. For example, a fast-food restaurant can display combo meals or add-ons, encouraging customers to upgrade their orders and increase the overall sales value. This proactive approach not only boosts revenue but also exposes customers to a wider range of offerings, increasing their satisfaction and the likelihood of repeat visits.
Gamification and Interactive Elements
Interactive touchscreen menus allow businesses to incorporate gamification and interactive elements to engage customers further. Gamification features, such as quizzes, challenges, or virtual rewards, can add an element of fun and excitement to the ordering process. This interactive approach creates a memorable experience for customers, leaving a lasting impression and increasing brand loyalty. By making the ordering process enjoyable, businesses can differentiate themselves from competitors and establish a strong emotional connection with their target audience.
Real-Time Feedback and Reviews
Interactive touchscreen menus can include features that allow customers to provide real-time feedback and reviews. This instant feedback mechanism enables businesses to gather valuable insights into customer preferences, satisfaction levels, and areas for improvement. By actively listening to customer feedback, businesses can make data-driven decisions to enhance their offerings, address any concerns, and continuously refine the customer experience. Moreover, positive reviews collected through the menu interface can be showcased to build social proof and attract new customers.
Accessibility and Inclusivity
Digital menus have the advantage of being highly accessible and inclusive. Interactive touchscreen menus can accommodate various accessibility needs, such as adjusting font sizes, providing audio descriptions, or offering multiple language options. These features ensure that customers with different abilities or language preferences can easily navigate the menu, access necessary information, and place their orders independently. By prioritizing accessibility, businesses demonstrate their commitment to inclusivity, fostering a positive brand image and expanding their customer base.
Analytics and Performance Tracking
Interactive touchscreen menus provide businesses with valuable analytics and performance tracking capabilities. By monitoring user interactions, menu engagement, and ordering patterns, businesses can gain insights into customer behavior and preferences. This data-driven approach enables businesses to make informed decisions regarding menu layout, item placement, pricing strategies, and promotional campaigns. The ability to track and analyze performance metrics allows businesses to optimize their menu offerings, tailor their marketing efforts, and drive continuous improvement.
Staff Efficiency and Training
Implementing interactive touchscreen menus can also improve staff efficiency and training. With digital menus guiding the ordering process, staff members can focus more on providing personalized service, addressing customer inquiries, and ensuring a smooth overall experience. The streamlined ordering process reduces the chances of errors or miscommunications between customers and staff, minimizing order corrections and refunds. Additionally, interactive menus can serve as training tools for new employees, providing a user-friendly interface for learning about menu items, ingredients, and order management protocols.
Conclusion
In today's digital age, businesses must leverage technology to enhance customer experience and gain a competitive edge. Interactive touchscreen menus provide an innovative solution that revolutionizes the way customers interact with your business. From streamlining ordering processes and personalizing experiences to boosting sales and revenue, these menus offer a wide range of benefits. By embracing interactive touchscreen menus, businesses can create memorable experiences, foster customer loyalty, and stay ahead in the ever-evolving marketplace.
By harnessing the power of interactive touchscreen menus, businesses can revolutionize the way customers engage with their products and services. From upselling and cross-selling opportunities to gamification, accessibility features, and data-driven decision-making, these menus offer a comprehensive solution to enhance customer experience and drive business growth.
Image Gallery