Discover how interactive touchscreen kiosks revolutionize wayfinding and navigation in large venues. Streamlined navigation, personalized recommendations, and multilingual support enhance visitor experience, while venue owners benefit from improved efficiency, data insights, and revenue generation. Explore the future developments of augmented reality, voice recognition, and mobile integration.
---
Introduction
In today's fast-paced world, finding our way around can be a challenging task, especially in large venues such as airports, shopping malls, or hospitals. Traditional signposts and maps are often inadequate, leaving visitors feeling lost and frustrated. However, thanks to advancements in technology, interactive touchscreen kiosks have emerged as a powerful solution to address these navigation challenges. In this article, we will explore the role of interactive touchscreen kiosks in wayfinding and navigation, highlighting their benefits and how they have transformed the visitor experience.
---
Enhancing Visitor Experience
Streamlined Navigation
Interactive touchscreen kiosks provide users with an intuitive and user-friendly interface, allowing them to navigate complex environments effortlessly. With the ability to display interactive maps, directions, and points of interest, these kiosks empower visitors to find their desired destinations quickly and efficiently. By eliminating confusion and reducing the time spent searching for information, touchscreen kiosks greatly enhance the overall visitor experience.
Personalized Recommendations
One of the key advantages of interactive touchscreen kiosks is their ability to provide personalized recommendations based on user preferences and interests. By collecting data such as location, time of day, and user input, these kiosks can offer tailored suggestions for nearby attractions, events, or services. This personalized approach ensures that visitors receive relevant information that caters to their specific needs, further enriching their experience.
Multilingual Support
In an increasingly globalized world, catering to diverse audiences is essential. Interactive touchscreen kiosks address this by offering multilingual support, allowing users to select their preferred language for navigation and information retrieval. This feature enables international visitors to overcome language barriers and access vital information effortlessly, ensuring a smooth and inclusive experience for all.
---
Benefits for Venue Owners
Improved Efficiency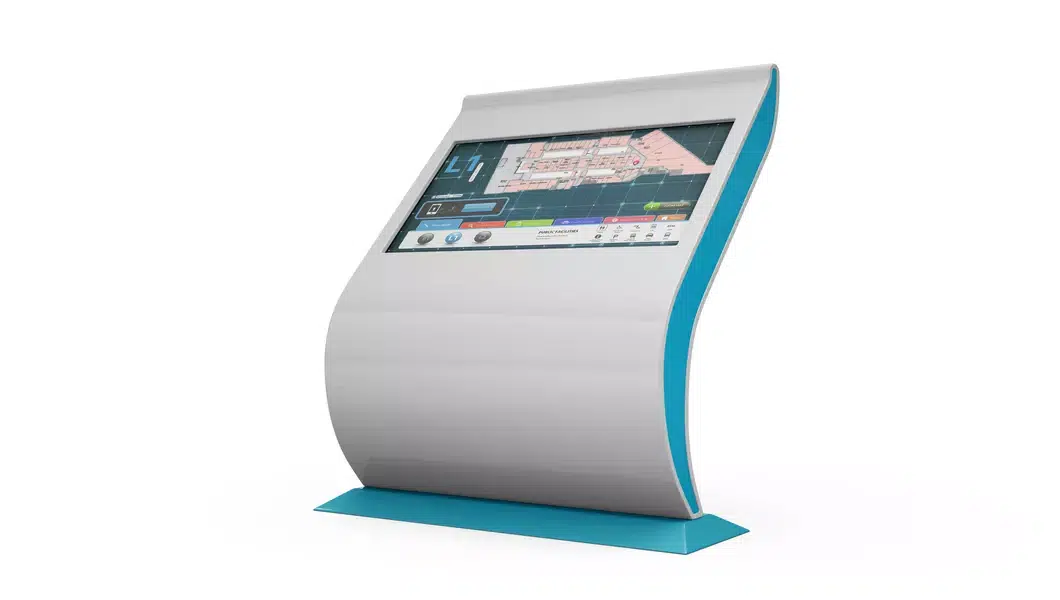 Implementing interactive touchscreen kiosks in venues can significantly enhance operational efficiency. By reducing the need for staff intervention in wayfinding and navigation, kiosks free up valuable resources, enabling staff members to focus on other important tasks. Additionally, the self-service nature of these kiosks reduces waiting times and congestion, leading to a smoother flow of visitor traffic within the venue.
Data Collection and Analytics
Interactive touchscreen kiosks serve as valuable tools for data collection and analytics. By tracking user interactions and preferences, venue owners can gather valuable insights into visitor behavior, popular destinations, and areas that require improvement. This data-driven approach allows for informed decision-making, enabling venue owners to optimize their facilities and services based on real-time feedback.
Advertising and Revenue Generation
Touchscreen kiosks present an excellent opportunity for venue owners to generate additional revenue through targeted advertising. By strategically placing advertisements on the kiosk interface, venue owners can reach a captive audience of visitors actively seeking information. This advertising revenue can offset the costs associated with implementing and maintaining the kiosk infrastructure while providing an effective platform for businesses to promote their products and services.
---
Future Developments and Innovations
As technology continues to advance, the potential applications of interactive touchscreen kiosks are expanding. Here are a few future developments to look forward to:
Augmented Reality Integration
Augmented reality (AR) has the potential to revolutionize the way visitors interact with touchscreen kiosks. By overlaying digital information onto the real-world environment, AR can provide visitors with an immersive and enhanced navigation experience. From virtual guide overlays to real-time directions displayed on the user's smartphone, the integration of AR into touchscreen kiosks holds great promise for the future.
Voice Recognition and Natural Language Processing
Voice recognition and natural language processing technologies are rapidly evolving, and their integration into touchscreen kiosks will enable users to interact with the interface through voice commands. This advancement will further enhance accessibility and convenience, allowing users to retrieve information and navigate through venues with greater ease.
Integration with Mobile Devices
The integration of interactive touchscreen kiosks with users' mobile devices will offer a seamless and personalized experience. By connecting the kiosk interface with mobile applications, visitors can access navigation information, receive notifications, and even interact with the kiosk remotely. This integration will leverage the power of smartphones to further streamline the navigation process.
---
Conclusion
In conclusion, interactive touchscreen kiosks play a pivotal role in transforming the way visitors navigate complex venues. Through streamlined navigation, personalized recommendations, and multilingual support, these kiosks enhance the overall visitor experience, making it more efficient and enjoyable. Additionally, venue owners benefit from improved operational efficiency, data-driven insights, and revenue generation opportunities. As technology continues to advance, the future holds exciting possibilities for the integration of augmented reality, voice recognition, and mobile device connectivity, further enhancing the capabilities of touchscreen kiosks. Embracing these advancements will undoubtedly keep venues at the forefront of visitor satisfaction and set them apart from the competition.
Image Gallery