Discover the advantages and considerations of using LED displays for indoor advertising. This comprehensive article explores the benefits of LED displays, key considerations for implementation, and how they can help your business stand out in the competitive market.
Introduction
In today's fast-paced digital world, businesses are constantly seeking innovative ways to captivate their target audience. LED displays have emerged as a powerful tool for indoor advertising, providing businesses with a dynamic and attention-grabbing medium to showcase their products and services. In this article, we will delve into the advantages of LED displays for indoor advertising and explore important considerations for implementing them effectively.
The Advantages of LED Displays
1. Enhanced Visual Impact
LED screen displays excel in providing a stunning visual impact that captures the attention of passersby. The vibrant and vivid colors, combined with high brightness levels, ensure that your advertising content is visible and stands out even in well-lit indoor environments. LED technology offers superior color accuracy and contrast, resulting in sharp and clear visuals that leave a lasting impression on viewers. Whether you're showcasing products, promoting services, or displaying captivating visuals, LED screen displays elevate the visual experience and make your content more memorable.
2. Flexibility and Customization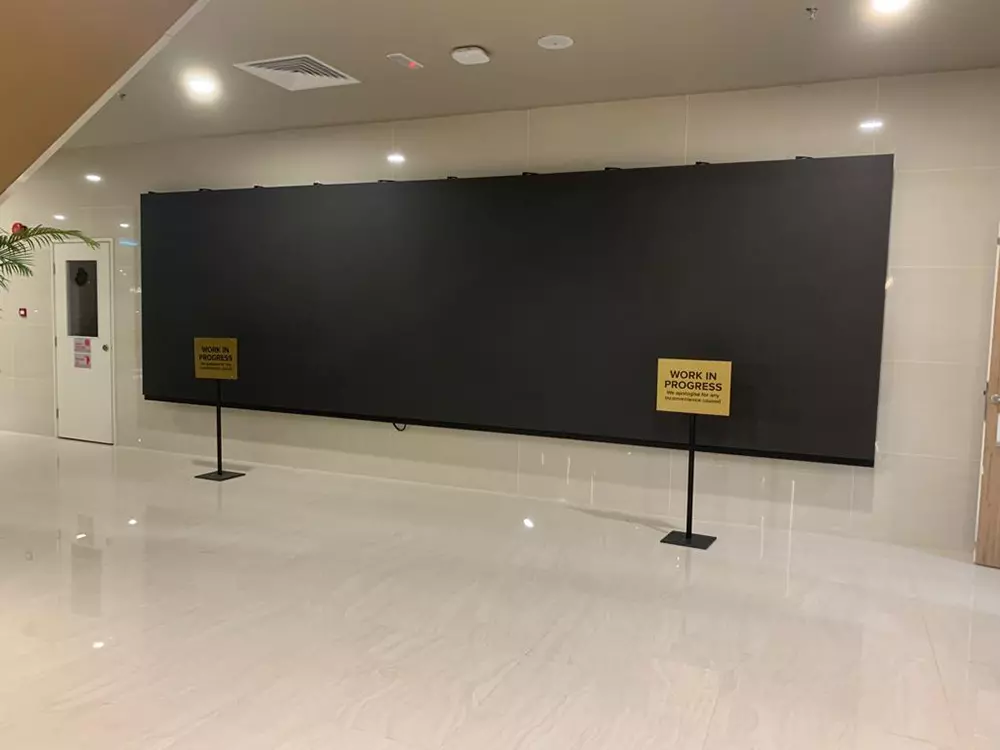 LED screen displays offer unparalleled flexibility when it comes to content creation and customization. They can accommodate a wide range of advertising formats, from static images and videos to engaging animations and interactive content. This versatility allows you to tailor your messages to specific campaigns, target different audience segments, and create captivating experiences that resonate with viewers. With the ability to update and modify content easily, LED screen displays enable real-time communication, ensuring that your messaging remains relevant and timely.
3. Cost-Effective Advertising
Investing in LED displays for indoor advertising provides long-term cost savings for businesses. LED technology is highly energy-efficient, consuming significantly less power compared to traditional signage options. This energy efficiency not only reduces your electricity bills but also aligns with sustainable business practices, making LED screen displays an environmentally friendly choice. Additionally, LED screen displays have a long lifespan, minimizing the need for frequent replacements and reducing maintenance costs. With their durability and low maintenance requirements, LED screen displays offer a cost-effective advertising solution that maximizes your return on investment.
4. Increased Brand Visibility
LED screen displays play a crucial role in increasing brand visibility and recognition. With their vibrant and captivating visuals, they ensure that your brand stands out from competitors. By strategically placing LED screen displays in high-traffic areas, you can attract the attention of potential customers and reinforce your brand identity. LED displays provide a unique opportunity to showcase your brand's personality, values, and offerings in a visually appealing and impactful way. Consistency in branding across LED screen displays and other marketing channels helps strengthen brand recall and fosters a sense of trust and familiarity among your target audience.
Considerations for Implementing LED Displays
1. Location and Placement
Choosing the right location and placement for your LED displays is crucial to maximize visibility and impact. Conduct a thorough analysis of your target audience's demographics, behavior, and preferences to identify the most strategic locations. Consider factors such as foot traffic patterns, viewing angles, and the surrounding environment. Placing LED displays near entrances, high-traffic areas, or key points of interest can significantly enhance their effectiveness. By understanding your audience's habits and preferences, you can ensure that your LED displays are seen by the right people at the right time.
2. Content Strategy and Management
A well-defined content strategy is essential for creating engaging and impactful LED display campaigns. Start by clearly defining your advertising objectives and understanding your target audience's needs and interests. Develop content that aligns with your brand identity, conveys your key messages effectively, and evokes the desired emotional response from viewers. Consider the frequency of content updates and plan a content calendar to ensure a consistent and engaging display experience. Implement a user-friendly content management system that allows for easy content scheduling, monitoring, and updates. Regularly evaluate the performance of your content and make adjustments as needed to maximize the impact of your LED displays.
3. Integration with Other Marketing Channels
To create a cohesive and comprehensive marketing campaign, integrate your LED screen displays with other marketing channels. Consistency across various platforms, including social media, print media, and online advertising, reinforces your brand message and enhances brand recognition. Develop a holistic marketing strategy that leverages the strengths of each channel while maintaining a consistent brand image and messaging. By integrating LED screen displays into your broader marketing efforts, you create a seamless customer experience and increase the effectiveness of your advertising campaigns.
4. Maintenance and Support
Regular maintenance and timely support are essential to keep your LED screen displays in optimal condition. Establish a maintenance plan that includes regular inspections, cleaning, and necessary repairs or replacements. Address any technical issues promptly to minimize downtime and ensure uninterrupted display performance. Partnering with a reputable LED display provider can offer valuable support, including technical assistance, remote monitoring, and prompt troubleshooting. By prioritizing maintenance and support, you can extend the lifespan of your LED displays and maintain their visual appeal and effectiveness over time.
Conclusion
In today's competitive market, LED screen displays for indoor advertising offer numerous advantages that help businesses stand out and engage their target audience effectively. With their enhanced visual impact, flexibility, cost-effectiveness, and brand visibility, LED displays are a powerful tool for capturing attention and conveying compelling messages. By carefully considering factors such as location, content strategy, integration, and maintenance, businesses can harness the full potential of LED screen displays to create impactful advertising campaigns.
Embrace the benefits of LED screen displays for indoor advertising and leverage their capabilities to enhance your marketing efforts. Discover how LED screen displays can transform your business by visiting https://www.israk.my/. Stay ahead of the competition and captivate your audience with captivating LED advertising displays.
Image Gallery