P2.5 LED Screen Good Enough? For a Great Visual Experience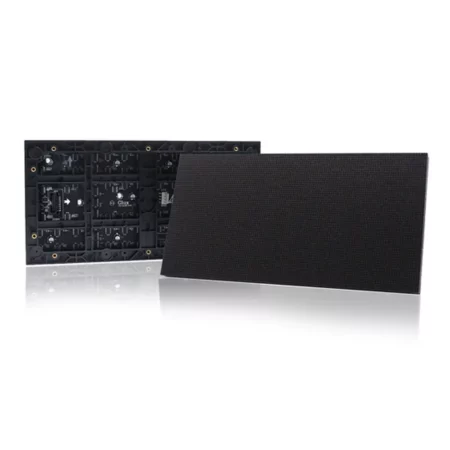 The pixel pitch of P2.5 LED screen panels is 2.5mm. The pixel pitch, also known as the pitch or dot pitch, is the density of pixels on an LED display and correlates with resolution and the distance in millimetres between the centres of neighbouring pixels. A narrower pixel pitch signifies less vacant space between pixels since pixel pitch determines the amount of space between two pixels. This translates to increased pixel density and higher screen resolution.
P2.5 LED Screen are becoming increasingly popular and widely utilised in conference rooms, monitoring rooms, control rooms, and any other location where high contrast and close-up viewing are required, thanks to the rapid development of LED display technology and the expansion of the display market. Here are some examples of P2.5 LED display kinds and characteristics to consider when making a purchase decision:
Small fine pitch P2.5 LED Screen characteristics
Low pitch P2.5 LED Screen have an ultra-thin cabinet design and are lightweight, which will reduce time and effort during installation and dismantlement, especially for rental displays that are frequently relocated from one location to another.
The exhibited layering and vividness of small pitch P2.5 LED Screen are higher than standard displays due to their high contrast ratio, high grayscale, and excellent uniformity, even at low brightness. It can also display greater image details without losing information substance. P2.5 LED Screen with a small pitch are so smooth and flawless that they can display bright images and provide spectators with great visual feasts.
The higher the refresh rate, the more stable the displayed visuals are. The lower the refresh rate, the more the image flickers and flutters and the more quickly the eyes weary. Small pitch P2.5 LED Screen with a high refresh rate may display consistent and clear images while restoring the true information content of images.
The Benefits of P2.5 Indoor LED Video Walls
Because of the serialisation and standardisation design, P2.5 indoor LED video walls, which are frequently entirely seamless interactive walls, provide consumers with high-efficiency service by responding promptly and without smearing or double-image impact.
P2.5 interior LED video walls typically contain visible control boxes that enable source processing, windowing, video wall control, and monitoring. It is extremely simple for users to configure and manipulate characteristics like as brightness, RGB colour space, and grayscale.
P2.5 soft flexible LED display characteristics
Traditional solid LED displays limit the inventiveness of bending or folding LED displays, however on flexible displays, fanciful concepts of distinctive shapes have basic ingredients to experiment. P2.5 soft flexible LED displays do not have cabinet metal frames and may be bent to any shape.
P2.5 soft flexible LED displays are particularly thin and lightweight, which can save time and money for both customers and manufacturers in terms of packing, transportation, and installation. They are simple to assemble and disassemble with soft LED modules.
The Benefits of P2.5 Flexible Soft LED Displays
P2.5 flexible soft LED displays have a high supply capability. They are now commonly utilised as the background in stage plays, concerts, theatres, parties, and other entertainment events.
P2.5 flexible soft LED display modules are subjected to tight quality control, with compact units and a flexible design that allows them to be converted into sophisticated shapes for special needs.
P2.5 LED retail poster displays for store advertising
P2.5 LED Screen displays have a high resolution and allow retail shop owners, restaurants, clubs, and exhibitors to feature their products in the simplest way possible by uploading relevant movies or digital static content. Users can put it anywhere they like. It is also portable and easy to store.
You can access your material straight from your devices, such as a laptop, tablet, or smartphone. P2.5 LED Screen displays can be controlled and managed remotely via the Internet. With LED poster displays, you may view or screen your own videos, audios, or photographs whenever and wherever you want. You can refresh your digital content in displays using WIFI or USB. An easy-to-use on-screen interface makes it straightforward to schedule your content, and no complicated configuration is required.
P2.5 LED Screen displays are multifunctional displays. They can be utilised in advertising and marketing for campaign information, urgent information, and quick message of supermarkets, shopping plazas, conference rooms, bus terminals, and restaurants.
Advice on Purchasing Indoor P2.5 LED Screen
Because LED displays are often made up of 0.5-square-meter panels containing tens of thousands of RGB LEDs, they can be pricey. The cost rises as the pixel pitch decreases. So, when purchasing P2.5 LED Screen, keep in mind your needs and financial circumstances.
A 1080p wall can be built in a compact area no larger than a huge TV using an LED display with a pixel pitch of 0.7mm. To display a 1080p 16:9 image with a 4mm pixel pitch, a size of around 8m by 4.5m would be required. As a result, don't buy anything unless you know where you're going to put these displays and what type of effect you want.
When determining viewing distance and pixel pitch, the rule of thumb is that a lower pixel pitch allows for a closer seeing distance. As a result, a P1.2 LED display will have much greater resolution and a closer ideal viewing distance than a P16 panel. When choosing indoor P2.5 LED Screen, keep in mind the viewing distance. The typical formula for optimal viewing distance is: pixel pitch (mm) / (0.30.8) = optimal viewing distance (mm)
For example, the best viewing distance for a P2.5 LED display is 38 metres; viewers at 3 metres will be able to distinguish the display clearly; but, those seeing from a longer distance, such as 8 metres, will have reduced, but acceptable, clarity.
Because visuals will flicker and flutter violently and eyes will weary with a lower refresh rate. Choose the appropriate refresh rate for P2.5 LED Screen based on your needs.
Because LED walls are brighter than projectors and, to some extent, televisions, they appear great on camera when shot with High Resolutions. As a result, your LED walls are likely to be a huge source of light that can balance or even overwhelm other lights. LED walls can be dimmed or brightened to some extent, which is a plus. However, you should factor this into your strategy.
Image Gallery