Smart meeting room is technology - enhanced meeting rooms that foster opportunities for discussion, sharing and brainstorming idea by integrating learning technology, such as interactive display, computers, specialized software, audience response technology, assistive listening devices, networking, and audio/visual capabilities.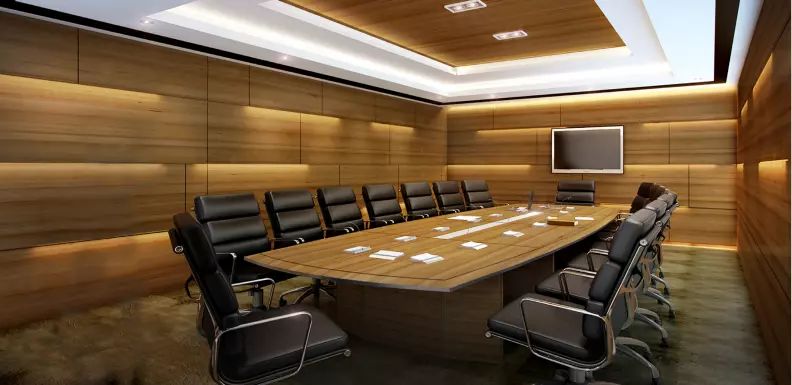 SMART

MEETING

ROOM

SOLUTION
Do you want to infuse convenience and simplicity into your meetiing room? Want to make your meeting session more collaborative and engaging? Our easy-to-operate smart meeting room provides a loaded palette of tools to enhance your meeting room experience. Interactive whiteboards and the ability to share notes and screens in real-time encourages smooth communication and an engaging meeting environment.
Portable speaker/ Ceiling speaker
It is suitable for all kinds of hardware video conference system, meeting system, network monitoring system, remote medical system, network monitoring system, smart city system, conference recording system, etc
Meeting Room Booking System
Meeting room booking systems provide simple tools for reserving conference rooms and other spaces or resources within an office or shared workplace.
SMART MEETING ROOM package
Suitable for small meeting room that fits up to 15 participants. Consists of Interactive Smartboard ARV-100. 
Suitable for medium meeting room that fits from 15 to 20 participants. Consists of Interactive Smartboard ARV-100 and All-in-one Camera Speakerphone ARV-1000B
Suitable for large meeting room that fits up from 20 to 30 participants. Consists of Interactive Smartboard ARV-100, Auto-tracking Camera ARV-VC 100T and Table Wireless Microphone DAS-800
Suitable for large meeting room that fits up from 20 to 30 participants. Consists of Interactive Smartboard ARV-100, Auto-tracking camera ARV-VC 100T, Table Wireless Mic/Host ARV WC1000, Ceiling Speaker and Touchable Portable Monitor
What Is smart meeting room?
A smart meeting room is a meeting space that is designed to make the user interface more user-friendly. This can include features like large monitors that display information in real time, adjustable chairs and tables, and built-in audio and video capabilities.
How do I set up a room for a virtual meeting?
If you're organizing a virtual meeting, there are a few things you'll need to set up beforehand. You'll need to choose a location for the meeting, create a virtual room, and set up some basic settings. Once you have all of that set up, you can start inviting participants.
How can I improve my meeting room?
Meeting rooms can be improved with the help of technology, such as smartboards and wireless microphones. These devices can help make meetings more efficient and allow participants to communicate more easily. By using these tools, meeting room owners can create a more productive environment for their employees.
How do you make meeting rooms more inviting?
If you're looking for ways to make your meeting rooms more inviting, there are a variety of technologies you can use. Some simple ideas include adding plants or decor, playing music or providing comfortable chairs. More elaborate options might include installing audio visual equipment, providing snacks and drinks, or even setting up small video screens that show interesting images or clips. Whatever option you choose, make sure it helps to create a positive environment that encourages people to attend meetings.
How do you arrange a meeting room?
If you want to create an interesting and unique space for your meeting participants, consider arranging your tables into unique shapes that resemble your company logo. You can also use floor risers to highlight VIP guest seating. If you want to visually divide spaces, try using a mix of table heights. You can also use interesting chairs setups to separate areas. Finally, don't forget to use lighting to create the right mood for your event.
What should you establish before you choose your meeting room?
There are many factors to consider before choosing a meeting room. The size, shape, and location of the room are all important factors to consider. However, there are other things you should also establish before making your decision. The purpose of the room, who will be using it, and what type of meetings will be taking place are all important factors to consider.
What is the best virtual meeting platform?
Some of the most popular virtual meeting platforms include Google Calendar, Zoom, Webex, and Skype. It's important to choose the right platform for your needs, so it's worth considering what features are important to you.
How do virtual meeting rooms work?
Virtual meeting rooms allow people to connect with others online, whether they are in the same country or across the globe. Participants can see each other's screens and hear each other's audio, making it a great way to conduct business. Virtual meeting rooms also allow people to collaborate on documents and presentations.
Our wide-ranging experiences have brought us to a knowledge level unsurpassed by our competition and allow us to provide the best services in the industry
Various of our solutions have been recognized and successfully implemented in Malaysia since 2012. We emphasize quality products & services. With vast experiences in the industries and great project portfolios, we guarantee a cost-efficient solution according to your demands.