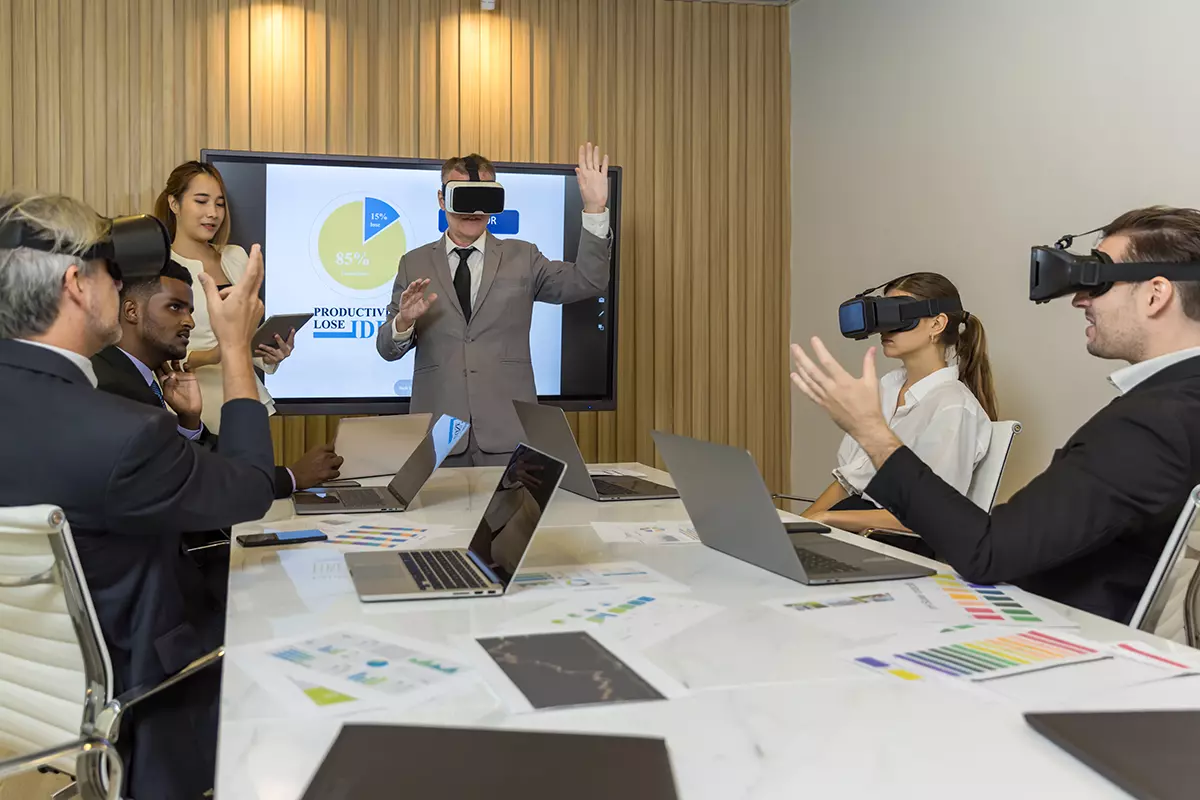 Discover the exciting possibilities that lie ahead in the world of video conferencing. This comprehensive article explores the future of video conferencing, delving into virtual reality and other cutting-edge technologies. Dive into the details and uncover how these advancements can transform your communication experiences. Get ready for a captivating journey into the future of video conferencing!
---
Introduction
In an increasingly interconnected world, video conferencing has become an essential tool for seamless communication. As technology continues to advance at a rapid pace, it is crucial to explore the future of video conferencing and the innovative solutions it offers. This article aims to provide a comprehensive overview of the exciting possibilities that lie ahead, with a particular focus on the integration of virtual reality (VR) and other groundbreaking technologies. Join us on this captivating journey as we unravel the potential of video conferencing and its transformative impact on communication.
The Evolution of Video Conferencing
Before we embark on a journey into the future, let's take a brief look at the evolution of video conferencing. Initially, video conferencing was limited to expensive and bulky hardware setups, confined to boardrooms and specialized facilities. However, advancements in technology have made video conferencing more accessible, user-friendly, and adaptable to various devices and platforms.
With the advent of high-speed internet connections and the proliferation of smartphones, video conferencing has become ubiquitous in both personal and professional settings. Today, people can effortlessly connect with colleagues, clients, friends, and family members across the globe with a simple click.
Virtual Reality: Opening New Horizons
Virtual reality (VR) has the potential to revolutionize video conferencing by providing immersive and lifelike experiences. As the technology continues to advance, VR headsets are becoming more affordable and accessible, allowing users to step into virtual environments and interact with others in ways never before possible.
Imagine attending a virtual meeting where you can see and interact with lifelike avatars of your colleagues or clients. You can walk around a virtual boardroom, examine 3D models, and manipulate objects as if they were physically present. This level of immersion enhances collaboration and engagement, making remote meetings feel more personal and interactive.
Beyond meetings, VR can also transform training and education. For example, medical professionals can practice surgeries in virtual operating rooms, students can explore historical sites through virtual field trips, and employees can undergo virtual simulations for job-specific training. VR opens up a world of possibilities for experiential learning, allowing individuals to gain practical skills in a safe and controlled environment.
Augmented Reality: Enhancing Communication
Augmented reality (AR) complements video conferencing by overlaying digital information onto the real world. This technology enriches communication by providing contextually relevant data, visual aids, and interactive elements during video calls.
Imagine having access to real-time translations as participants speak different languages, or being able to annotate and highlight important points directly onto the screen for everyone to see. AR empowers users to share information in a more dynamic and engaging manner, bridging the gap between physical and virtual communication.
AR can also enhance remote technical support by allowing experts to guide others through complex tasks using visual instructions and annotations. By sharing a live view of the issue at hand, remote support teams can troubleshoot problems effectively, reducing downtime and improving customer satisfaction.
Artificial Intelligence: Smarter Meetings
Artificial intelligence (AI) is another critical component of the future of video conferencing. AI-powered features can automate mundane tasks, enhance productivity, and improve the overall meeting experience.
Real-time language translation is a prime example of AI in action. With AI algorithms, video conferencing platforms can automatically translate spoken words into different languages, breaking down language barriers and facilitating global collaboration.
AI can also provide automated transcription services during video calls, generating accurate and searchable transcripts in real-time. This feature improves accessibility, enables participants to revisit important discussion points, and simplifies the process of extracting actionable insights from recorded meetings.
Intelligent virtual assistants powered by AI can assist with various tasks during video conferencing, such as scheduling meetings, setting reminders, and retrieving information. These assistants can understand natural language commands and perform actions, allowing participants to focus on the meeting content without distractions.
5G Connectivity: Unleashing Potential
The deployment of 5G networks brings significant advancements in connectivity, offering faster speeds, lower latency, and increased capacity. This technology is poised to unlock the full potential of video conferencing by delivering seamless and high-quality communication experiences.
With 5G, participants can enjoy high-definition video and audio quality, eliminating lag and buffering issues. This ensures that remote meetings are smooth, allowing for clearer communication and better understanding.
The low latency of 5G enables real-time collaboration without noticeable delays. Participants can collaborate on shared documents, co-create ideas, and provide instantaneous feedback, mimicking the fluidity of in-person interactions.
Furthermore, 5G's increased capacity allows for more simultaneous connections and bandwidth-intensive applications. This means that virtual meetings with a large number of participants, high-resolution video streams, and immersive VR experiences can be accommodated without compromising quality.
Embracing a Connected Future
In conclusion, the future of video conferencing holds immense promise for transforming how we communicate, collaborate, and connect. The integration of virtual reality, augmented reality, artificial intelligence, and 5G connectivity opens up new horizons and paves the way for richer, more immersive experiences.
Whether it's through VR's ability to transport us to virtual meeting rooms, AR's capacity to enhance communication with visual aids, AI's power to automate tasks and provide real-time translations, or 5G's promise of seamless connectivity, video conferencing is evolving rapidly.
By embracing these advancements and adapting to the changing landscape, individuals and organizations can unlock the full potential of video conferencing. The future is bright, and as we navigate this ever-evolving realm, we can look forward to a more connected, collaborative, and inclusive world.
Image Gallery