60th Educational Management Conference
MPSM is the abbreviation for the Malaysian School Principals Council which was previously known as the National Conference of Secondary School Principals or for short PKPSM. MPSM is a body that unites principals from all over the country which is based on the goal of fighting for the continuity of comprehensive education and is responsible for the development of national education.
The Educational Management Conference is an annual event that brings together educators from all over the country to share best practices and innovative ideas. The conference is a great opportunity to network with other educators, learn about new trends in education, and get inspired to make positive changes in your school or district. This year's conference promises to be even more exciting than ever, with keynote speakers, breakout sessions, and an exhibit hall full of the latest products and services for education.
Launching From Malaysia Director General of Education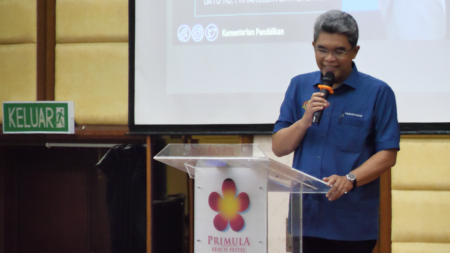 Dato Hj. Pkharuddin bin Hj. Ghazali – Malaysian Director General of Education discusses the launch of a new educational initiative in Malaysia. He explains that the initiative is aimed at improving the quality of education in Malaysia and making it more accessible to all Malaysians. He also outlines some of the key components of the initiative, including increased funding for education, improved teacher training, and increased access to technology. Malaysia has been successful in managing its schools during the COVID-19 pandemic.
The country has implemented strict measures to control the spread of the virus, including closing schools and universities. However, school principals have had to find creative ways to keep students engaged in their studies. Many principals from all over Malaysia share their tips on how to manage students and educators during the post-pandemic education Era.
MPSM is a principle-led organization that is dedicated to sharing the best practices in the industry with its members. The organization strives to provide its members with the resources they need to succeed in their careers. MPSM is committed to helping its members grow professionally and personally. The organization is also committed to giving back to the community.
During the event,Israk Solutions CEO Najib Habeb share about the company's focus on educational technology. They are dedicated to helping students and educators alike to have access to the best resources and tools possible. One of the things they love to do is share their knowledge with others, and they have written an article all about education technology. In it, they talk about the different types of technology that are available, how they can be used in the classroom and some of the benefits that come with using them.
Israk Solutions Sharing on Educational Technology
As the world progresses, so does the importance of educational technology. In a rapidly developing society, it is more important than ever for students to be technologically aware and competent. schools must provide students with opportunities to develop these skills. One way to do this is by offering classes that focus on technology.
These classes can teach students how to use different types of technology, how to stay safe online, and how to troubleshoot common problems. Another way to incorporate technology into education is by using it in the classroom. For example, many teachers use PowerPoint presentations or videos in their lessons. This allows students to see the material in a new light and also engage with it differently.
Educational technology awareness is essential for students in today's world. By offering classes and incorporating technology into the classroom, schools can ensure that their students are prepared for the future. A smartboard is a collaborative, hassle-free way to make presentations and teach lessons. They are also up to date with the latest technology, making them an immersive experience for students.
Smartboards have many benefits that make them an excellent choice for educators. As a teacher, it's important to have the latest and greatest technology in your classroom. Smartboards are becoming increasingly popular in education. They offer a larger screen size than a traditional whiteboard, which means that you can fit more information on the screen. They also allow you to easily share documents and websites with your students.
When it comes to the classroom, whiteboards have been the go-to for years. But what if there was a better way? Smartboards are an all-in-one solution that is becoming more and more popular in schools. Here's why smartboards are better than traditional whiteboards. For starters, smartboards are interactive.
This means that students can not only see the lesson on the board, but they can also participate in it. With a traditional whiteboard, students are simply passive observers. Another advantage of smartboards is that they're great for multimedia presentations. You can easily incorporate videos, images, and even sound into your lesson with a smartboard. This makes for a more engaging and effective lesson overall.
Finally, smartboards are just more fun!
Image Gallery