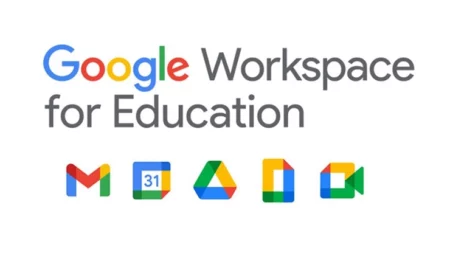 The G Suite For Education software has been widely distributed to schools under the Ministry of Education of Malaysia from 9 July 2021 for a period of 3 years in a project of 'Perkhidmatan Langganan Perisian G Suite Enterprise for Education (GSEfE) Bagi Sekolah-Sekolah Di Bawah KPM'.
Google relaunched GSEfE as Google Workspace For Education to fulfill the requirements of its highly dispersed (remote hybrid) users. This comprehensive edition includes all the enhanced security features and tools. The platform offers increased flexibility, reliability, and ease of use for schools and educators.
What Is Google Workspace for Education (GWFE)?
Google Workspace for Education provides a number of tools from Google that assist learners and teachers to collaborate in completing assignments and group projects. Students can work together as a team, execute projects at school or at home, and submit their work for automatic preservation without having an internet connection.
What does Google Workspace For Education include?
Every edition of Google Workspace for Education includes Gmail, Calendar, Meet, Docs, Sheets, Slides, Forms, Classroom, Assignments, Sites, Groups, Drive, and the Administrator Dashboard.
Google Classroom: collaboration tool for teachers and students designed to organize and streamline the classroom experience. With just a few clicks, you are able to create a class, add your students, and create assignments or announcements. You will be able to see who has completed an assignment, who hasn't yet, and who needs to get it done, too. You can also instantly turn off the classroom.
Google Drive: a web-based folder that allows you to store all your files – pictures, texts, models, videos – anything! You can access your files from any gadget, and, best of all, you don't have to save the files manually Drive saves automatically every time you make an edit!
Google Docs: word processing tool lets you effortlessly create formatted text and paragraphs that are laid out using numerous formatting tools, including several typefaces. Choose from thousands of fonts, insert links, pictures, drawings, and tables to make your next composition stand out.
Google Sheets: spreadsheet application that can be used for a variety of tasks, including analyzing data, visualizing data, and charting data. Google Sheets is easy to use and has a variety of features that make it an excellent choice for data analysis.
Google Forms A survey tool that's simple to use and can be customized to collect data from a wide range of users. With just a few clicks, you can create surveys that are easy for your audience to complete and share. Plus, using Google Forms doesn't require any programming or design skills, so you can get started quickly and easily!
Google Slides: A presentation tool that makes it easy to tell stories. It has templates that make it easy to create slides with pre-made content, and also allows users to insert their own content. Slides can be shared online or downloaded and used in class.
With Google Workspace for Education, you also can enjoy a variety of activities that will save time and fascinate your students. These activities include those that also maintain your students entertained and active.
Gmail: Email, contacts, tasks, and communications
Google Calendar: Scheduling, calendars, and appointments
Google Meet: Live video conferencing and messaging
Google Sites: Webpage creation and publishing
Google Groups: Web group communication and forum posting
Tools accessible through Google Workspace for Education that could be used in a classroom, which you may be able to access with your Google username and password.
Chrome: Internet browsing
YouTube: Video hosting and sharing
Google Maps/Earth: Interactive maps and satellite imagery
Blogger: Publish content onto websites.
Why Google Workspace For Education Is Essential?
1) A Unified Experience: Google Workspace brings together all necessary tools in one place for collaborative communication, time management, and simplifying team processes. It significantly reduces the time spent bouncing between applications and makes it easier for teams to focus.
2) A New Identity: Google Workspace reflects the deep integration of its products. According to Javier Soltero, the four-color icons in Gmail, Drive, Calendar, Meet, and other Google products are proof of Google s commitment to ensuring people have integrated communication and collaboration experiences.
3) Ideal for a Broad Range of Users: Google Workspace aims to provide organizations with a variety of growth opportunities and stimulate individual leadership from the bottom-up. Google Workspace versions offer a variety of ownership and management options to help businesses of all sizes.
Google Workspace works better together with Chromebook
Google Workspace is a great way to organize your work and projects, but it can be difficult to keep everything organized if you use different devices. With Chromebooks, Google Workspace For Education works better together because they have a consistent user interface and are easier to use when on the go as the Chromebook run ChromeOS.
Additional to Chromebook, by utilizing Arvia Smartboard ChromeOS, this same ecosystem and interface can be achieved. Interactive Smartboard TV Panel powered by ChromeOS, the first of its kind in the world is a capacitive or infrared touchscreen allowing multi-drawing capabilities up to 20 touch points.
Conclusion
In this article, we have covered the following sub-topics,
1) What Is Google Workspace for Education (GWFE)?7
2) What does Google Workspace For Education include?
3) Why Google Workspace For Education is essential?
4) Google Workspace works better together with Chromebook
In conclusion, it is evident that Google Workspace for Education is benefitting Malaysian schools nationwide as it allows for more effective communication and collaboration among students and teachers. More schools are urged to consider using this platform as it can help improve academic performance and create a more conducive learning environment.
Image Gallery