Discover how Interactive Smartboards revolutionize employee training through engagement, collaboration, and tailored learning experiences. Elevate your training strategy and empower your workforce for success.
Introduction
In the fast-paced realm of modern business, employee training is a cornerstone of organizational success. As the traditional methods of training continue to evolve, a new champion has emerged to elevate the training landscape: Interactive Smartboards. These dynamic tools seamlessly blend technology and interactive learning to create a training experience that captivates, engages, and empowers employees like never before. In this comprehensive article, we delve into the transformative potential of Interactive Smartboards and how they are reshaping the future of employee training.
Revolutionizing Learning with Interactive Smartboards
What are Interactive Smartboards?
Interactive Smartboards are cutting-edge multimedia devices that seamlessly integrate touch-sensitive displays with digital technology. These advanced tools are designed to facilitate engaging and interactive learning experiences by enabling trainers and trainees to collaborate, share information, and explore concepts in real-time.
Fostering Active Participation
Gone are the days of passive learning through slide presentations and monologues. This cutting edge solution encourage active participation by allowing trainers to create dynamic and visually appealing content that captures the attention of trainees. With touch, gesture, and stylus inputs, trainees can actively contribute, making the learning process more engaging and memorable.
Real-time Collaboration and Feedback
One of the most significant advantages of Interactive Smartboards is their ability to facilitate real-time collaboration. Trainers can easily annotate, highlight, and draw on the screen, while trainees can actively contribute their insights. This fosters a collaborative environment where ideas flow freely, and discussions are enriched, leading to a deeper understanding of the subject matter.
Tailored Learning Experiences
Every employee is unique, and their learning styles vary. Interactive Smartboards allow trainers to customize training content to cater to different learning preferences. Whether it's visual, auditory, or kinesthetic, trainers can create diverse content that resonates with all trainees, resulting in a more inclusive and effective learning experience.
The Advantages of Interactive Smartboards in Employee Training
Enhanced Engagement and Retention
Engagement is the cornerstone of effective training, and Interactive Smartboards excel in this aspect. The dynamic and interactive nature of these devices captivates trainees' attention, leading to higher levels of engagement. Studies have shown that interactive learning increases information retention rates, ensuring that the knowledge gained during training is better retained and applied in real-world scenarios.
Boosting Knowledge Transfer
Traditional training methods often struggle with conveying complex ideas and concepts. Interactive Smartboards enable trainers to break down intricate topics into bite-sized, easily digestible modules. The use of multimedia elements, such as videos, animations, and interactive quizzes, enhances understanding and promotes efficient knowledge transfer.
Gamification for Learning
Gamification has proven to be an effective technique for enhancing learning outcomes. Interactive Smartboards allow trainers to gamify training sessions by incorporating quizzes, interactive challenges, and team-based activities. This not only makes learning enjoyable but also instills a sense of competition and achievement, driving trainees to excel.
Remote and Hybrid Training Solutions
The modern workforce is increasingly decentralized, with remote and hybrid work arrangements same as hybrid classroom becoming the norm. Interactive Smartboards bridge the gap between on-site and remote training by providing a platform for seamless virtual collaboration. Trainers can conduct live sessions, share content, and interact with remote trainees as if they were in the same room, ensuring consistent and effective training delivery.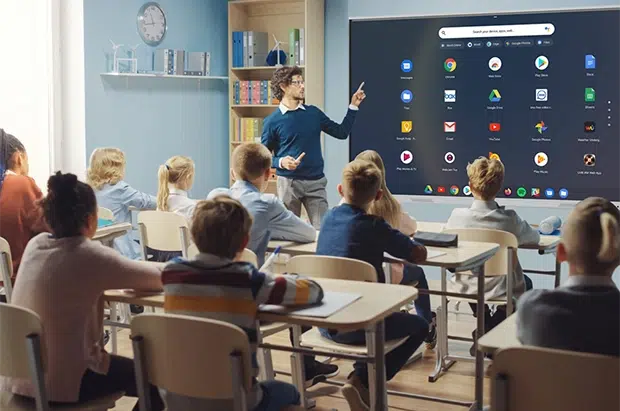 Implementing Interactive Smartboards in Your Training Strategy
Assessing Your Training Needs
Before integrating Interactive Smartboards into your training programs, it's essential to conduct a thorough assessment of your organization's training needs. Identify the key areas where interactive and engaging content can make a significant impact. Whether it's product knowledge, compliance training, or soft skills development, Interactive Smartboards can be tailored to suit your specific requirements.
Content Creation and Delivery
Creating compelling and impactful training content is a crucial step in maximizing the potential of Interactive Smartboards. Collaborate with subject matter experts and instructional designers to develop content that aligns with your learning objectives. Leverage multimedia elements, interactive activities, and real-world scenarios to create a well-rounded and immersive learning experience.
Train-the-Trainer Programs
Empower your trainers to leverage the full capabilities of Interactive Smartboards through comprehensive train-the-trainer programs. Provide them with the necessary skills to create, deliver, and manage interactive training sessions effectively. This ensures that the adoption of this innovative technology is seamless and maximizes its benefits across your organization.
Conclusion
In the ever-evolving landscape of employee training, Interactive Smartboards stand out as a game-changing tool that enhances engagement, knowledge transfer, and collaboration. By harnessing the power of multimedia, interactivity, and customization, these devices offer a holistic approach to training that yields tangible results. As you embark on the journey of enhancing your employee training programs, consider the transformative impact that Interactive Smartboards can bring. Embrace innovation, foster engagement, and empower your workforce to reach new heights of excellence.
Image Gallery