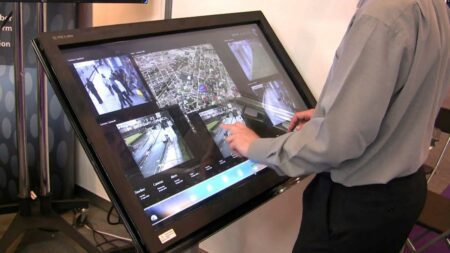 Meta Description: Experience seamless interactivity and convenience with our state-of-the-art interactive touchscreen kiosks. Explore a wide range of applications and engage your audience with intuitive navigation, interactive content, and user-friendly features. Enhance customer experiences, streamline information access, and boost engagement with our cutting-edge touchscreen kiosks.
In today's digital age, businesses are constantly seeking innovative ways to engage with their customers and provide an exceptional user experience. One such technology that has gained significant popularity is interactive touchscreen kiosks. These advanced self-service solutions are revolutionizing various industries, from retail and hospitality to healthcare and transportation.
Benefits of Interactive Touchscreen Kiosks
1. Enhanced User Experience
Interactive touchscreen kiosks offer a highly intuitive and user-friendly interface that allows customers to navigate through various options effortlessly. By providing a visually appealing and engaging experience, these kiosks capture the attention of users and encourage them to explore more about your products or services. The interactive nature of the kiosks enables customers to have a personalized and tailored experience, fostering a deeper connection with your brand.
2. Improved Efficiency
Implementing interactive touchscreen kiosks in your business can significantly enhance operational efficiency. By automating routine tasks such as product inquiries, ticket purchases, or check-ins, you can streamline your operations and reduce the workload on your staff. This frees up valuable time for your employees to focus on more complex or customer-centric tasks, resulting in improved productivity and customer satisfaction.
3. Cost Saving
By leveraging interactive touchscreen kiosks, businesses can realize substantial cost savings in the long run. These kiosks eliminate the need for additional staff or resources to handle basic inquiries or transactions. Moreover, they can be easily updated with new information or promotions, eliminating the need for expensive print materials. Over time, the cost savings generated by interactive touchscreen kiosks can make a significant positive impact on your bottom line.
4. Data Collection and Analysis
One of the most powerful benefits of interactive touchscreen kiosks is the ability to gather valuable customer data. By integrating data collection tools into the kiosks, businesses can collect relevant information about customer preferences, behavior patterns, and demographics. This data can then be analyzed to gain insights into consumer trends, allowing you to tailor your marketing strategies and offerings accordingly. The ability to make data-driven decisions gives you a competitive edge in the market and helps you stay ahead of the curve.
5. Increased Sales and Revenue
Interactive touchscreen kiosks can serve as effective sales tools, driving increased conversions and revenue. By showcasing product details, specifications, and even customer reviews, these kiosks empower customers to make informed purchase decisions. Additionally, they can provide personalized recommendations based on user preferences, increasing upsell and cross-sell opportunities. With their ability to capture customer attention and promote products or services effectively, interactive touchscreen kiosks can have a direct positive impact on your sales figures.
6. Versatility and Adaptability
Whether you operate a retail store, a hotel, a healthcare facility, or an airport, interactive touchscreen kiosks can be tailored to suit your specific needs. They offer immense versatility and adaptability, allowing you to customize the interface, content, and functionalities as per your requirements. From displaying maps and wayfinding information to facilitating self-check-ins and registrations, these kiosks can be seamlessly integrated into various business environments, enhancing the overall customer experience.
7. Competitive Advantage
In a highly competitive marketplace, gaining a competitive edge is crucial for long-term success. By embracing interactive digital displays, you position your business as innovative, customer-centric, and technologically advanced. This differentiation helps you stand out from your competitors and attracts more customers to your brand. Furthermore, the positive word-of-mouth generated by satisfied users of your interactive displays can significantly enhance your brand reputation and credibility.
8. Accessibility and Inclusivity
Interactive touchscreen kiosks contribute to creating a more inclusive environment for all customers. They offer accessibility features such as adjustable font sizes, text-to-speech functionality, and language options to cater to a diverse range of users. By accommodating different needs and preferences, businesses can ensure that every customer can engage with their products or services easily and comfortably.
9. Real-Time Updates and Notification
This solution also enable businesses to provide real-time updates and notifications to their customers. Whether it's displaying current promotions, informing about upcoming events, or notifying customers about delays or changes, these kiosks serve as an effective communication channel. By keeping customers well-informed, you can enhance their overall experience and foster a sense of trust and reliability.
10. Streamlined Queuing and Waiting Times
Long queues and waiting times can frustrate customers and negatively impact their experience. Interactive touchscreen kiosks can help alleviate this issue by offering self-service options for tasks like ticket purchases, check-ins, or ordering food. By reducing waiting times and providing a seamless experience, these kiosks enhance customer satisfaction and loyalty.
11. Engaging Digital Content
Moreover, it provide businesses with a platform to deliver engaging and interactive digital content. From videos and images to interactive maps and virtual tours, these kiosks enable businesses to showcase their products, services, and brand story in an immersive and captivating way. By captivating the attention of customers, you can leave a lasting impression and create memorable experiences.
12. Analytics and Performance Tracking
Interactive touchscreen kiosks offer robust analytics and performance tracking capabilities. You can track metrics such as user interactions, popular content or services, conversion rates, and demographics. These insights allow you to evaluate the effectiveness of your kiosks, make data-driven improvements, and optimize customer engagement. By continuously monitoring and analyzing performance, you can refine your strategies and maximize the impact of your interactive kiosks.
13. Customer Feedback and Surveys
Implementing interactive touchscreen kiosks provides an opportunity to gather valuable customer feedback and conduct surveys. By integrating feedback forms or surveys into the kiosk interface, businesses can collect insights and opinions directly from customers. This feedback can help you identify areas for improvement, understand customer preferences, and refine your offerings accordingly. By actively listening to your customers, you can strengthen your relationship with them and enhance their overall satisfaction.
14. Integration with Other Systems
This kiosks can seamlessly integrate with existing business systems and technologies. Whether it's integrating with customer relationship management (CRM) software, inventory management systems, or payment gateways, these kiosks provide a unified ecosystem that streamlines operations and enhances efficiency. By connecting different aspects of your business, you can achieve better data synchronization, automate processes, and provide a cohesive customer experience.
15. Future-Proof Investment
Investing in interactive digital display is a future-proof decision. As technology continues to evolve, these kiosks can adapt and accommodate new features and functionalities. Whether it's incorporating augmented reality (AR), virtual reality (VR), or incorporating voice-activated commands, interactive touchscreen kiosks can keep your business at the forefront of innovation. By embracing emerging trends, you can stay ahead of the competition and continuously provide exceptional experiences to your customers.
16. Brand Reinforcement
Interactive touchscreen kiosks provide a platform for businesses to reinforce their brand identity. By incorporating branded visuals, colors, and messaging into the kiosk interface, you can create a consistent and cohesive brand experience. This helps in building brand recognition and strengthening the connection between customers and your business.
17. Targeted Marketing and Upselling
Interactive touchscreen kiosks offer opportunities for targeted marketing and upselling. Based on customer interactions and preferences, these kiosks can display relevant recommendations, promotions, or personalized offers. By leveraging customer data, you can create targeted marketing campaigns that increase engagement and drive higher conversion rates.
18. Self-Service Convenience
In today's fast-paced world, self-service convenience is highly valued by customers. Interactive touchscreen kiosks empower customers to access information, make purchases, or complete tasks on their own terms and at their own pace. This convenience enhances customer satisfaction and reduces the reliance on staff assistance, particularly during peak times.
19. Training and Education
Interactive touchscreen kiosks can serve as effective tools for training and education. Whether it's providing tutorials, product demonstrations, or interactive guides, these kiosks can deliver information in an engaging and interactive manner. Businesses can leverage this feature to train employees, educate customers about complex products or services, or provide informative content in public spaces.
20. Social Media Integration
Incorporating social media integration into interactive touchscreen kiosks allows businesses to extend their online presence and connect with customers on popular social platforms. Users can access and interact with social media feeds, leave reviews, or share their experiences, creating a valuable source of user-generated content and organic promotion.
Conclusion
In conclusion, interactive touchscreen kiosks have emerged as an indispensable asset for businesses in today's competitive landscape. Their multitude of advantages, including improved accessibility and inclusivity, real-time information updates, efficient queuing systems, captivating digital content, comprehensive analytics for performance tracking, valuable customer feedback, seamless integration with other systems, and long-term investment viability, have propelled their widespread adoption across diverse industries. By harnessing the power of these kiosks, businesses can achieve unparalleled customer experiences, operational efficiency, and a distinct edge in the market.
Image Gallery